What is 2019-nCoV?
On 31 December 2019, World Health Organization (WHO) was alerted to several cases of pneumonia in Wuhan City, Hubei Province of China. The virus did not match any other known virus. On 7 January, Chinese authorities confirmed that they had identified a new virus. The new virus is a coronavirus, which is a family of viruses that include the common cold, and viruses such as SARS and MERS. This new virus was temporarily named "2019-nCoV." WHO has been working with authorities and experts to learn more about the virus, how it affects the people who are sick with it, how they can be treated, and what countries can do to respond.
Serious Impact to Supplies
Michael Osterholm (Director, University of Minnesota Center for Disease Research & Policy) told to CNBC that companies with manufacturing in China ought to be looking into their supply chains, where their ingredients and components are coming from – the outbreak will have a serious impact to supplies of very critical products within days to weeks.
According to Mr Osterholm many of the critical products used every day in the United States such as medicines, medical devices are manufactured in those areas in China and the sites are being shut down. With just in time delivery systems in place there are already drug shortages for Chinese made drugs in the USA.
In addition to having diverse manufacturing industries, Wuhan is the transportation capital of China which connects Hong Kong, Beijing and Shanghai. Thus the impact is far bigger than the manufacturing sites in the region.
We at Waredock recommend our customers to keep in contact with their logistics partners and suppliers in China to get the most critical supplies moving as soon as possible. For example, a bigger shipment could be divided into smaller parcels and delivered with DHL Express. As airlines continue to cancel the flights it can be expected that exporting becomes more expensive and complicated with considerable delays on the way.
Protecting Your Team From Coronavirus
World Health Organization has developed advice to people on how to protect the public from getting the disease. Feel free to download and print out our free foldable booklet here to increase general awareness about the virus at your workplace.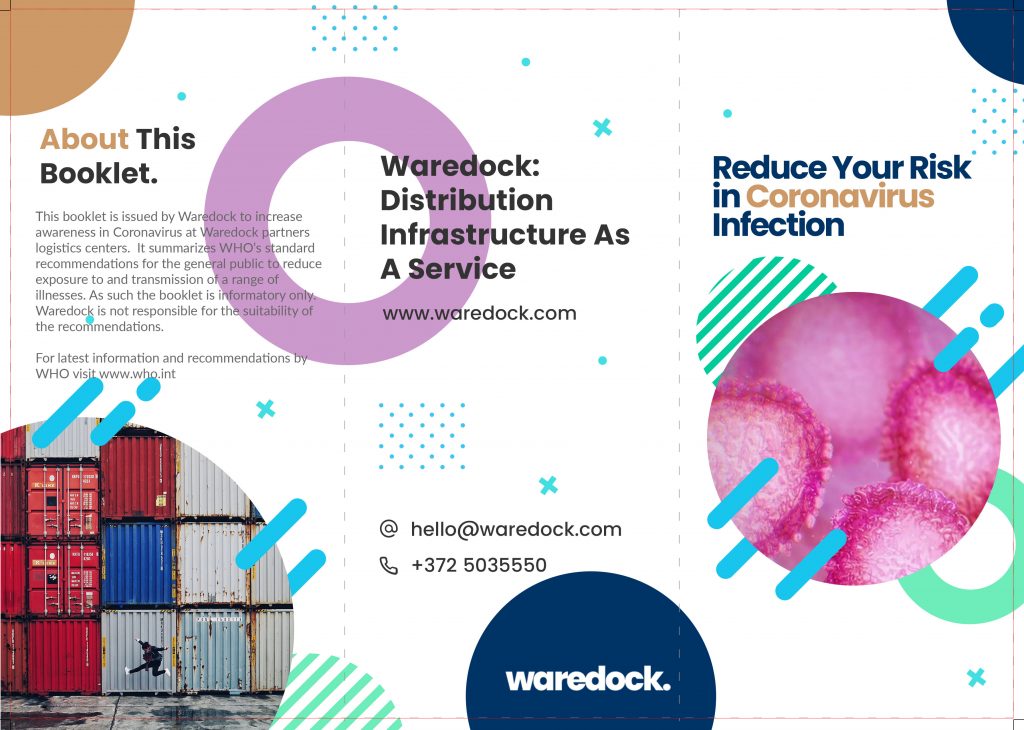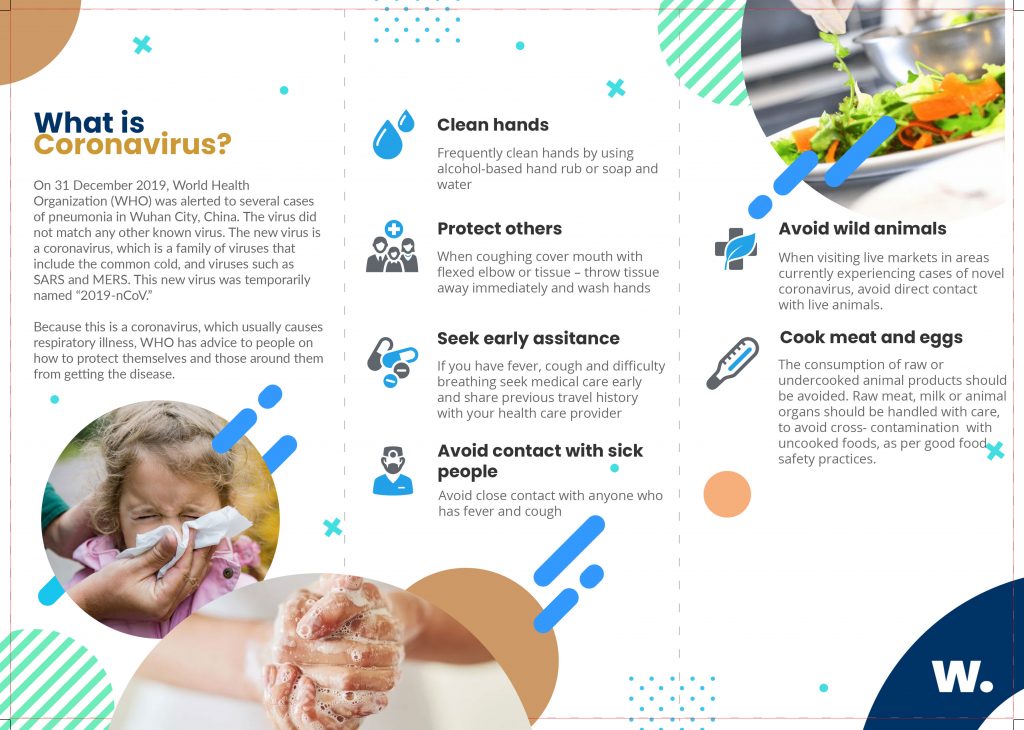 Face Masks
While a facemask may be effective in blocking splashes and large-particle droplets, a facemask, by design, does not filter or block very small particles in the air that may be transmitted by coughs, sneezes or certain medical procedures. Facemasks also do not provide complete protection from germs and other contaminants because of the loose fit between the surface of the facemask and your face.
However, if you are going to buy a face mask then look for one with an N95 designation or something more advanced. There are also N99, N100 and P100 respirators that exceed N95 requirement mentioned above. Some also come in form factors that make them more durable (nylon outer shell) and allow you to travel easier (ear loops + head band).
See for example the MONATA Reusable Dust Pollution Mask with Activated Carbon Filter and Earloop at Amazon. Or the more simple looking N100 respirator from 3M.
Treating 2019-nCoV
Nature, the leading international weekly journal of science, reports NIH and several other centers are expecting to launch vaccine trials within the next 2-3 months. China is already testing remdesivir, an antiviral agent that is used for HIV and Ebola, in a Phase III large scale clinical trial. If all goes well, remdesivir will become the primary treatment for 2019-nCoV very soon!
Coronavirus Map
Johns Hopkins University has provided a dashboard which is not an official source of information but it compiles data and provides a map tracking the spread of virus. As of 30 January the death rate appears to hover at 3% of confirmed infected cases. There is a lot of discussion on the rate of infection but those models will likely change over time.
Key Resources For Updates
Use the following resources to get latest updates about the outbreak:
USA: The Centers for Disease Control and Prevention (CDC)
Rest of the World: World Health Organization
Are You Ready To Rethink Your Supply Chain?
Waredock a leading cross border on-demand warehousing and scalable distribution network with services such as warehouse storage, ecommerce fulfillment, retail fulfillment, shipping and more. We operate in 9+ European countries and have partner network in the USA. Sign up for our newsletter below or contact us today to get free consultation.
Stay healthy and since the situation with the Coronavirus is still developing, you are better off avoiding crowded places and going hiking instead!