Table of Contents

What is COVID-19?
On 31 December 2019, World Health Organization (WHO) was alerted to several cases of pneumonia in Wuhan City, Hubei Province of China. The virus did not match any other known virus. On 7 January, Chinese authorities confirmed that they had identified a new virus. The new virus is a coronavirus, which is a family of viruses that include the common cold, and viruses such as SARS and MERS. This new virus was temporarily named "2019-nCoV", and later was renamed COVID-19. It may also be referred to as Wuhan Virus or Wuhan novel coronavirus (WN-CoV).
COVID-19 has spread to a number of countries around the world. This is how it is being searched on Google globally and in the US:
Transmission of COVID-19
COVID-19 first cases associated with liveA situation in which... animal market in Wuhan, China suggest initial animal-to-human spillover. COVID-19 is transmitted person-to-person between close contacts (within 6 feet) via respiratory droplets produced with an infected person coughs or sneezes. Contact with fomites may be possible, but it is not thought to be the primary route of transmission
Infected persons are thought to be most contagious when they are most symptomatic, though some spread may be possible before showing symptoms.
Most people (about 80%) recover from the disease without needing special treatment. Around 1 out of every 6 people who gets COVID-19 becomes seriously ill and develops difficulty breathing. Older people, and those with underlying medical problems like high blood pressure, heart problems or diabetes, are more likely to develop serious illness.
Follow global transmission data on J Hopkins Hospital website.
Symptoms of COVID-19
People may experience:
– Runny nose
– Sore throat
– Cough
– Fever
– Pneumonia
– Difficulty breathing (severe cases)
People with fever, cough and difficulty breathing should seek medical attention.
Treating COVID-19
Nature, the leading international weekly journal of science, reports NIH and several other centers are expecting to launch vaccine trials. As of April 2020 there is no vaccine and no specific antiviral medicine available. The most effective ways to protect yourself and others against COVID-19 are to frequently clean your hands, cover your cough with the bend of elbow or tissue, and maintain a distance of at least 1 meter (3 feet) from people who are coughing or sneezing. (See WHO's Basic protective measures against the new coronavirus).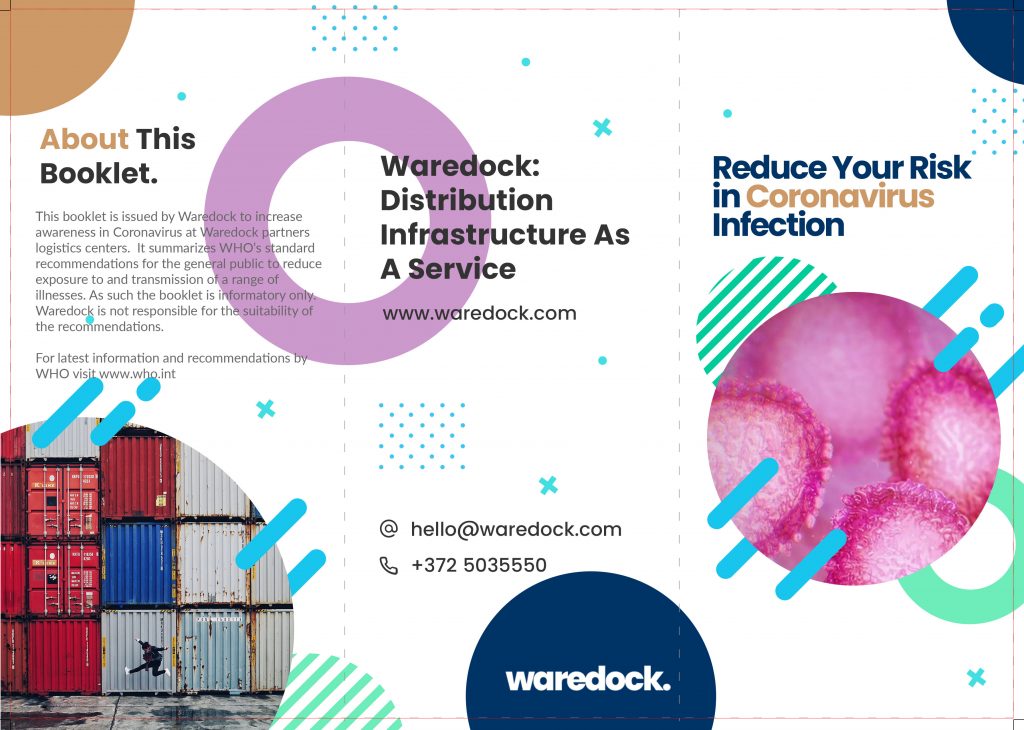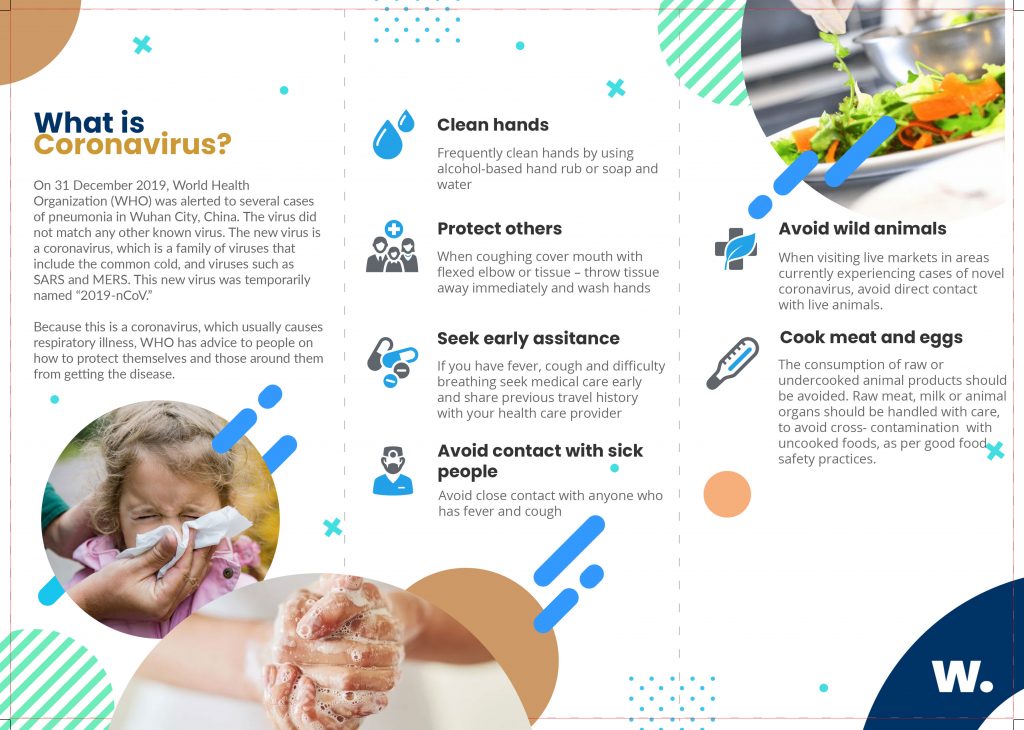 Face Masks?
While a facemask may be effective in blocking splashes and large-particle droplets, a facemask, by design, does not filter or block very small particles in the air that may be transmitted by coughs, sneezes or certain medical procedures. Facemasks also do not provide complete protection from germs and other contaminants because of the loose fit between the surface of the facemask and your face. Only wear a mask if you are ill with COVID-19 symptoms (especially coughing) or looking after someone who may have COVID-19.
USA
If you are going to buy a face mask then look for something more advanced. In US this means N95 or even N99, N100 and P100 designated respirators which are certified by the US National Institute for Occupational Safety and Health.
Europe
In Europe EN-149 is one of the European Standard for masks. Consider FFP2 or FFP3 level masks. FFP2 dust masks protect against moderate levels of dust, as well as solid and liquid aerosols. FFP2 Dust Masks have a higher level of protection than FFP1. FFP3 dust masks protect against higher levels of dust. They also protect against solid and liquid aerosols. FFP3 masks are suitable for handling hazardous powders, such as those found in the pharmaceutical industry.
NOTE: Disposable face mask can only be used once. If you are not ill or looking after someone who is ill then you are wasting a mask. There is a world-wide shortageThe inability of ful... of masks, so WHO urges people to use masks wisely.
Effects of COVID-19 on business and supply chains.
Nearly 75% of companies have reported supply chain(1) Starting with un... disruptions as a result of COVID-19, according to a new survey released by the Institute for Supply Management (ISM). The ISM announced Wednesday (March 11) the first-round results of a survey focused on the effects of COVID-19 on business and supply chains.
More than 80% of companies expect to experience some impact because of COVID-19 disruptions, the survey shows. Of those, 16% have adjusted revenue targets downward an average of 5.6% because of the virus.
Companies reported the following impacts:
– 57% noted longer lead times for tier-1 China-sourced components, with average lead times more than doubling compared to the end of 2019.
– Manufacturers in China report operating at 50% capacity

The physical facilit...

with 56% of normal staff.
– More than 44% of respondents don't have a plan to address supply disruptions from China. Of those, 23% report existing disruptions.
– The companies that report supply chain impacts expect the severity to rise after the first quarter of 2020.
– 62% are experiencing delays in receiving

The function encompa...

orders from China.
– More than half are having difficulty receiving supply chain information from China.
– 48% are experiencing delays moving goods

A merchandise or mat...

within China.
– Nearly half report delays loading goods at ports in China.
Transit Routes in Europe
Countries in Europe have been closing their borders since mid March 2020 to stop the spread of the virus. All countries still allow transitIf the tracking stat... of goods although there can be serious waiting times on the borders. As of 19. March 2020 most countries in Europe limit private travels.
Rethink Your Supply Chain
Waredock a leading cross border on-demand warehousing and scalable distributionOutbound logistics, ... network with services such as warehouseA place to store goo... storage, ecommerce fulfillment1) The act of fulfil..., retail fulfillment, shipping1) Tasks related to ... and more. We operate in 9+ European countries and have partner network in the USA.
Access to Waredock will help merchants and 3PLThird-party logistic... suppliers connect quickly and effectively, and minimize disruption caused by shipment1) Lot of freight te... delays, capacity issues and increased consumer demand in times of crisis. We can help make the connections to keep the supply chain intact, that ultimately have an impact on the everyday consumer.
Sign up today as a buyerAn enterprise that a... or 3PL. You can post immediate sourcing needs and 3PL suppliers can respond to show they can deliver. Free to post. Free to respond. Open to everyone.
Key Resources For Updates
Use the following resourcesEconomic elements ap... to get latest updates about the outbreak: