Rents Continue To Rise
In Germany warehousing space rents continue to rise as demand stays strong and fewer places are available. Slightly weaker economic environment, particularly in the industrial sector, has not been reflected in the logistics market. For example, in 2019 rents rose ca 5% in major logistics areas (reaching 6.2 EUR /m2). Biggest increase can be observed in Berlin, where rents in central locations currently stand at 7.2 EUR /m2 (+11%). Other cities with noticable price increases include Hamburg (7.2 EUR/m2, +9%), Cologne (5.4 EUR/m2, +6%) and Frankurt (6.6 EUR/m2, +5%). Rents have remained stable only in Munich and Düsseldorf (REF: BNP Paribas, Logistics Market Germany, Oct 2019)
Supporting Trends: eCommerce and e-Mobility
Slowdown in the industrial sector is being balanced out with the growth of eCommerce and investments in the transition to e-mobility. Both of these trends have long-term impact on the logistics market in general but also specifically the warehousing market.
The Major Regions
The main logistics regions in Germany are Hamburg, Berlin, Hannover, Münster, Bremen, Leipzig, Kassel, Düsseldorf, Frankfurt, Nuremberg, Mannheim, Karlsruhe, Stuttgart, Munich.
Below we have summarized regional specifics for logistics space in Germany.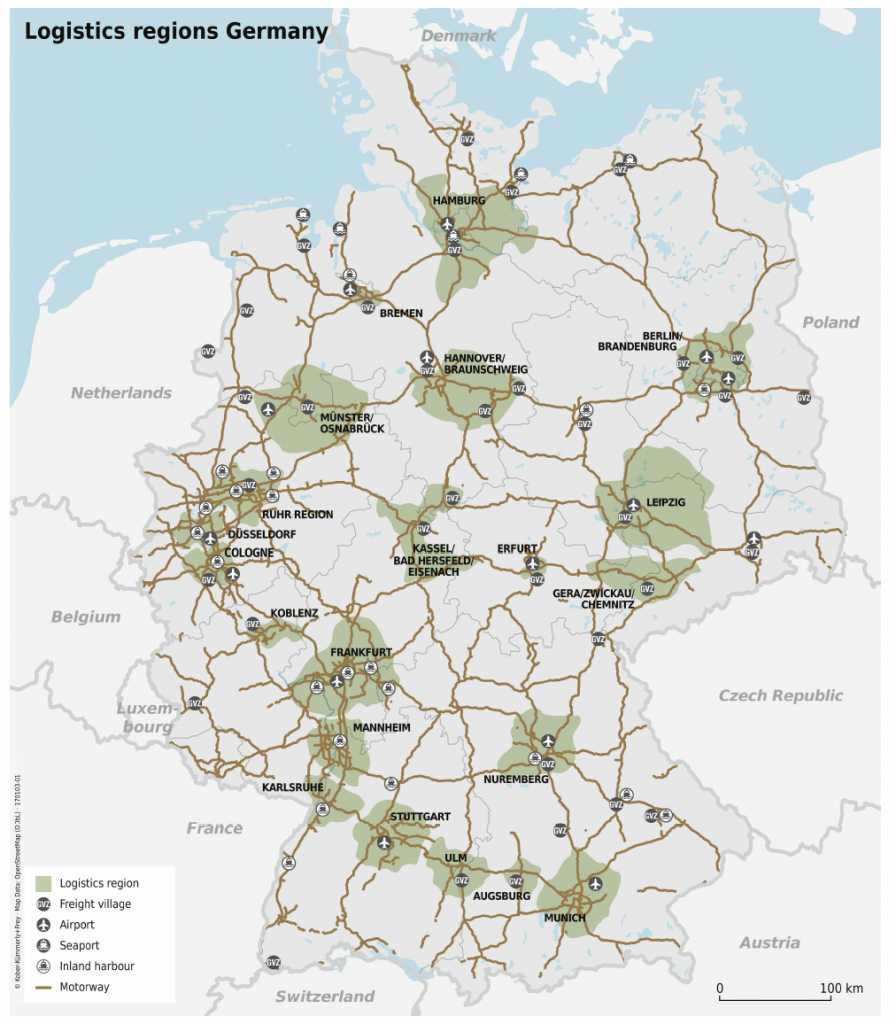 Warehouse Market In Berlin
Office space business is booming in Berlin and so is warehousing. Berlin warehouse market has grown to 385 000 m2 (+54%) thanks to a relatively larger supply in the city surroundings (in 2019 share of new buildings rose by nearly 50% compared to 2018).
Tha main occupiers of logistics space in Berlin are traders (41% share), followed by logistics service providers (27% share), manufacturing (17%). Berlin is unique with its hugely diversified demand from other industries which account for 15% of the occupied space.
While in southern Berlin there is spare capacity for large scale requests, the situation is much more challenging in the central area of the city. Namely, Berlin has the highest prime rent in Germany (7.2 m2/EUR for the Charlottenburg interchange area), a 11% increase in 2019. Average rent has risen 6% to 5.5 m2/EUR.
Warehouse Market In Hamburg
Hamburg boasts a universal port in which goods of all kinds are handled. City is strategically important location for many logistics companies. Other industries competing for space include retail (24% of total space) and manufacturing (14% of space). Hamburg warehouse market is declining, reaching 241 000 m2 (-36%). Occupiers with a demand starting even from 3000 m2 are struggling to find spaces without compromising quality and location requirements, as reported by BNP Paribas (Logistics Market Hamburg, Oct 2019). In the current market situation, lease contracts are often extended and hardly any new construction projects are completed.
Average rent as of 2019 Q3 has reached 4.9 EUR/m2 while prime rent has risen 9% compared to preveious year to 6.3 EUR/m2 (port area and inner city locations for last mile city logistics).
Warehouse Market In Stuttgart
The economic strength of Stuttgart area is reflected in the growing demand for logistics space. Stuttgart warehouse market in 2019 grew to 148 000 m2 (+7%). Increasing demand is driven by transition to electromobility, and the general success of automotive industry (eg Daimler occupying a 42 000m2 production space in Waiblingen).
Main industries competing for space are manufacturing industry (incl automotive), followed by trading companies (eg outfoor specialist Bergfreunde) and logistics industry.
Prime rents rose in 2019 4.5% compared to 2018, reaching 7 EUR/m2 for prime locations. Average rent in 2019 was 5.4 EUR/m2.
Warehouse Market In Munich
Munich warehouse market has grown to 391 000 m2 (+185%) which mainly is a result of one of the largest deals ever registered – a lease of 230 000m3 by KraussMaffei.
Warehouse Market in Frankfurt
Frankfurt warehouse market has been shrinking to 241 000 m2 (-36%)
Warehousing in Other German Cities
Total space has been declicing in such cities as Cologne (88 000 m2, -55%), Leipzig (123 000 m2, -49%), Düsselforf (108 000 m2, -41%),
Comparing Warehouse Rent in Poland and Germany
Considering the growing demand for warehousing space in many German cities coupled with regulatory hurdles to create new logistics parks it is increasingly lucrative to consider renting warehouse or investing into properties in Poland, a country which is still cheap by German standards.
Here we have compared the prime rents in 2019 for major Polish and German cities. Make sure to read our full report: "Warehousing Market in Poland 2020".
Region
Prime rent in
€ per m²/
month
% growth
(2018 to 2019)
Warsaw
3.60
0.0
Lodz
3.60
0.0
Poznan
3.50
6.1
Wroclaw
3.60
12.5
Krakow
3.60
5.9
Szczecin
3.50
0.0
Berlin
7.20
11
Hamburg
6.30
9
Stuttgart
7.00
4.5
German Warehouse Market Outlook 2020
The logistics market in Germany was relatively unaffected by the slowdown in economic growth in 2019. For 2020 there are still signs of strong demand.
According to BNP Paribas 2019 Q3 report there shall be no change in basic supply and demand structures in short to mid term and slight increases in rent levels at some locations cannot be ruled out.
Waredock in Germany
Waredock is more than a warehouse listings page. Our vision at Waredock is a geographically dispersed distribution infrastructure that is enabled by data insights across the supply chain. We are working with German 3PL companies, property owners, businesses small and large in a range of industries. We help businesses get greater coverage in more markets. Our network includes every warehouse type, with the certifications and designations to store any specialized product. And, we'll provide picking, kitting, shipment consolidation, and more.