Warehouse Market Snapshot
– In the second quarter of 2020, take-up itself was as much as six percent above the running average of all second quarters over the last decade
– In effect, the Corona pandemic has had very little impact on the market. There was neither a huge demand for warehouse space nor has the crisis caused demand to slump. Inasmuch, the current situation is distinctly different from the last crisis in 2008 and 2009 when demand dropped off notably
– In the medium term, the demand for warehouse

A place to store goo…

facilities

The physical plant, …

will rise. This development will be driven by an even stronger future realignment of the global supply chain

(1) Starting with un…

, various re-/near-shoring strategies, the introduction of buffer

1) A quantity of mat…

storage and the rise of e-commerce

See Electronic Comme…

– The rental level is stable as demand has not slumped, there are no massive vacancies, and space is still in short supply
– Given the way things are developing in the wake of the Corona pandemic, and the signs of economic recovery, CBRE and other market specialists are assuming a sound full-year result.
Rents Continue To Rise in 2021
Will rents fall or continue to rise in 2021? Prices grow so fast because demand stays strong and fewer places are available. Slightly weaker economic environment, particularly in the industrial sector, has not been reflected in the logisticsThe process of plann… market, more specifically contrast logistics market. For example, in 2019 rents rose ca 5% in major logistics areas (reaching 6.2 EUR /m2). Biggest increase can be observed in Berlin, where rents in central locations currently stand at 7.2 EUR /m2 (+11%). Other cities with noticable price increases include Hamburg (7.2 EUR/m2, +9%), Cologne (5.4 EUR/m2, +6%) and Frankurt (6.6 EUR/m2, +5%). Rents have remained stable only in Munich and Düsseldorf (REF: BNP Paribas, Logistics Market Germany, Oct 2019)
Supporting Trends: eCommerce and e-Mobility
Slowdown in the industrial sector is being balanced out with the growth of eCommerce in Germany, investments in the transition to e-mobility and takeup of innovative services like Waredock on-demand warehousing. These trends have long-term impact on the logistics market in general but also specifically the warehousingThe act of storing g… market.
Major Logistics Regions in Germany
The main logistics regions in Germany are Hamburg, Berlin, Hannover, Münster, Bremen, Leipzig, Kassel, Düsseldorf, Frankfurt, Nuremberg, Mannheim, Karlsruhe, Stuttgart, Munich.
Below we have summarized regional specifics for logistics space in Germany.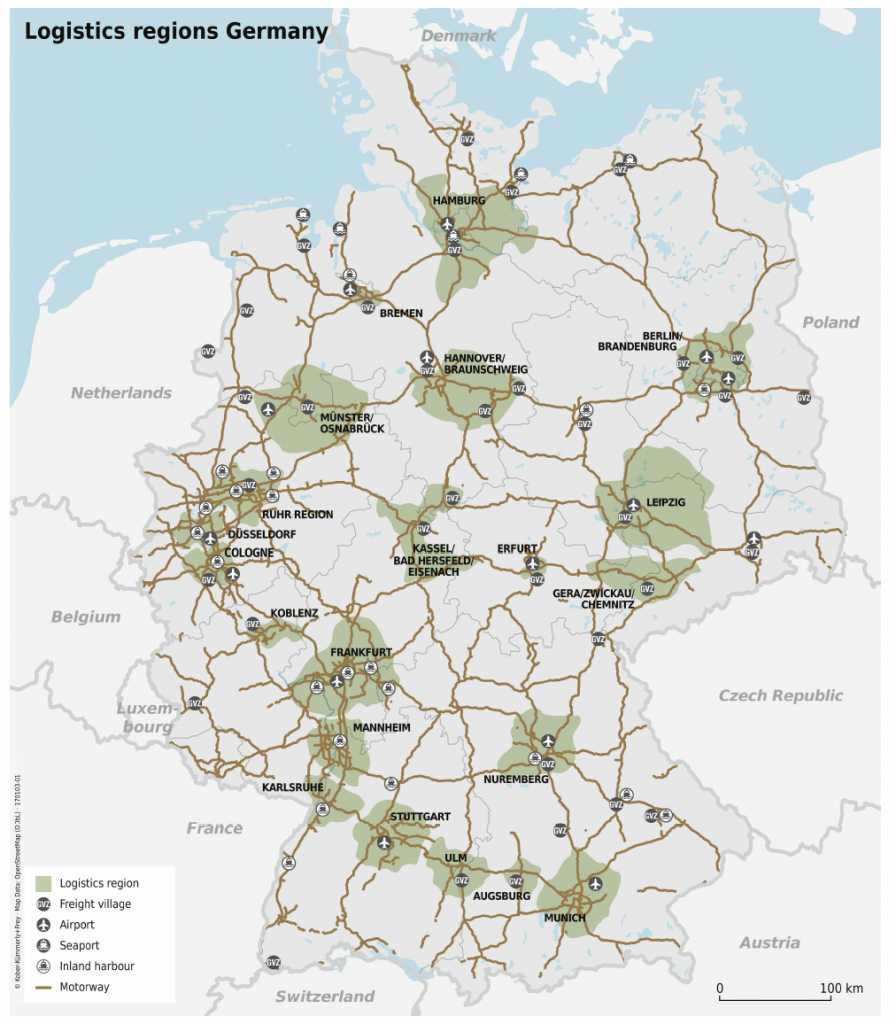 Warehouse Market In Berlin
Office space business is booming in Berlin and so is warehousing. Berlin warehouse market has grown to 385 000 m2 (+54%) thanks to a relatively larger supply in the city surroundings (in 2019 share of new buildings rose by nearly 50% compared to 2018).
According to JLL around 116,000 sqm of warehousing space was completed in the first half of the year, 30% of which is still unlet as of July 2020. A further 259,000 sqm is expected to be completed during the second half of the year, mainly in the Periphery Sout region where over 80% of all new space is located. This means that the supply of modern logistics space will increase in the most popular locations.
Tha main occupiers of logistics space in Berlin are traders (41% share), followed by logistics service providers (27% share), manufacturing (17%). Berlin is unique with its hugely diversified demand from other industries which account for 15% of the occupied space.
While in southern Berlin there is spare capacityThe physical facilit… for large scale requests, the situation is much more challenging in the central area of the city. Namely, Berlin has the highest prime rent in Germany (7.2 m2/EUR for the Charlottenburg interchangeIn EDI, the exchange… area), a 11% increase in 2019. The prime rent for warehousing space in the ≥ 5,000 sqm size category has remained stable by the mid-point of the year in 2020.
Warehouse Market In Hamburg
Hamburg boasts a universal portA port is a maritime… in which goodsA merchandise or mat… of all kinds are handled. City is strategically important location for many logistics companies. Other industries competing for space include retail (24% of total space) and manufacturing (14% of space). Hamburg warehouse market is declining, reaching 241 000 m2 (-36%). Occupiers with a demand starting even from 3000 m2 are struggling to find spaces without compromising qualityConformance to requi… and location requirements, as reported by BNP Paribas (Logistics Market Hamburg, Oct 2019). In the current market situation, lease contracts are often extended and hardly any new construction projects are completed.
After a significant rise in the previous year, the prime rent for
warehousing space in the ≥ 5,000 sqm size category remained stable at €6.40/sqm/month over the first half of the year.
JLL estimates that just under 20,000 sqm of new warehousing space is under construction in 2020, signifi cantly below the 5-year average (195,000 sqm). Some 174,000 sqm is expected to be completed during 2021 with around 70% of this still available according to current information, which may help to alleviate the tense supply situation.
Warehouse Market In Stuttgart
The economic strength of Stuttgart area is reflected in the growing demand for logistics space. Stuttgart warehouse market in 2019 grew to 148 000 m2 (+7%). Increasing demand is driven by transition to electromobility, and the general success of automotive industry (eg Daimler occupying a 42 000m2 production space in Waiblingen).
Main industries competing for space are manufacturing industry (incl automotive), followed by trading companies (eg outfoor specialist Bergfreunde) and logistics industry.
The prime rent for warehousing space in the ≥ 5,000 sqm size category remained stable at €6.80/sqm/month during the first half year and was achieved in the Stuttgart urban area. The second highest rent, of €6.50/sqm/month, was achieved in Böblingen and Ludwigsburg.
.
Warehouse Market In Munich
Munich warehouse market has grown to 391 000 m2 (+185%) which mainly is a result of one of the largest deals ever registered – a lease of 230 000m3 by KraussMaffei.
The prime rent for warehousing space in the ≥ 5,000 sqm size category has remained stable at €7.10/sqm/month since 2018.
Warehouse Market in Frankfurt
Frankfurt warehouse market has been shrinking to 241 000 m2 (-36%). Around 40% less space will be completed in 2020 compared to the 5-year average. Just 40,000 sqm of warehousing space was completed during the first six months and over 100,000 sqm is expected to be completed in the second half of the year. Of this, some 61,000 sqm is speculative development and therefore still available.

The prime rent for warehousing space in the ≥ 5,000 sqm size category remained stable at €6.20/sqm/month at the midpoint of the year
Warehousing in Other German Cities
Total space has been declicing in such cities as Cologne (88 000 m2, -55%), Leipzig (123 000 m2, -49%), Düsselforf (108 000 m2, -41%),
Comparing Warehouse Rents in Germany
Statista has recently published a research comparing rent costs for warehouses (in euros per square meter) in 2019 and 2020. The highest rent costs are in Berlin while the biggest growth in rent costs has been in Düsselforf.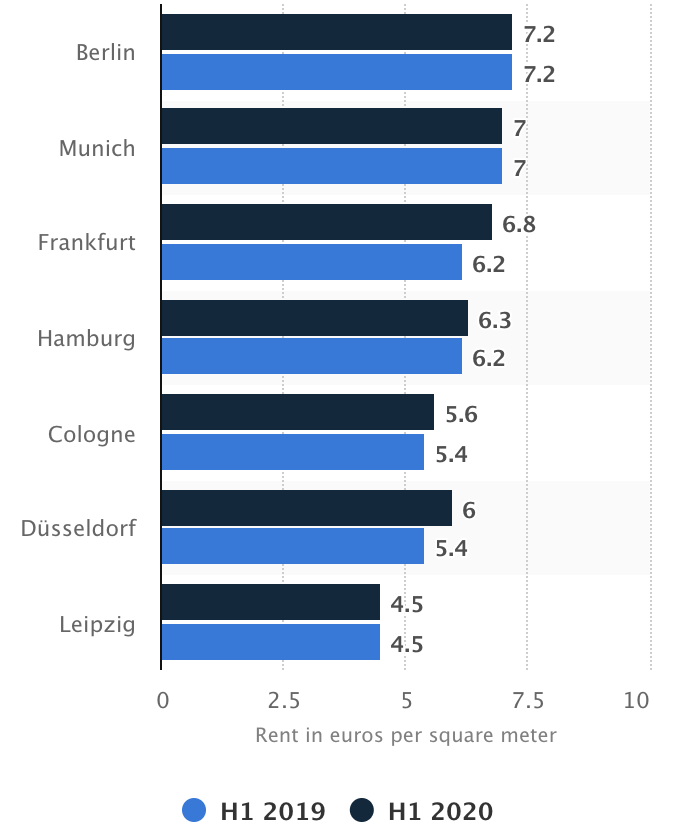 Warehouse Rent in Poland VS Germany
Considering the growing demand for warehousing space in many German cities coupled with regulatory hurdles to create new logistics parks it is increasingly lucrative to consider renting warehouse or investing into properties in Poland, a country which is still cheap by German standards. Waredock offers warehouses and fulfillment services in Germany, Poland and other European countries.
Below we have compared the prime rents in 2019 for major Polish and German cities. Make sure to read our full report: "Warehousing Market in Poland 2020".
Region
Prime rent in
€ per m²/
month
% growth
(2018 to 2019)
Warsaw
3.60
0.0
Lodz
3.60
0.0
Poznan
3.50
6.1
Wroclaw
3.60
12.5
Krakow
3.60
5.9
Szczecin
3.50
0.0
Berlin
7.20
11
Hamburg
6.30
9
Stuttgart
7.00
4.5
Warehouse Jobs and Salaries
Warehouse workers facilitate the distributionOutbound logistics, … of goods into, within and out of warehouse, load and unload trucks, place goods in storage and move inventory1) Raw materials, wo… as needed. The average hourly pay for a Warehouse Worker in Germany is €11.79 with an annual salary of €18k – €31k, according to Payscale.com. Skills in packaging are correlated to pay that is above average. Skills that pay less than market rateEstablished shipping… include picking1) The operations in….
Warehouse manager must also supervise the staff of the warehouse, along with working with them to complete tasksThe breakdown of the…. Other tasks that must be completed deal with coordinating tasks, enforcing programs, safeguarding the warehouse, and controlling inventory levels, conducting physical counts, reconciling with data storage system etc. Average warehouse manager salary in Germany is €40 338 (Payscale.com).
To find jobs in Germany try Glassdoor, Linkedin or Monster.de.
Top Warehouse Management Systems
The global market for Warehouse Management Systems (WMSA warehouse manageme…) was valued at USD 2.3 billion in 2019 and is expected to reach USD 5.1 billion by 2025, at a CAGR of 16.0% from 2020 to 2025. The top players in the WMS market include Manhattan Associates (US), Blue Yonder (JDA Software) (US), HighJump (Körber) (US), Oracle (US), SAP (Germany), IBM (US), Infor (US), PSI (US), PTC (Germany), Tecsys (Canada), BluJay Solutions (UK), and Epicor Software (US).
In Germany, Austria and Switzerland alone, approximately 130 providers of IT systems can currently be identified as Warehouse Management Systems (WMS) in accordance to VDI Guideline 3601.
Cold Storage Providers
The cold chainA cold chain is a re… logistics market is a fragmented market, and consists of a large number of local players . The following companies provide refrigerated warehousing / cold chain logistics in Germany: BITZER Kuhlmaschinenbau Gmbh., CDS Hackner GmbH., Wagner Group GmbH, Pfenning Logistics and Rite-Hite GmbH, Emder Kühlhaus Logistik.
Waredock in Germany
Waredock is more than a warehouse listings page. Our visionThe shared perceptio… at Waredock is a geographically dispersed distribution infrastructure that is enabled by data insights across the supply chain. We are working with German 3PL companies, property owners, businesses small and large in a range of industries. We help businesses get greater coverage in more markets. Our network includes every warehouse type, with the certifications and designations to store any specialized productSomething that has b…. And, we'll provide picking, kittingLight assembly of co…, shipment1) Lot of freight te… consolidationCombining two or mor…, and more.