Are you thinking of starting an online store? Not sure whether you should use Shopify or WooCommerce?
Shopify and WooCommerce are the two top eCommerce platforms in the world, each with its own pros and cons.
As a startup founder, choosing the right eCommerce platform that fits your startup needs is crucial for your success.
In this guide, we'll show you a detailed comparison of Shopify vs WooCommerce. The goal is to break down their advantages and disadvantages to help you choose the best option for your eCommerce store.
Overview: Shopify vs WooCommerce
Before we start with our in-depth comparison of the two most popular eCommerce platforms on the web, it's important that we cover the basics and highlight what makes these platform stand out.
What is Shopify?
Shopify is an all-in-one eCommerce solution with distinctive benefits that makes it easy for you to create an online store, accept payments, and manage your inventory, all from a single platform. Majority of businesses (more than 35%) turning to Waredock for eCommerce fulfilment support are running Shopify.
With Shopify, you don't need to worry about the technical aspects of managing an eCommerce site such as web hosting, security, caching, etc.
What is WooCommerce?
WooCommerce is an open-source eCommerce plugin built for WordPress. It allows you to leverage the most powerful content management system (CMS) and use it to run an online store.
WordPress is the most popular website builder on the planet powering 43% of all websites, and what many don't know WooCommerce is the most popular eCommerce platform (yes even more popular than Shopify).
Because of the open-source nature of WooCommerce, you can customize every aspect of your store and easily add custom extensions.
The decision to choose between the two platforms depends entirely on your needs and skill level.
What to Look for in an eCommerce Platform?
There are a few things that you absolutely need to keep in mind when starting an online store. These key factors will help you decide which platform is better suited for your needs.
Budget – The initial cost of starting a fully functional ecommerce store.
Ease of use – It should be easy to use even for absolute beginners.
Payment Methods – It should have support for multiple payment methods (e.g. PayPal, Stripe, other merchant processors).
Integrations – Number of services and third party tools you can integrate to grow your eCommerce business.
Scalability – The platform should be able to scale as your startup grows.
These are the very basic requirements that all online store owners must consider. However, depending on your needs, you may also want to look at other options like shipping, inventory management, invoicing, taxes, dropshipping, etc.
Our goal with this article is to take an in-depth look at how Shopify and WooCommerce stand on these basic requirements, and which one of them is best suited for your needs.
That being said, let's start our Shopify vs WooCommerce comparison.
A Quick Comparison
WooCommerce is basic without the bells and whistles (unless you add them yourself). It is customizable, allowing for a more creative interface. But with creativity comes a price tag, and that cost is developer knowledge. Shopify is a more complete package for business owners who don't want the fuss of dealing with the technical side of the internet.
|   | WooCommerce | Shopify |
| --- | --- | --- |
| Free Trial Length | WooCommerce and WordPress are both free and open-source software | You can try Shopify free for 14 days, no credit card required |
| Transaction Fees | With WooCommerce you will need to choose a hosting partner and purchase a domain name fee. These can vary with hosting costing around $120 a year, and $15 for registering a domain name | Basic Shopify, which is best for new e-commerce businesses with occasional in-person sales is $29 a month. Shopify middle package is best for growing businesses selling online or in-store, $79 a month. And the Advanced Shopify is best for scaling businesses that require advanced reporting, $299 a month |
| Support | An in-depth support tab allows users to lodge an issue and receive a ticket. There are also loads of online forums | Shopify Help Center has an easy to search and locate certain documents. They also allow for direct contact with an expert |
| Online and Offline Usability | Can only be used online | Online and offline via Shopify's point-of-sale (POS) kit |
| Platforms | Open source and can be modified to the code (no limitations) | Closed platform, only allows for drag and drop, as well as additional plugins |
| Hosting | Hosting is not included | Included |
| Subdomains | WordPress sites allow for an unlimited amount of subdomains | Unlimited amount of subdomains |
| SSL | Will need to find a plugin that suits your needs. You can use free SSL like Let's Encrypt | When the domain is purchased through Shopify you get TLS certification. If you've purchased the domain from a third party you'll need to encrypt it through another service provider |
| Creating Coupons | You can create coupons for any of the products in your store | You are limited to creating 20,000,000 unique discount codes for each store |
| Accepted Payment Methods | Currently there are 80 payment gateways available via the WooCommerce store. | Shopify Payment is linked to the owner's bank account. If you are based in a country without the Shopify Payment payment gateway you can always select another third-party plugin |
| Monthly Reports | Reports from WooCommerce can include data about sales by date, product, and category. These reports can be exported via CSV | Reports from Shopify can be taken over time, product, product vendor, location, and so much more |
| Search Engine Optimization (SEO) Tools | There are multiple SEO plugins for WordPress. One such service provider is Yoast which provides instant feedback to optimize your SEO page ranking | Shopify allows users to edit title tags, meta descriptions, URLs for blog posts, webpages, products and much more |
| Blogging | Yes | Yes |
One of the main reasons WooCommerce is the behemoth it is today is because it's free to use. It's automatically suggested when registering an account with WordPress, giving new users an easy answer to get started. It's important to remember that there is a learning curve with WooCommerce, and you'll have to devote some time to the online store build.
Shopify is easy to use from the moment you begin and can be optimized for search in just a few hours. Its drawback is that it's less customizable than WooCommerce due to it being a closed platform.
But those aren't the only comparison factors to consider. Below we will get into the nitty-gritty of each platform to help you decide which is best for you.
Cost: Shopify vs WooCommerce
Cost is often the most important consideration for eCommerce website owners. You need to evaluate the cost of getting started while also keeping in mind the variable costs for add-on services and software.
The True Cost of Using Shopify
Shopify makes it super easy to start your online store. Their basic plan starts at $29 per month, and you can upgrade to the Shopify plan for $79 or the Advanced Shopify plan for $299 per month.
Each of these plans includes SSL certificate and web hosting. It will come with a Shopify branded subdomain (e.g. https://your-store.myshopify.com).
If you want to use your own .com domain name, then you'll need to purchase it separately. Pricing for a regular .com domain name generally starts at $14/year.
The basic Shopify plan comes with enough features to set up a new online store. You can add unlimited products, 2 user accounts, unlimited file storage, and more.
However, this pricing doesn't include third-party tools and add-ons that you'll need to take your Shopify store to the next level. As your startup grows, these costs will start adding up, and you'll soon be paying a lot more than the basic plan.
Payments are another factor that affects your costs. Shopify offers their own Shopify Payments solution which costs 2.9% + 30 cents per transaction for the basic plan.
If you want to use third-party payment gateways or your own merchant account, then you will be charged a flat fee of 2.0% for all transactions. You can reduce this fee to 0.5% by using the Shopify Advanced plan which costs $299 per month.
These payment processing fees are fairly steep when using external payment gateways. However, if you're just starting out and want to use the Shopify Payments solution, then the fees are fairly comparable to popular platforms like Stripe and Braintree.
Shopify also offers plan a called Shopify lite which costs $9.00 / month. This plan lets you add buy buttons to any site or use Shopify for in-person sales in select regions.
For instance, you can create a WordPress website and add Shopify buy buttons there. However, if you are already making a WordPress website, then using WooCommerce would allow you to offer a much better experience.
The True Cost of Using WooCommerce
WooCommerce is an eCommerce plugin for WordPress.org (also known as self-hosted WordPress). It is open source and available as a free plugin.
However, you'll need a domain name, SSL Certificate, and a WordPress hosting account to start a WooCommerce store.
Typically, a domain name costs $14.99, an SSL Certificate costs $69.99, and web hosting costs around $7.99 / month. This is not cheap, particularly when you are just starting out.
Thankfully, there are several hosting companies who are now offering specialized WooCommerce hosting plans which significantly reduces the cost.
As you can see, the cost of starting a basic WooCommerce store is significantly lower than Shopify. WooCommerce also doesn't charge you a percentage fee on transactions which is a very nice perk.
Keep in mind that WooCommerce costs start adding up as you purchase paid extensions. Your hosting costs will also increase as your online store grows.
However, one clear advantage of using WooCommerce is that you can often find free alternatives to premium themes and paid extensions. You can also keep your costs in control by only purchasing the tools and plugins as you need them.
With the number of free themes and free add-ons available for WooCommerce, it's definitely the winner when it comes to cost.
Winner: WooCommerce
Ease of Use: Shopify vs WooCommerce
Most users starting an online store are not web designers or developers. Even users who are familiar with basic concepts need a platform that is easy to use and gets out of their way.
Let's see how Shopify and WooCommerce stack up in terms of user-friendliness.
Shopify – Ease of Use
Shopify is a fully hosted platform which means you don't need to install, manage, or update any software. You also don't need to worry about security, performance, backups, and compatibility issues.
As soon as you sign up, you can choose a design from many of the free Shopify themes. After that, they walk you through customization and then help you add products.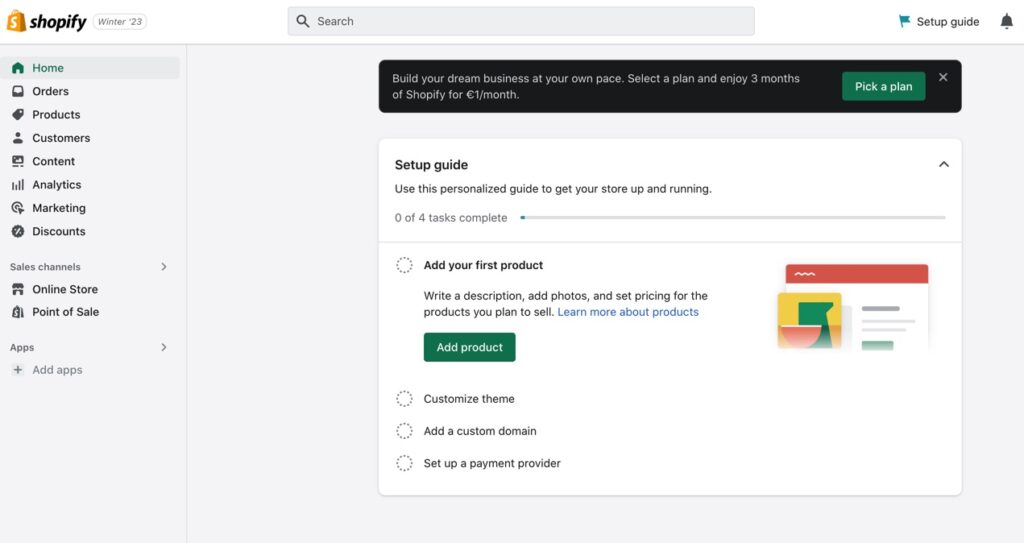 Shopify comes with an intuitive drag and drop interface. Managing your product pages, sales, and inventory inside Shopify is a breeze.
One downside of this guided, polished, and highly optimized user experience is that it limits your control. You can only use the design and development tools provided by Shopify or add-ons available in their marketplace.
However, this is not as bad as it sounds. For most users, the large selection of extensions and themes available in Shopify is more than enough to get started and grow your online store.
WooCommerce – Ease of Use
WooCommerce is not a hosted platform like Shopify. This means you will need to install the WooCommerce plugin, manage updates, keep backups, and make sure that your website is secure. There are plenty of free and paid plugins that can automate most of these tasks for you.
WooCommerce is super flexible when it comes to customizations. You have full control of the whole platform. You can add any functionality imaginable to your website with the help of more than 59,000+ WordPress plugins.
However, there is no built-in drag & drop design builder. You can use one of the WordPress page builders like SeedProd or Beaver Builder, but it adds to your cost.
The biggest downside of the flexibility is that it comes with a learning curve and requires more hands-on management of your website. You also have to signup for a merchant account or similar service like Stripe / PayPal.
While the WooCommerce guided setup wizard is helpful, it does not come close to the onboarding experience and ease of use of Shopify.
Winner: Shopify
Payment Methods: Shopify vs WooCommerce
There are many payment gateways that you can use to accept payments online. Some payment methods may not be suitable for you, and others may not be available to your customers.
This is why it's important that the platform you choose offers multiple payment options. Let's take a look at how Shopify and WooCommerce compare when it comes to payment integrations.
Payment Options in Shopify
Shopify offers plenty of payment options that customers can use during checkout. It has its own payments solution called Shopify Payments (powered by Stripe) as well as all popular third-party payment gateways.
| Payment provider | Provider type | How the customer pays | How you get paid |
| --- | --- | --- | --- |
| Shopify Payments | Payment gateway | Using Shopify Payments | Through Shopify Payments |
| Apple Pay | Accelerated checkout | Using Apple Pay | Through Shopify Payments |
| Amazon Pay | Payment gateway | Using Amazon Pay | By Amazon |
| Meta Pay | Accelerated checkout | Using Meta Pay | Through Shopify Payments |
| Google Pay | Accelerated checkout | Using Google Pay | Through Shopify Payments |
| PayPal | Payment gateway | Using PayPal | By PayPal |
| Shop Pay | Accelerated checkout | Using Shop Pay | Through Shopify Payments |
| Shop Pay Installments | Payment gateway | Using Shop Pay | By Affirm, through Shop Pay Installments |
The problem is that Shopify charges an extra 2% fees on each transaction made through third party payment gateways. This is on top of the transaction fees charged by the payment gateway. You can reduce the fee to 0.5% by paying $299 per month for Advanced Shopify plan.
Shopify Payments has credit card fees, but no other transaction fees. Credit card rates start from 2.9% + 30¢ for the basic plan and get lower for other plans.
If you use Shopify Payments, then you can check your pay period to see when you receive payouts from credit card orders. Other payment providers have their own rules on when you receive payouts for credit card orders. Check with your provider to find out how often you will be paid.
After the payout is sent, it might not be received by your bank right away. It can take a few days after the payout is sent for it to be deposited into your bank account. Check with your bank if you find your payouts are being delayed.
Payment Options in WooCommerce
WooCommerce offers PayPal and Stripe payments by default. They also have a WooCommerce Payments solution which is powered by Stripe.
It also supports all other popular payment service providers. You can install payment integrations for Authorize.net, Amazon Pay, Square, Alipay, and many more.
For payment gateways, WooCommerce even has support for many regional and less popular payment services. Since there is no barrier to entry, any payments company can create add-ons for WooCommerce and provide support for it.
As a self-hosted platform, you are only charged transaction fees by your payment gateway or your bank. Unless you are using WooCommerce Payments, WooCommerce never charges you a % fee on credit card payments, which is a major plus.
If choosing your own merchant account and using a third-party gateway is important for you, then you will save A LOT of money by using WooCommerce.
If you're a small store and willing to use Shopify Payments, which has the same credit card rates as Stripe / Paypal, then it makes no difference.
Winner: Tie
Integrations and Add-ons: Shopify vs WooCommerce
No matter how robust an e-commerce platform is, you'll always need third-party tools and services to grow your store. For example, email marketing software, lead generation tools, analytics tools, outreach services, etc.
Both Shopify and WooCommerce have a extensions directory, and they integrate with many third-party services.
Shopify Add-ons and Integrations
Shopify comes with a powerful API and an App Store where you can buy third-party add-ons for your Shopify store. They have hundreds of apps in the store covering every feature you'll want to add to your store.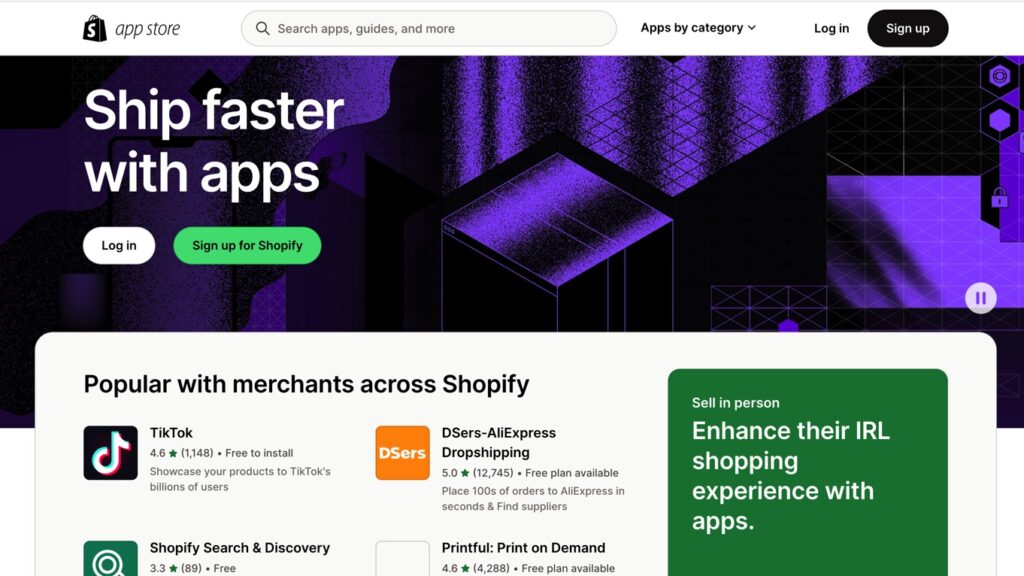 For lead generation, they have integrations with software like OptinMonster which helps you grow your email list and reduce cart abandonment. There are also Shopify apps for search engine optimization, product reviews, discounts, countdowns, and more.
Shopify's app store contains both free and paid apps. Free apps are usually created by third-party services that have their own pricing, and the app only integrates your store to their APIs. Pricing for paid add-ons varies and most apps offer monthly subscriptions.
In terms of numbers, there are fewer add-ons and extensions for Shopify than for WooCommerce / WordPress. That's because it can be difficult to get an app listed in their store.
Having personally gone through the process of submitting a plugin for WordPress and submitting an app to the Shopify store, we can say that the process is extremely harder on Shopify vs WooCommerce.
WooCommerce Add-ons and Integrations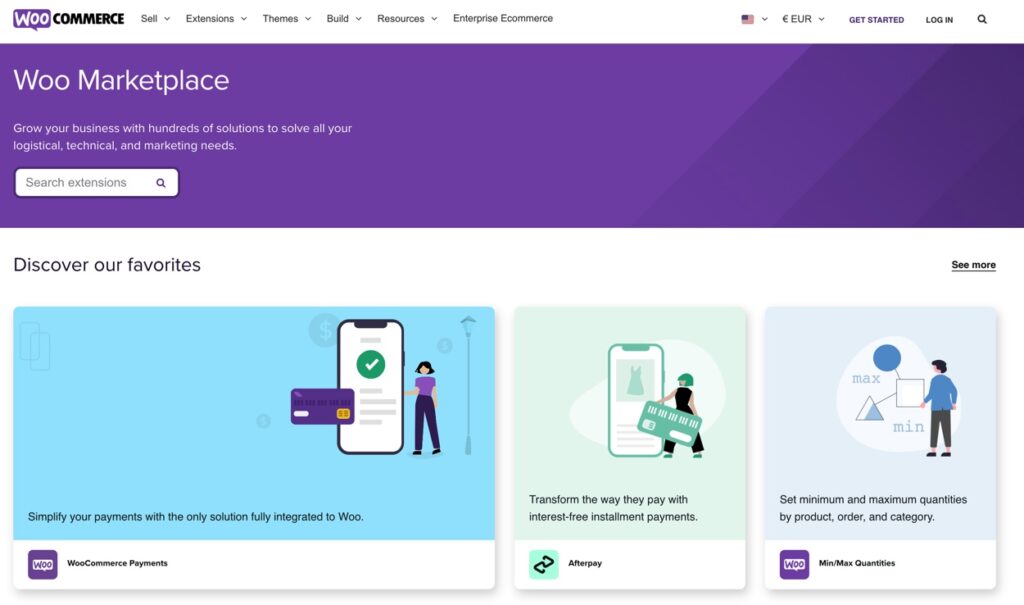 WooCommerce is open source and built on top of WordPress. This gives you access to more than 59,000+ free WordPress plugins and many more paid plugins.
You can use these add-ons to add payment gateways, lead generation, eCommerce SEO, performance optimization, social media integration, and almost any feature you can think of.
Due to the lower barrier of entry, there are a lot more integrations and add-ons available for WooCommerce than Shopify. Almost all third-party tools and service providers have their own plugins to seamlessly integrate with your WooCommerce store.
Having personally gone through the process of submitting a plugin for WordPress and submitting an app to the Shopify store, we can say that the process is extremely harder on Shopify vs WooCommerce.
You can also hire a WordPress developer to create an integration or plugin just for your own website.
Overall, it's important to keep in mind that WooCommerce is a lot easier to customize than Shopify.
Winner: WooCommerce
Shopify vs WooCommerce Dropshipping
Dropshipping is an online business where an eCommerce store doesn't keep the products in stock. Instead, it fulfills order by purchasing products from vendors and then shipping them directly to the customers.
Due to its low overhead, dropshipping has become popular around the world. Many of our users asked us to compare WooCommerce vs Shopify for dropshipping and which one of them is better for a dropshipping business.
Dropshipping with Shopify
When building a dropshipping business, the front-end of your website will look just like any online store. Your users will be able to browse products, add them to cart, and make payments, just like they would do on any other eCommerce store.
Depending on the vendors you choose, you will then have to place user's order for shipping.
Shopify also has integration apps for several popular dropshipping marketplaces like AliExpress, Oberlo, Printify, and more. However, each of these product marketplaces has their own membership fees, shipping, and other charges that you need to keep in mind when building your dropshipping website with Shopify.
Dropshipping with WooCommerce
WooCommerce is a popular choice among dropshipping businesses. Mainly because of the flexible dropshipping plugins for WooCommerce that make the whole process quite easy to set up.
You can easily find extensions that allow you to instantly import products, fulfill orders from your website, and more. You can even create an eBay-like eCommerce marketplace allowing other vendors to sell on your website.
Keep in mind that your supplier and vendor may have minimum order requirements, membership fees, and other charges. You need to keep those in mind when adding products to your WooCommerce dropshipping store.
Winner: WooCommerce
Scalability and Growth: Shopify vs WooCommerce
You have probably heard the term "growing pains" from various CEOs and founders. As your startup grows, you will need more resources to handle new challenges and goals.
Shopify and WooCommerce can both be scaled to a handle large amount of traffic and orders, but they're not created equal. Let's take a look at how these two eCommerce platform compare when it comes to scalability.
Scalability on Shopify
Shopify handles the technical parts of your store, which means you don't ever have to worry about performance, security, and scalability. Once your startup starts growing, you can simply upgrade your Shopify plan.
Their infrastructure can easily handle your growing startup without you having to worry about downtimes, backups, updates, or security. They also offer enterprise services as part of the Shopify Plus plan.
This takes out the painful part of the growth, but it also adds to your cost of business. Your expenses will grow, and you'll have to plan accordingly.
The good part is that your costs will be offset by you not having to hire or manage a technical team in-house.
Scalability on WooCommerce
WooCommerce is a self-hosted platform which makes you responsible for maintaining updates, backups, and security of your website.
Your starter WooCommerce hosting plan would run out of resources as your store starts getting more traffic.
The good news is that you have plenty of options to manage growth, since you are in full control of your WordPress site.
Your WooCommerce hosting costs will increase, but you will have better control on the specific resources you upgrade, and you can make sure that you are not paying for resources that you don't need.
You can even use a managed WordPress hosting provider like SiteGround or WP Engine to help scale your WooCommerce store.
Despite the control that WooCommerce offers, some small businesses simply prefer a hassle-free solution.
Winner: Shopify
Support Options for WooCommerce vs Shopify
Both WooCommerce and Shopify are quite easy to use. However, sometimes you may need help to learn how to do something new on your store.
Let's see how WooCommerce and Shopify handle support and the options they offer to get help when needed.
Support Options on Shopify
Shopify is a fully hosted platform, which means they control the software and they are the ones who know their platform the best.
Shopify provides 24/7 customer support via live chat, phone, email, and Twitter. For users who want to fix things on their own, Shopify offers extensive documentation, how-to guides, knowledge base, video tutorials, and forums.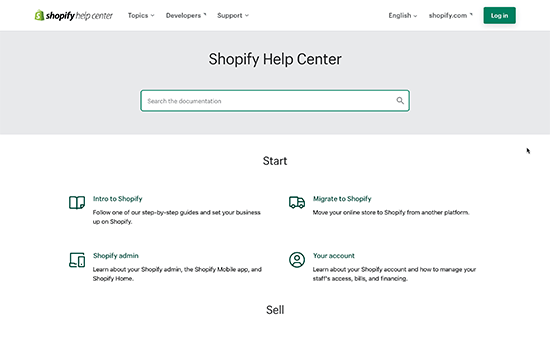 It also maintains a directory of Shopify Experts that you can hire if you need extra help or if you want to integrate a third-party solution.
However, Shopify doesn't provide support for any third-party apps or templates that you are using.
Support Options for WooCommerce
WooCommerce is the world's most popular eCommerce platform, which means there are tons of support options that you can utilize when needed.
The official website has extensive documentation, tutorials, and guides that allow you to help yourself. They also have support forums where you can get help from WooCommerce support team and other users and experts.
They have recently added 24/7 chat support for anyone who purchase any premium extension or theme from WooCommerce.com.
However, since WooCommerce is a self-hosted platform, it means that your hosting provider is responsible for providing support for issues with your server.
For third-party WordPress theme and extensions, those developers are responsible for answering support questions regarding their products.
Due to its immense popularity, it is quite easier and often cheaper to find developers to help you fix issues with your WooCommerce store. You can find developers on freelancing websites to fix WooCommerce issues.
Winner: Shopify
WooCommerce vs Shopify: Which is the Best eCommerce Platform for a Startup?
Shopify and WooCommerce are both powerful platforms to start your eCommerce store. It truly comes down to your personal skills and preferences.
Shopify is a lot easier to use. It doesn't require you to install anything, and you can get started quickly. Setting up payments is easier, and they have easy-to-understand pricing plans.
The disadvantage of Shopify is that you don't have full control over everything. Your costs can go high with transaction fees, add-ons, and integrations. Your upgrade options are limited to select plans, and you cannot manage costs on a pay-as-you-grow basis.
WooCommerce is open source and gives you full control of your website. It costs a lot lower to start an online store with WooCommerce specially with these WooCommerce hosting companies.
The disadvantage is that you'll have to maintain the software. It comes with a bit of learning curve. However, millions of beginners are already using it, and they get over the learning phase quite quickly.
If you are looking for a cost-effective solution, and you want to have full control of your online store, then WooCommerce is the best platform for you.
If you want something that's completely hassle-free that has infinite scalability, then Shopify is the better platform for you.
FAQs about Shopify vs WooCommerce
Following are the answers to some of the most frequently asked questions about Shopify vs WooCommerce that users have asked us.
How is WooCommerce different than Shopify?
Shopify provides platform as a service. They provide the software and website hosting for your online store and take care of backups, security, and maintenance.
On the other hand, WooCommerce is a self-hosted eCommerce platform. You'll need a WooCommerce hosting account and a domain name and you'll manage your online store by yourself.
Both platforms allow you to easily sell products online, receive payments via PCI compliant third-party payment gateways, and manage inventory.
Which one is more popular Shopify vs WooCommerce?
WooCommerce is the world's most popular eCommerce platform. According to Builtwith, WooCommerce is used on 28% of top 1 million websites, followed by Shopify at 20%.
WooCommerce runs on top of WordPress, which itself is the most popular website builder powering more than 43% of all websites on the internet.
Can I use Shopify with WordPress?
You can use Shopify Lite with WordPress by installing Shopify's Buy Now button. This implementation will take users to Shopify cart to complete the checkout.
However, its implementation would be a bit trickier and may not offer the best user experience. If you are using WordPress, then there are plugins like WPForms which allow you to accept payments online without installing a shopping cart plugin like WooCommerce.
What are some alternatives to Shopify and WooCommerce?
Shopify and WooCommerce are two top eCommerce platforms on the market.
Ecommerce services that offer platforms as service like Shopify include BigCommerce, Squarespace, Wix, and more. WordPress plugins that you can use as WooCommerce alternative include MemberPress, WP Forms, Easy Digital Downloads, and more.
Which eCommerce platform is more flexible?
WooCommerce offers more flexibility due to its larger extensions library. It runs on top of WordPress so it can be used for blogging and a business website at the same time. Works with all email platforms like Constant Contact, Mailchimp, and more. You can easily optimize your website using SEO plugin like All in One SEO or Yoast SEO.
You also get more WooCommerce themes with free WordPress.org theme store. More importantly you can easily use tools to boost conversions and abandoned cart recovery.