A Dynamic Market
In Poland there there is increased activity from 3PL and production occupiers, which accounted for 45% and 23% of total net take-up, respectively. Corporate strategies are shifting towards maintaining higher stock levels in Europe, which can help to safeguard supply chains, and in turn, boost warehousing demand.
By the middle of 2022, almost 4.5 million sqm of warehouse and industrial space was under construction in Poland. In terms of growth, the Polish market is second in Europe. By mid-2022, there was 30 per cent more space under construction than at the end of 2021, but there was a nearly 10 per cent drop in output from spring to summer. 
Global economic turbulence and the conflict in Ukraine are creating uncertainty among investors. This makes it difficult for them to realistically estimate future construction costs. However, major players are still looking for land for investment, despite persistently high land prices. The building up of land banks indicates the desire of developers to return to intense investment activity. Companies expect the market to continue to grow rapidly. 
The decline in the number of new investments in Poland's warehouse sector is unrelated to demand. Interest in renting is still at a record high. In the second quarter of this year, demand for warehouses reached historic highs. The slowdown in the market is mainly related to difficulties in project implementation and rising costs of new investments.  
Supply shortages reflected by an aggregate vacancy rate of 3.5% indicate further widespread opportunities for the market. 2022 has observed some 13.7 million m² of new logistics space, which represents a 25% increase year-on-year.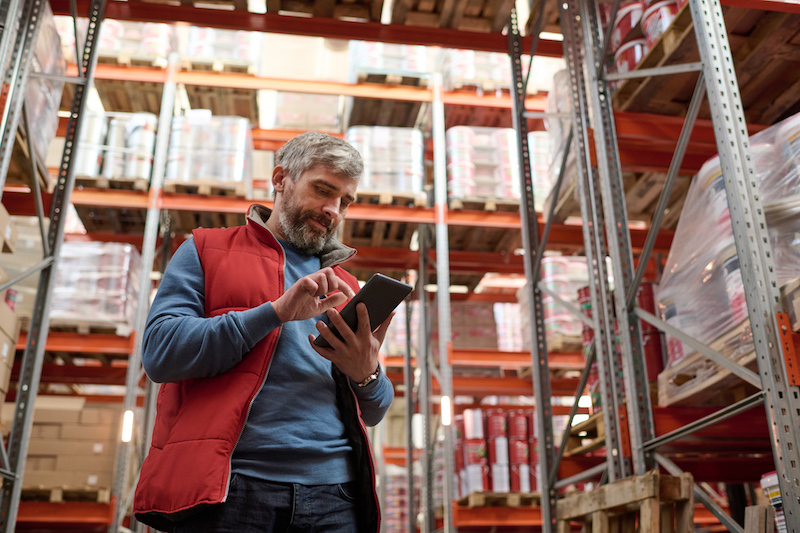 Ecommerce Fulfillment Market in Poland
The e-commerce market in Central and Eastern Europe is expanding rapidly thanks to rising consumer incomes and a vibrant digital landscape, with Poland acting as a European hub for IT services and logistics. This unique pairing makes Poland a gateway to the CEE's e-commerce market.
Local consumers are eager to buy more and more frequently online, creating perfect conditions for international sellers. In this article, you will find valuable insights about the opportunities waiting for merchants, buyers' behaviors and preferences, as well as an outlook for the future. Let's start with a quick e-commerce market overview.
The volume of warehouse space dedicated to the e-commerce sector in Poland has increased from 3.9 million sq m in 2019 to the current 7.35 million sq m, representing an 84% increase over the last three years. Such space now accounts for 30.7% of Poland's total warehouse stock, up by 6.2 pp from 24.5% in 2019.
The largest volumes of warehouse space dedicated to online fulfilment are in Lower Silesia (1,445,000 sq m), Łódzkie (1,046,000 sq m) and Silesia (1,032,000 sq m) as these regions benefit from their proximity to foreign markets. Such warehouse facilities are located along the S3 route in western Poland, including in Legnica, Głogów, Zgorzelec, Słubice, Rokitno, Świebodzin, Zielona Góra, and Gorzów Wielkopolski.
Warehouse Markets in Europe Compared
The warehousing & storage industry is valued at €1.1bn and is ranked 8th in Europe in 2023 (of 25 total EU countries). The industry's rank (8th) has remained the same since 2018.
| RANK | COUNTRY | INDUSTRY REVENUE |
| --- | --- | --- |
| 1 | Germany | €25.0bn |
| 2 | France | €13.3bn |
| 3 | Spain | €4.3bn |
| 4 | Italy | €3.6bn |
| 5 | Netherlands | €3.0bn |
| 6 | Belgium | €2.1bn |
| 7 | Czechia | €2.0bn |
| 8 | Poland | €1.1bn |
| 9 | Ireland | €893.4m |
| 10 | Portugal | €702.7m |
| 11 | Slovakia | €500.5m |
| 12 | Hungary | €403.5m |
| 13 | Austria | €315.2m |
| 14 | Romania | €277.6m |
| 15 | Sweden | €258.6m |
| 16 | Finland | €249.9m |
| 17 | Denmark | €244.7m |
| 18 | Greece | €143.5m |
| 19 | Estonia | €104.3m |
| 20 | Lithuania | €69.0m |
| 21 | Latvia | €58.6m |
| 22 | Bulgaria | €42.9m |
| 23 | Croatia | €40.2m |
| 24 | Slovenia | €33.0m |
| 25 | Cyprus | €12.8m |
Warehousing industry sizes in Europe
Warehouse Rent and Investments
Rents maintained their upward trajectory in 2022. An increase in offered values, especially in terms of new developments, was up to 30% more than at the end of 2021. These offers, however, vary geographically and from park to park.
Increased costs of project construction and property maintenance have affected warehouse rental prices, which so far in Poland have remained very low compared to other European markets. The highest increases were recorded in the Cracow and Tricity provinces, as well as in the Warsaw area. According to LBC Invest, since the beginning of 2022, rents have risen from around 10 per cent to as much as 25 per cent, depending on the location.
Due to the low availability of vacant space and the limitation of new supply, further increases in rental rates can be expected throughout Poland, which already began to rise at the end of last year and the beginning of this year.
Higher rental prices are certainly a motivating factor for investors due to the increased profitability of investments. Investment activity, on the other hand, may be dampened by high prices for attractive land and twice as high costs associated with financing projects by banks. ESG requirements make warehouse facilities environmentally friendly, energy efficient and comfortable to use, but the cost of implementing such projects is also correspondingly higher.
The Fastest Average Transit Time Among the European Countries
Among the European Countries, Poland had the fastest transit time of 1.09 days in the first quarter of 2022. In comparison, Germany and France had transit times of 1.14 days and 1.82 days, respectively. Poland's transit time of 1.09 days has been a significant improvement from its transit time of 1.4 days for the same period last year.
Furthermore, Poland's faster transit time can be attributed to its developed sea, rail, road, and air transportation infrastructures, along with the many logistics hubs located across Central Poland. The country also adopted simplified border crossing procedures for e-commerce logistics and trucks, making it quicker and faster to clear and process shipments. In the peak season last year, Poland observed a significantly shorter transit time of 1 day, as compared to its neighbors like France (1.92 days) and Germany (1.2 days).
What's more, France's average transit time of 1.82 days in the first quarter of 2022 was quite similar to the country's transit time of 1.8 days for the same period last year. Conversely, Germany experienced an improvement from its transit time of 1.4 days to 1.14 days in the first quarter of 2021 and 2022, respectively. This has been made possible with more third-party logistics (3PL) companies with warehouses across the country, which in turn reduced the shipping distance and time it takes to get goods to consumers.
Waredock in Poland
Waredock offers fulfillment and warehousing in Poland in different regions – in metropolitan Warsaw area as well as near the border of Germany. Our vision at Waredock is a geographically dispersed fulfillment and warehouse infrastructure that is enabled by data insights across the supply chain. We are working with Polish 3PL companies, property owners, businesses small and large in a range of industries. We help businesses get greater coverage in more markets. Our network includes every warehouse type, with the certifications and designations to store any specialized product. And, we'll provide picking, kitting, shipment consolidation, and more.