What is TikTok?
Before we try to understand what makes this app so successful and what could be the secret of its success, let's take a step back and begin with a short overview of the founding phase.
The app was launched in China in September 2016 as Douyin by its parent company BytteDance. In the following year, it was also launched outside China under the name TikTok. It is interesting to note that Douyin was developed in only 200 days. With the purchase of Musical.ly for one billion US dollars, which enjoyed great popularity, especially in the USA, the parent company once again figuratively blew wind into TikTok's sails. Although Douyin and TikTok are hardly any different, they run on different servers to comply with Chinese censorship regulations.
But what exactly makes TikTok an attractive partner for ecommerce companies and how does the app differentiate itself from its competitors?
User Numbers on TikTok
Right now, there is probably no faster way for online businesses to be seen by young people than with the help of TikTok. In fact, already in April 2020 more than 2 billion people around the world, most of them teenagers, have downloaded the app and this trend does not look like slowing down. Within the span of 3 years, TikTok has managed to reach as many monthly users as Instagram did in 6 years. To reach one billion users, TikTok (2 years) took only a quarter of the time compared to the top dog Facebook (8 years). In the first quarter of 2020, TikTok broke the all-time record for apps as downloads amounted to 315 million.
Moreover, the top 50 Creators (that's the name of the active users) have more followers than inhabitants of Mexico, Canada, the UK, Australia, and the USA together (which accounts for almost 8% of the world population). In terms of downloads, TikTok reached 4th place in North America in 2019, leaving behind other industry giants such as Instagram, Snapchat, Spotify, Netflix, etc. This makes the Chinese company the only brand within the top 5 that does not belong to the Facebook group. In addition ranking, 7th in the download ranking for the whole decade (2010-2020) is also impressive. So, despite the young age of the network, social media giants like Twitter and YouTube have been left behind by TikTok.
TikTok's Strategy
The mission of the network is to enable creativity, knowledge and the precious moments of life to be captured and shared easily and directly with the mobile device. What differentiates TikTok from its competitors is that it is more of an entertainment platform than a lifestyle platform. It is mainly used to share short videos (5-15 seconds). These videos are often related to music and are intended to be funny, emotional, or impressive and thus entertain other users. Over one billion such videos are shared every day.
Target Group of TikTok
As already mentioned beforehand, the target group of TikTok consists of predominantly young people. About 60% of U.S. users are  16 to 24 years of age. Other estimates even speak of significantly more young users worldwide. These users also represent an extremely attractive target group for e-commerce. Furthermore, TikTok users, the majority of whom come from India, China, and the USA, are characterized by an above-average level of commitment. While many apps are often only downloaded, used once, and then forgotten, 90% of TikTok users use the platform daily. In fact, the network is opened  8 times a day per person on average.
TikTok and E-Commerce
It's hardly surprising that TikTok wants to get the most out of its sizeable user base. Looking at the internet-savvy target group, e-commerce naturally plays a decisive role in this. Since November 2019, the operators of TikTok have been testing so-called social commerce. Social commerce includes e-commerce links that enable the purchase of various products within the app and represents a new method for progressive marketers to advertise and sell their own products. Creators help to humanize brands and are seen by many enthusiastic, mostly young people. This is what almost every e-commerce entrepreneur dreams of. Also back in October 2020, the platform announced cooperation with Shopify to enable the more than one million merchants using the Canadian shop system, to reach the younger audience on TikTok. This makes in-app shopping possible, which further pushes the social commerce aspirations of TikTok.
Furthermore, the almost non-existent hurdles speak for an advertising attempt as a growth-oriented e-commerce company at TikTok. The platform enables managers and ambitious marketers to experiment with a new promising phenomenon and to develop new target groups. Moreover, the young target group seems to be quite willing to pay, at least in the US market. From 2018 to the end of 2019 they have spent more than 23 million dollars on the virtual currency within the network, with which "only" emojis and the similar can be purchased and sent to other TikTok users.
Many e-commerce executives will now, at the latest, recognize the potential of this new phenomenon. Despite the attractive figures, however, only 3.7% of the content in the USA is currently created by companies. It can be assumed that the figure for the platform in Europe is significantly lower. Just under 4% of social media marketers advertise on this platform. These figures also come from the American market. This may not sound like much on its own, but if you put the numbers in relation to Facebook (89%) and Instagram (65%) you can see that there is a lot of catching up to do. Hence, this represents a great advertising opportunity for many e-commerce companies.
So, what is the reason for only a few companies becoming active, and what opportunities are there for e-commerce companies to promote their own brand through this innovative channel and increase sales?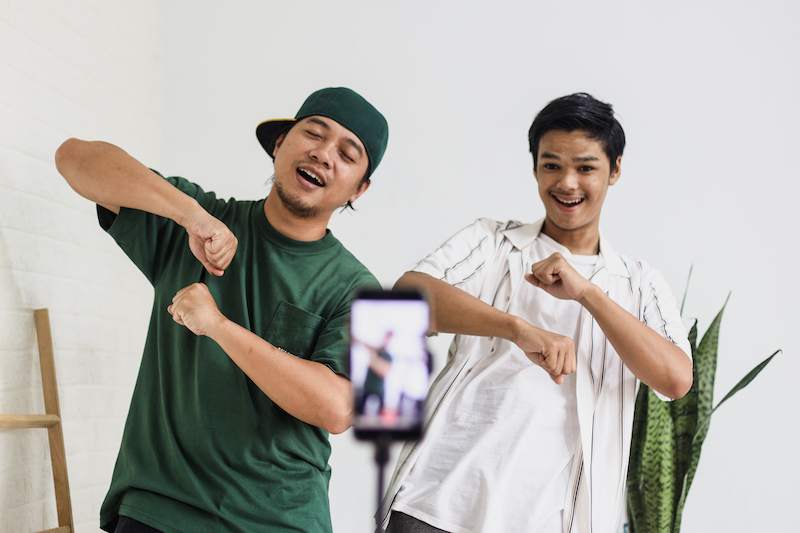 Why many E-Commerce Companies do not involve with TikTok
Besides all the positive news and ever new records of downloads and monthly users, negative news about TikTok keep emerging, rendering small and large concerns still that prevent many entrepreneurs, in e-commerce and beyond, from using this social media platform for advertising and sales. Here are a few points you should consider before "tackling" this challenge:
Early-stage of the business
European market not yet won
Marketing ethics
Data security
Early phase of the company
Unlike Facebook or Instagram, TikTok still has comparatively little experience in its market and is still experimenting with possible ways to make revenue. This is unsettling for many online merchants and is, therefore, a crucial reason for them to tread water until concrete steps are made by TikTok.
European market not yet won
Another point that e-commerce companies in Europe must not neglect is where the majority of TikTok users come from and, of course, whether this is in line with their own objectives and requirements. Because when talking about the big figures that are regularly mentioned, one must not forget that the majority of them fall back on India, China, and the USA. Although the numbers may seem small in comparison, the network's downloads in Europe are increasing, especially in Germany, Austria, France, and the UK. Figures from December 2019 show that Germany (5.5 million) is currently the most attractive market for the platform in Europe, leading way for the UK (5.4 million), France (4.4 million), Spain (3.5 million), and Italy (3 million).
Marketing ethics
The Chinese company has had some serious problems with the ethical justification of its marketing measures and, moreover, its business model. Last year, for example, there was an increase in bad publicity.  Among other things, the company was criticized for its poor handling of children's data. In April 2019, TikTok was even banned in India because not enough attention was paid to children and their safety on the Internet. However, due to ad hoc adjustments to address this issue, the verdict was reversed after a short time, as in a similar case from Indonesia.
Data security
In addition to the reasons already mentioned, the concern for data security at the Chinese company plays a decisive role in why some e-commerce companies shy away from this social media app and do not dare to cooperate. Articles such as the one in the New York Times fuel the fears that some platforms like TikTok are enabling the Chinese government to illiberally collect protected private data from foreign entrepreneurs and keeping censorship in its own country under control.
Because of all these problems, TikTok has announced that in 2020 it will pay close attention to data security and the well-being of young users.
Advertising on TikTok
There are different ways to advertise on TikTok:
Hashtag Challenge

Biddable Ads

Brand Takeover
Branded Lenses
TikTok's Hashtag Challenge
The Hashtag Challenge is a game that invites and encourages users to create and post content under a sponsored hashtag. The products can then be purchased in the app itself.
The US grocery store Kroger was the pioneer with the #TransformUrDorm Challenge. The challenge involved students transforming their rooms in student dormitories and posting short videos of the change. They were also invited to buy products such as coffee machines and other household appliances from Kroger. Four TikTok Creators were hired to make the hashtag more popular. This sponsored hashtag now has nearly 500 million views for hundreds of different videos and shows the potential of this method for e-commerce companies.
Costs: Starting at $100 000 (Adweek, 2019). About the same amount is recommended to promote the challenge.
TikTok's Biddable Ads
These are advertisements that appear when users "scroll". These advertising messages fly, so to speak, through the feed and thus only disturb the users minimally. Currently, TikTok offers e-commerce companies the ability to select or exclude the target group based on gender, age, and location. The costs can be allocated in three different ways. These are Cost per Click (CPC), Cost per Impression (CPM), and Cost per View (CPV).
Costs: From about $500 per day (depending on reach, target group, etc.)
TikTok's Brand Takeover
So-called brand takeovers are the most extreme form of advertising on TikTok and are therefore limited to one advertiser per day. The advertising brand takes over the start screen. With a click on it, the user is redirected to another page.
Costs: $20 000 – $200 000 per day (Digiday, 2019)
TikTok's Branded Lenses
These are 3D stickers and various face filters that can be used to tell funny, creepy, or simply beautiful "stories". They increase engagement with the app and are generally comparable to the Augmented Reality (AR) filters from Instagram and Snapchat.
By the way, it's also interesting to note that TikTok Influencers with 2.5 million followers and more, charge between $600 – $1000 per paid promotion, while Influencers on Instagram charge between $100 per 10 000 followers. Thus, a follower on Instagram costs more than 25 times as much as one follower on TikTok.
As in every area in marketing, make sure to know what your actions lead to and what the results are. Yes, we are talking about analytics. For that, TikTok offers in-app analytics that can help you track your performance. In order to be able to use it, you have to change to the pro account which is easy to do and free. Find here how to switch to a TikTok pro account step by step. 
Start or Scale Your eCommerce Business with Us!
How can Your E-Commerce Business benefit from TikTok?
As an ambitious e-commerce entrepreneur, you are now asking yourself how can you take an advantage of this opportunity and strengthen your brand using TikTok. 
There are a lot of ways on how a TikTok Ecommerce strategy can increase your sales for your ecommerce. 
Start Your own Channel
Upload relevant and interesting content yourself. This method is one that is done in-house and can have very positive effects on your brand recognition and social media presence.
Cooperate with Influencers and Creators
This method can be very efficient, but as on any other social media platform, it can also "go nowhere". Therefore, make sure that the influencer in question is also a good "fit" for your brand. So, collaborate with the right person and distribute your content within your target group in a  comparably cost-saving way.
Advertise Your Product on TikTok
Of course, TikTok is by far not as mature as Facebook or Instagram in terms of targeting. Nevertheless, it brings great potential and many opportunities. Think carefully about which of the 4 advertising methods explained above are most feasible for your goals.
Conclusion
TikTok should certainly continue to be observed by every marketer in e-commerce, even though there are some critical aspects to consider. The company's development in some unpleasant areas should also continue to be monitored closely. If the app's target group matches that of your online shop, TikTok is undoubtedly an attractive alternative, or in most cases rather an addition to your existing social media presence. The further development of the network in Europe remains a worthy topic to pay close attention to. If TikTok "picks up speed" as much as in the American and Asian markets, there will soon be no way around it for e-commerce companies.