North America has seen a sharp rise in recent years in warehouseA place to store goo… leasing from logisticsThe process of plann… players across the region. The increasing service levels, such as e-commerceSee Electronic Comme… and same-day delivery, are influencing retailers to further outsourceTo utilize a third p… their services. Many small businesses and local companies in the U.S. rely on external warehousing to contain their costs.
E-Commerce Market Overview
The fast-growing e-commerce market in the region is Canada while the US market is the largest market and it is growing steadily. The e-commerce user penetration is relatively low in Mexico and the Mexican e-commerce market is expected to witness a healthy growth rateEstablished shipping… in the next 5 years.
The majority of e-commerce companies award contracts to logistics service providers to provide warehousingThe act of storing g… and distributionOutbound logistics, … service. The high-velocity e-commerce business models necessitate the companies to have technological solutions that increase the speed of the fulfillment processes.
Contract

An agreement between…

Logistics Market
The major contract logistics players in the North American market are DHL, XPO Logistics, UPS, FedEx, DB Schenker, Ryder System. However, the contract logistics market in North America is fragmented with large number of players operating in the market and providing services at various levels. The companies are following the trends of consolidationCombining two or mor… and expansion to gain foothold in the market. For instance, In 2018, DB Schenker opened three new contract logistics facilitiesThe physical plant, … in US to accommodate both existing and new customers and moved one existing location to a much larger facility. The company expects to open another six or seven contract logistics facilities by 2020.
On-demand

Pertaining to work p…

and Cloud Based Warehousing
With the emergence of e-commerce, start-ups related to on-demand and cloud based warehousing are gaining popularity. Companies like Waredock, Flowspace and Flexe offerSee Tender. flexibilityAbility to respond q… to the companies in terms of using the warehousing space according to the seasonal demand instead of long-term contracts for a fixed space. This presents tough competition to the existing traditional contract logistics service providers.
Warehousing and Storage Market Size
Businesswire expects that North American warehousing and storage market reaches $86.41 Billion in 2024. The North America warehousing and storage market value in 2018 was $ 71.9 Billion.
Ecommerce Market Share: US vs Global Trends
The global B2CSee Business-to-Cust… e-commerce market size was valued at USD 3.67 trillion in 2020. It is expected to expand at a compound annual growth rate (CAGR) of 9.7% from 2021 to 2028. Though the United States is often thought of as the largest market for ecommerce, it isn't. However, it does make the list of the top 10 largest ecommerce markets in the world:
China: $672 billion
USA: $340 billion
United Kingdom: $99 billion
Japan: $79 billion
Germany: $73 billion
France: $43 billion
South Korea: $37 billion
Canada: $30 billion
Russia: $20 billion
Brazil: $19 billion
Nielsen's Global Connected Commerce report provides a detailed breakdown of the most lucrative industries by country.
Business-to-Business Ecommerce
B2BSee Business-to-Busi… ecommerce refers to the marketing, selling, and distribution of products from one business to another online. This includes software as a service (SaaS) companies, wholesalers, and so on. It also includes the buying and selling of companies.
In 2021, business-to-businessAs opposed to busine… online sales are projected to reach 1.2 trillion U.S. dollars, up from 889 billion U.S. dollars in 2017.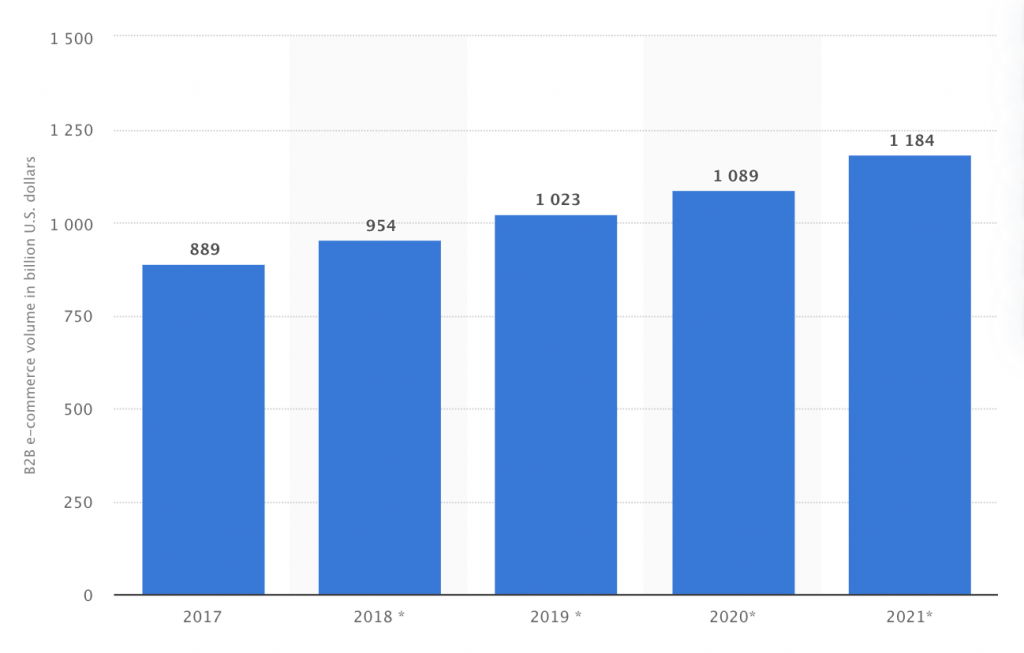 Business-to-Consumer Ecommerce
The U.S. B2C eCommerce market accounted for US$360 billion in 2019. Amazon.com heads the list of the online stores by net sales in the U.S. in 2019. Other large and prominent players on the U.S. market are e.g. walmart.com, apple.com, homedepot.com and bestbuy.com. The top 5 online stores in the U.S. accounted for 40% of the net sales of the top 500 online stores in 2019.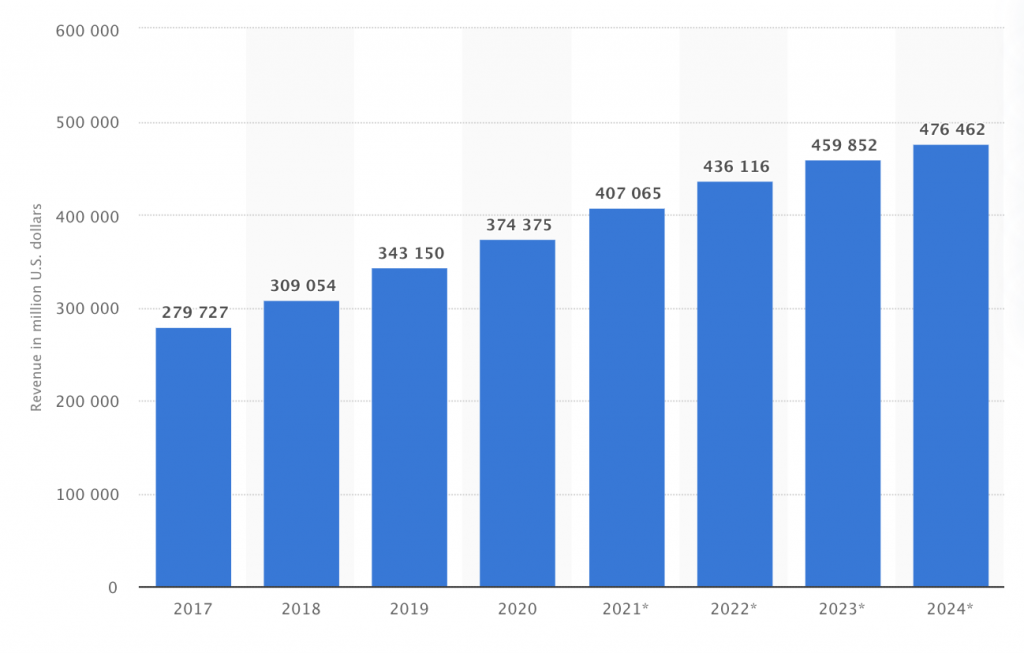 Waredock in North America
Waredock is a cloud logistics provider and we are working with North American 3PLThird-party logistic… companies, property owners, businesses small and large in a range of industries. We help merchants sell to Europe via our network. Our network includes various warehouse types, with the certifications and designations to store almost any specialized productSomething that has b…. And, we'll provide picking1) The operations in…, kittingLight assembly of co…, shipment1) Lot of freight te… consolidation, and more