What is Amazon Robotic Fulfillment Center?
Amazon Robotic Fulfillment Centers (ARFC) are automated storage and retrieval systems used by Amazon to fulfill customer orders. They are large warehouses that use robots to move and store items, and to pick and pack orders for shipment. The robots work alongside human workers to efficiently and quickly fulfill customer orders.
ARFCs aim to reduce the time and costs associated with traditional manual fulfillment processes and to increase order accuracy and speed of delivery.
Where are Amazon Robotic Fulfillment Centers located?
Amazon Robotic Fulfillment Centers (ARFCs) are located in multiple countries including the United States, United Kingdom, Japan, Germany, France, Italy, Spain, Canada, China, and more. The exact locations of these centers are not publicly disclosed by Amazon.
Order and stock management for sellers and fulfillment centers
Automate your inventory and order process with Waredock
What kind of robots and devices can we find in the Amazon Robotics Fulfillment Center? 
There is a lof of technology that is working behind the scenes in Amazon warehouses and much of it may not be visible at first sight. Most of the technologies used are proprietary and something that Amazon has been working on for long time.
The time to fulfill the order must be minimized. Lets review below some of the robotic masterpieces and devices in the warehouse that support this big goal.
Fanuc 6 axis robot
Fanuc 6 axis robot is a massive robotic arm that can lift 1300 kg (3000 pound) pallets 7m (24 ft) in the air. It can be found for example in the Dupont, WA, Amazon 8th Generation Fulfillment Center.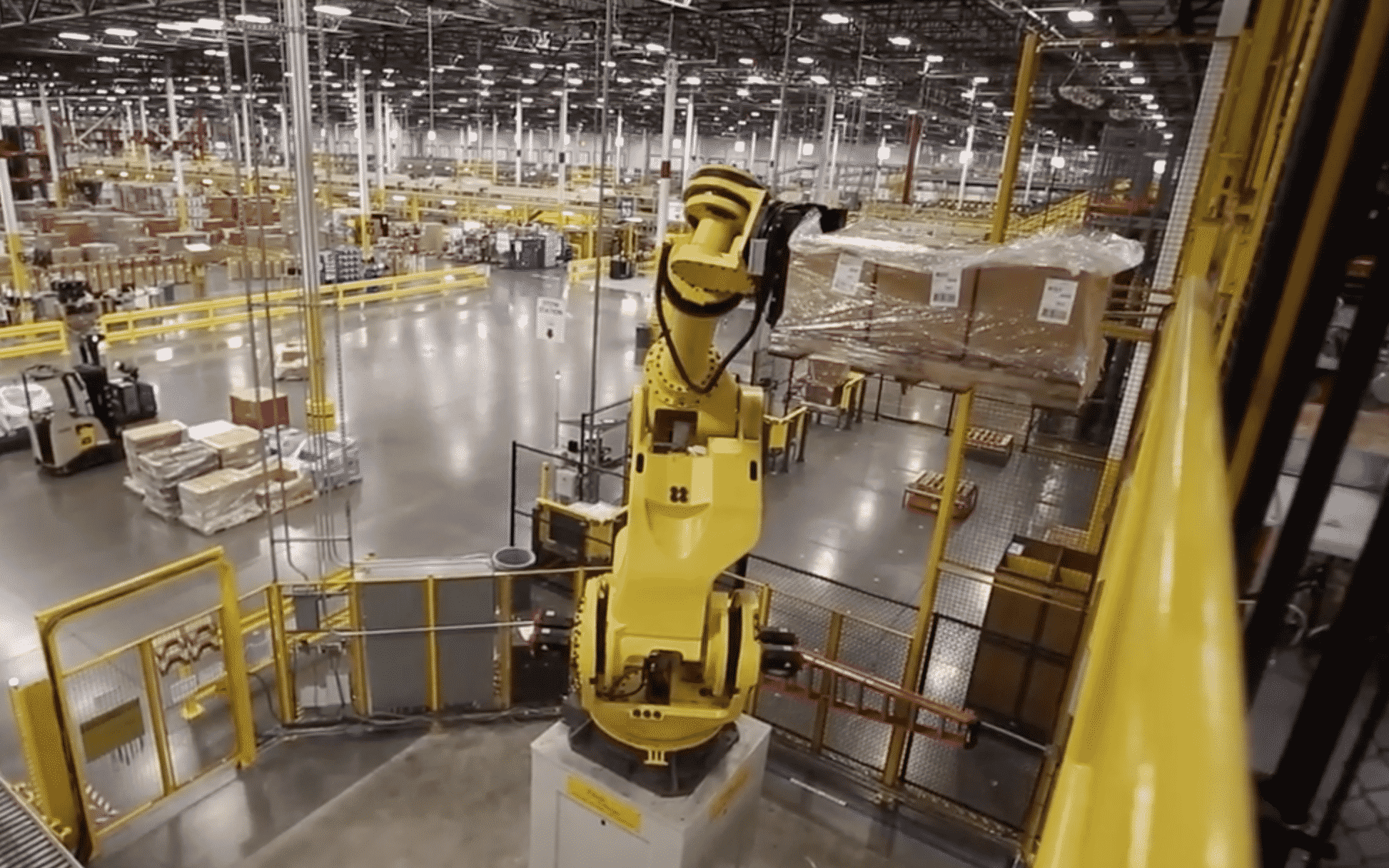 Amazon Kiva Robots, Robotic Drive Unit
Robotic Drive Unit from Amazon Robotics (formerly KIVA), the maker of mobile robotic fulfillment systems, carries inventory pods. When using those so called Amazon Kiva Robota slow frequency pods are usually kept backward, high frequency pods are kept nearer.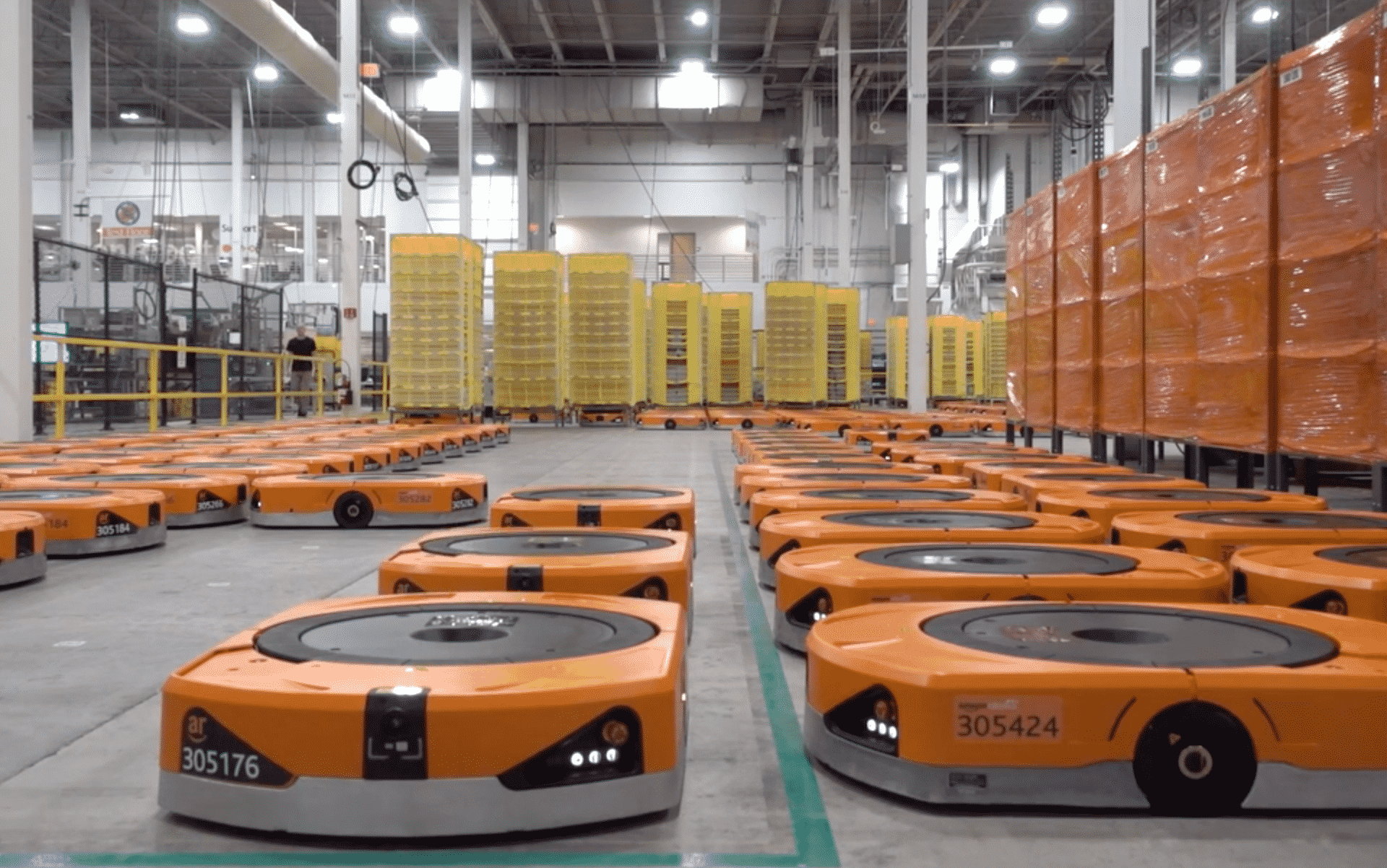 Mobile Inventory Pod and Order Pod
Inventory pods are carried by the robots to the  picking stations. Workers pick items and put them to order pod. This then moves to shipping after fulfilling all orders.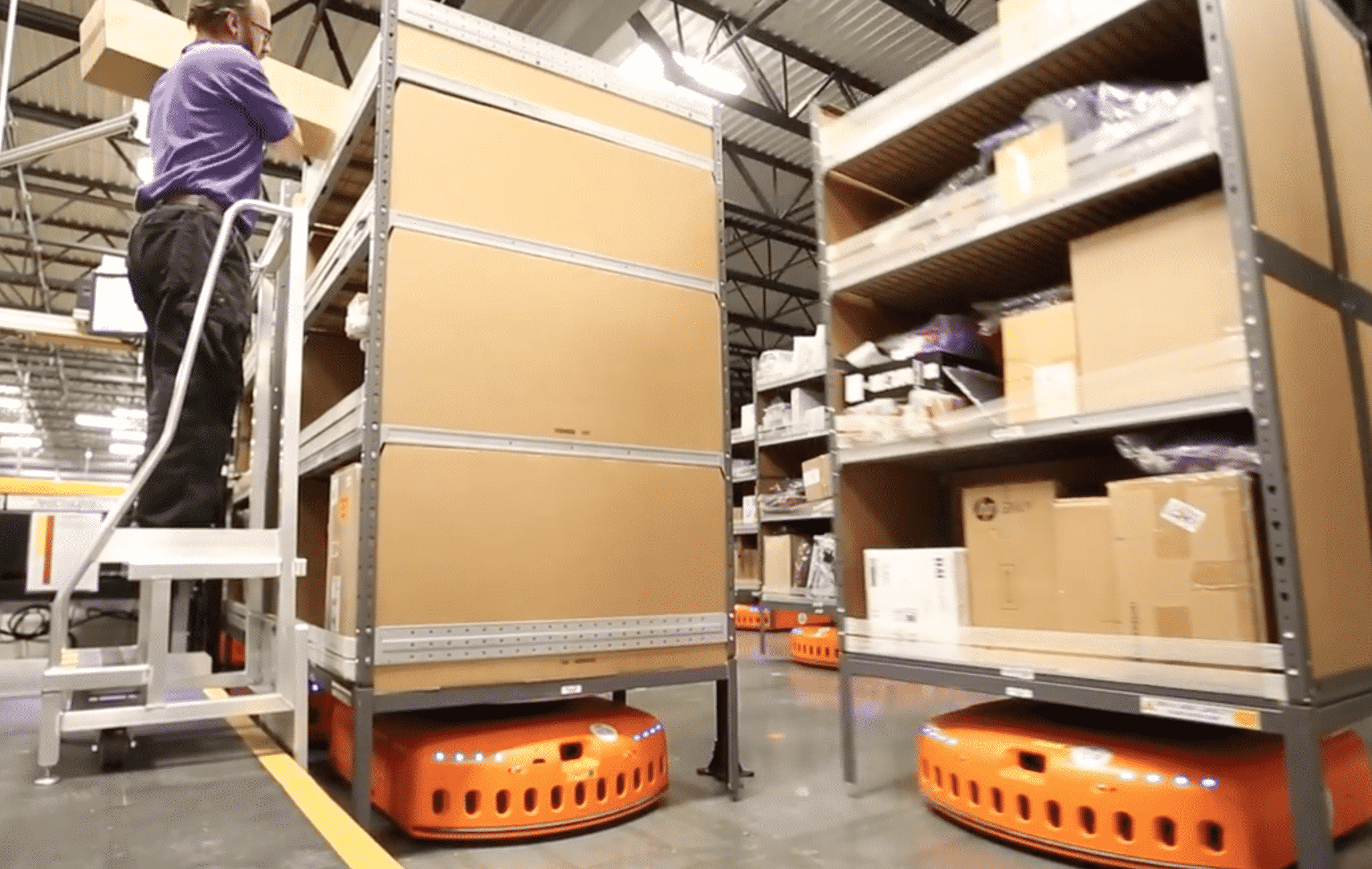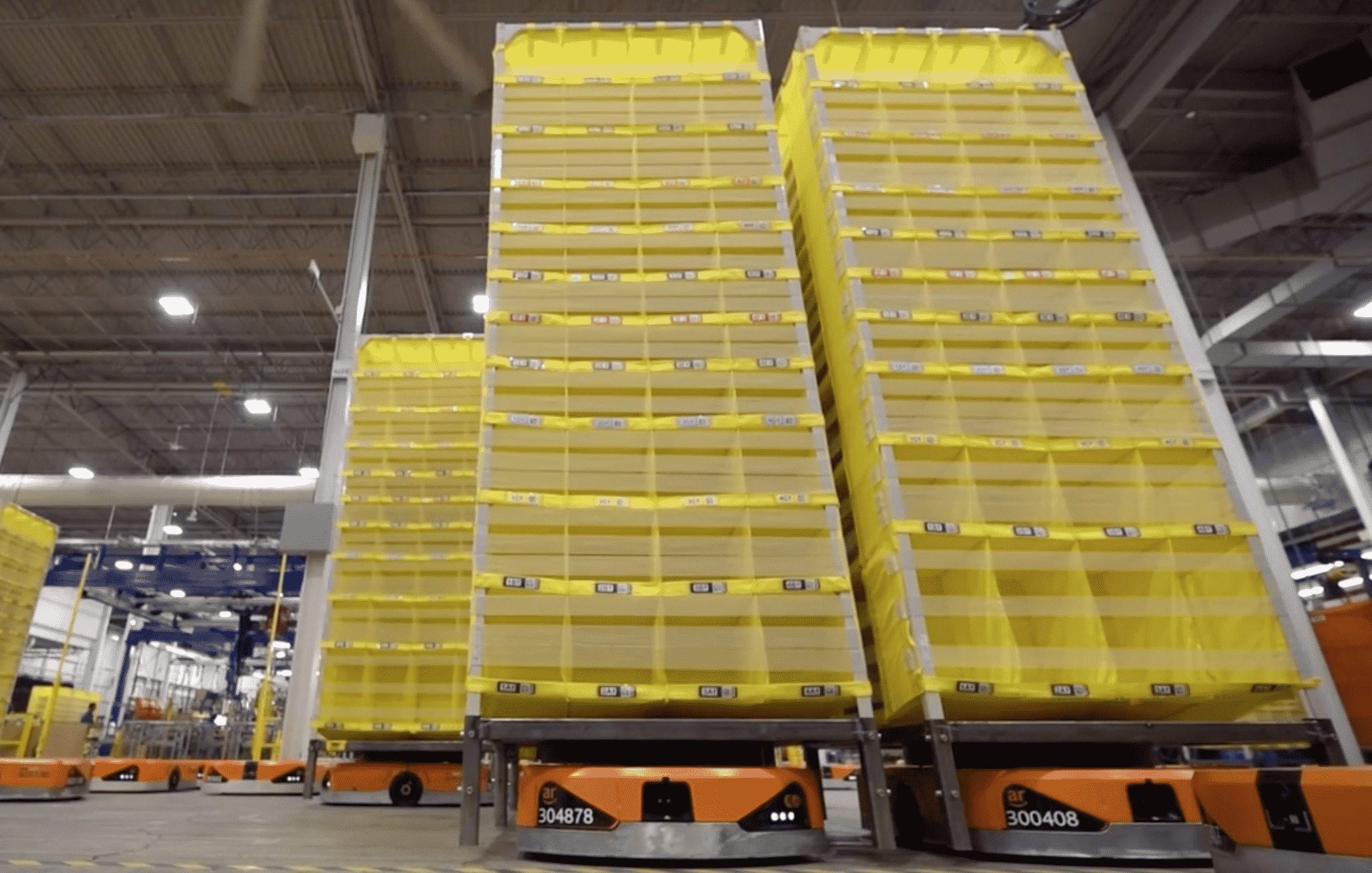 Employee Robotic Safety Vest
The safety vest is designed to work in tandem with the robots' existing obstacle avoidance detection.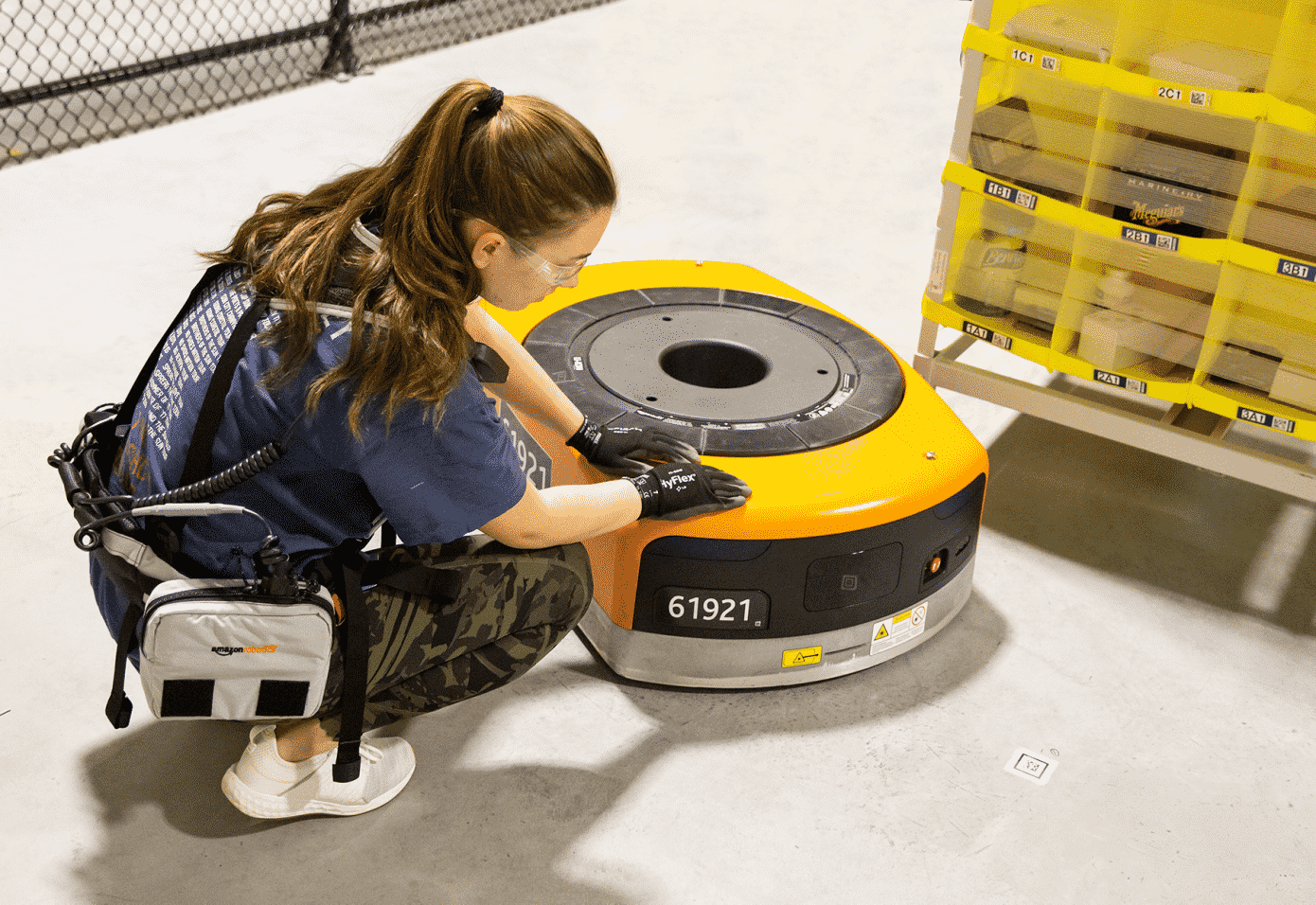 Hydrogen-fueled forklifts
In the new Amazon warehouse in Schodack you can find hydrogen-fueled forklifts whirring back and forth between vast rows of 30-foot-high shelves.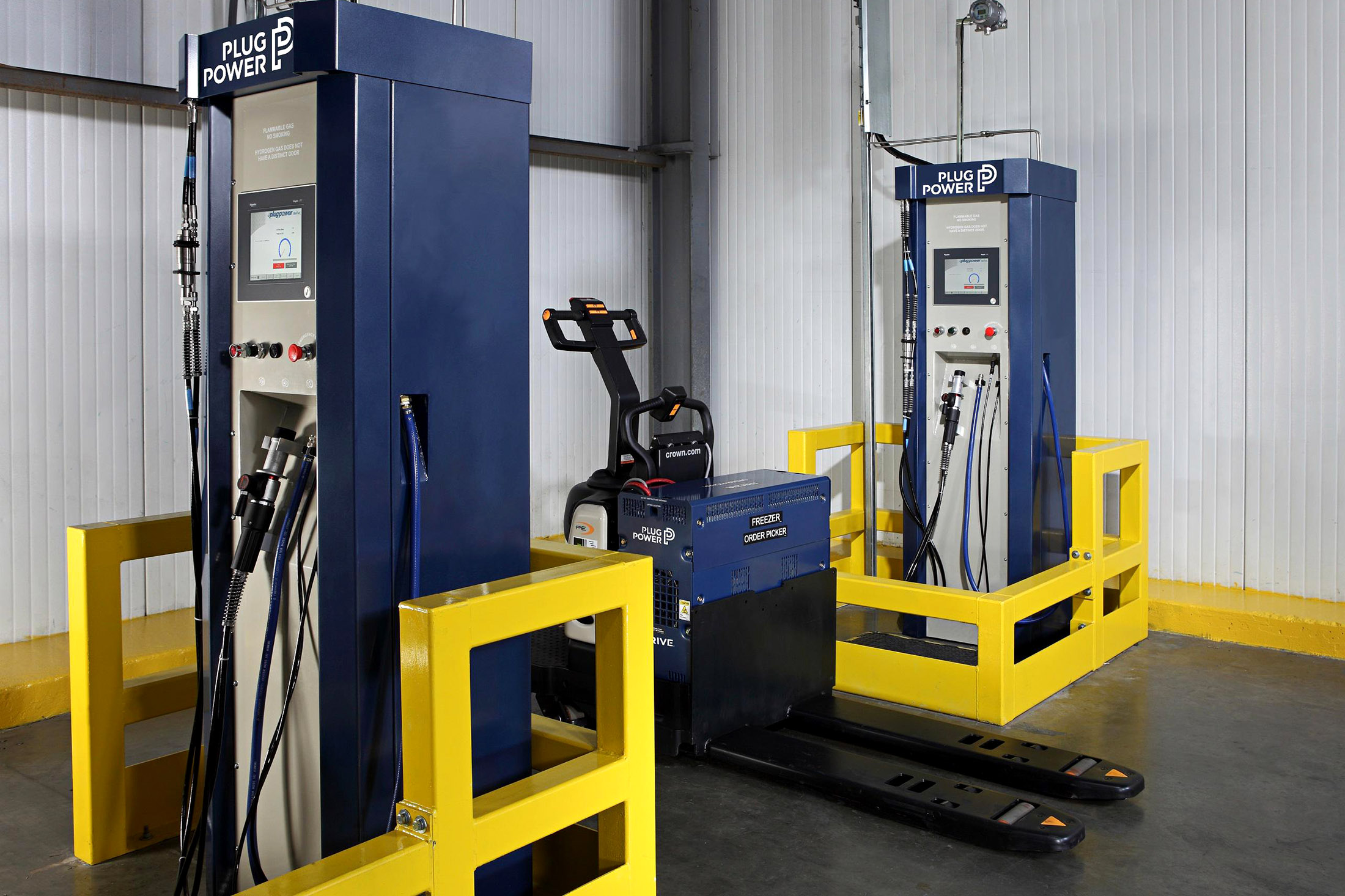 Box on Demand
Box on Demand is a machine, which based on the scanned shape and dimension of an item will spit out a custom-sized box that fits perfectly for the product. According to PC Magazine,  each robot packer can handle up to 700 orders per hour.  One robot at a warehouse means 24 human roles are no longer required. This solution also saves trucking costs as well as packaging material. Each robot packer costs $1 million plus running expenses  but Amazon  recoups the money spent in just two years.
Flat-screen displays
In Schodack fulfillment center you can find large flat-screen displays all around the floor. These indicate whether you are within 6 feet of another person.
Amazon fulfillment warehouse security features
On the front of buildings, there are typically locked doors, with entry keypads. Often the window panes are smoked glass, with nothing visible inside.
During the Corona-19 crises, warehouses introduced also overhead temperature scanners that check incoming workers and visitors, who enter through several lanes, similar to airline security checks.
The drivers of hydrogen forklifts are strapped into overhead beams, giving them the appearance of spacemen. The drivers are in safety harnesses that ensure they would be caught should they slip off the forklift deck as it rises 20 or 30 feet up to grab items off the top shelves.
Building an ML Model to Replace Manual Scanning
Amazon Robotics uses its software and machinery to automate the flow of inventory in Amazon fulfillment centers. There are three main physical components to the company's system: mobile shelving units, robots, and employee workstations. The robots deliver mobile shelving units to stations, and employees either put inventory in (stowing) or take it out (picking). 
Looking to reduce time-consuming bin scanning, Amazon Robotics built the Intent Detection System, a deep-learning-based computer vision system trained on millions of video examples of stowing actions. The company wanted to train the system to automatically identify where associates place inventory items. Knowing it would need cloud compute to deploy the deep-learning models to Amazon fulfillment centers, Amazon Robotics turned to AWS. The team deployed its models to Docker containers, hosting them using Amazon Elastic Container Service (Amazon ECS), a fully managed container orchestration service.
Once the team had collected enough video examples of stowing actions, it experimented with applying model architectures to the large annotated video dataset. After several iterations, the team could begin letting the deployed models automate the process.
Which KPIs are used in Amazon Warehouse?
Amazon can decide to outsource part of their Logistics Operations so they run RFP to find the best Logistics company (3PL) to run their operations. Among the numerous KPIs they follow, you have:
Put Away Leadtime: Amazon requires to have their good on stock (ready to be ordered in the system) XX hours after being received (Usually 24 hours)
Picking Accuracy: the percentage of orders prepared without errors
Storage Optimization: how do you optimize your warehouse space can be measured by the ratio of cbm of goods per sqm, % of empty space,
Order Preparation Leadtime: how much time you have between the order receiving time and the preparation completion (your order ready to be shipped)
Customer Returns and Amazon Return Pallets
eCommerce returns more than doubled from 2019 to 2020, approximately $102 billion of merchandise bought online was returned. Some of the top reasons consumers return their online purchases include: 20% receive damaged products, 22% products received look different, and 23% receive the wrong item.
Where can I buy Amazon return pallets in the US?
The best way to buy Amazon return pallets is directly through Amazon. However, the Amazon auction season does not begin until after the holiday season when consumers return unwanted gifts en masse.
In addition, there are many Amazon liquidation companies out there that buy from Amazon and other independent businesses and take a cut of every sale.
Regardless, buying Amazon returns is almost always a crap shoot but if you bid less than 20% off MSRP, you have a good chance of making a profit depending on how much time you spend refurbishing your products.
Where can I buy an Amazon return pallet in the UK?
In 2018, Amazon partnered with B-Stock to launch Amazon Liquidation Auctions. Amazon Liquidation Auctions is the official b2b marketplace where you can buy overstock merchandise directly from Amazon.