In this article, we look at warehousing, fulfillment and overall logistics costs when selling products via eCommerce and B2B sales. Plus, we review the average price structure of logistics service providers (3PLs) when dealing with single parcels and pallets during different stages in the fulfillment operations.
Typical Logistics Costs Explained
Merchants nowadays need to keep up with customer demands regarding low shipping costs of orders. So, eCommerce, B2B and Retail companies put a strong focus on minimizing the costs involved during their logistics operations.
These logistics costs particularly depend on whether a merchant has its own warehouse or whether an external warehousing and fulfillment provider is used. Particularly when facing fast-growing sales, outsourcing fulfillment operations to a third party logistics (3PL) provider helps merchants focus on their core business while at the same time ensuring excellent customer experience regarding order delivery.
In this article, we look at warehousing, fulfillment and overall logistics costs using independent third-party logistics (3PL) providers.
Particularly when engaging in logistics processes with external logistics providers, it is important to understand how they price different stages in the fulfillment operations.
There are two variables that determine logistics costs for most use cases: time and volume. So, if the stages along the supply chain involve standardized and frequent tasks with high volumes, higher efficiency and economies of scale are achieved – resulting in lower time spent per fulfilled order and thus lower logistics costs.
One main problem, which prevents merchants from having a full understanding of logistics costs, is that the warehousing and fulfillment market is very intransparent. As of 2023 in Germany alone there are over 1,000 specialized external providers and prices vary up to 50% for the same task and Service Level. Differences in operational workflows are one of the main factors that lead to the differing warehousing and fulfillment costs among logistics providers.
Hence, merchants should be aware of the overall ranges of logistics costs and ensure finding suitable logistics providers that match the operational expertise of the product category.
Warehousing, fulfillment and shipping costs highly fluctuate depending on the operational focus of a logistics provider. What's more, the volumes of processed goods, the degree of standardization along the supply chain and many more factors (e.g. amount of SKUs, product types, and value added services), also determine costs and price ranges. Therefore, we refer in this article on average price ranges to give you a better understanding on what these costs could be.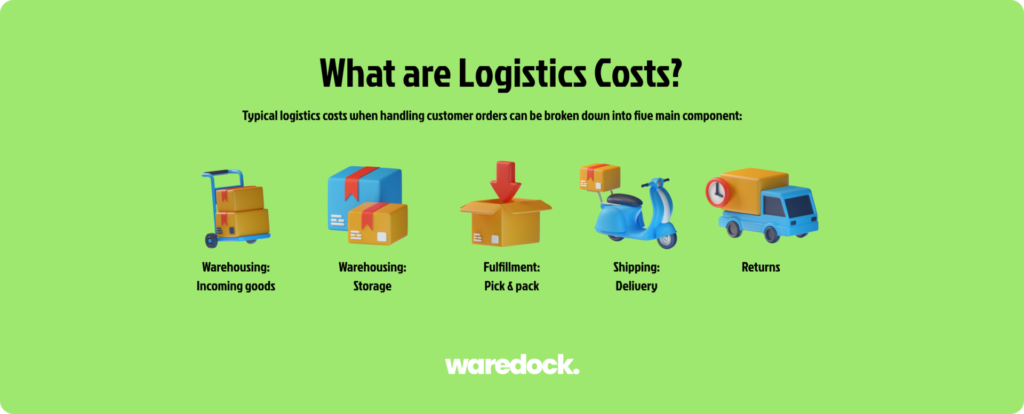 Logistics costs involved during
warehousing, fulfillment and shipping
Typical logistics costs for distribution logistics when handling customer orders can be broken down into five main components depending on the stage in which the product finds itself along the supply chain. The typical costs consist of:
Warehousing costs: Incoming goods
Warehousing costs: Storage
Fulfillment costs: Pick & pack
Shipping costs: Delivery
Other logistics Costs: Returns
Logistics costs have risen by around 5 percentage points since 2010, primarily driven by the increasing complexity of e-commerce logistics, such as returns, the demand for faster fulfillment, and the need to increase capacity to meet rising demand. According to McKinsey analysis, logistics costs currently represent 12 to 20 percent of e-commerce revenues, and this figure is likely to continue to grow. With the current pressure on wages and increased final-mile costs, logistics costs may increase to 15 to 25 percent of e-commerce revenues in the near future.
Logistics costs for warehousing services
Warehousing costs: Incoming goods
Average cost range: Single parcel – 3.00 – 4.50€
Average cost range: Pallet – 3.50 – 6.00€
The first costs occur when products are sent to and consequently received by a warehousing, distribution or fulfillment center location. Logistics providers refer to this step as incoming goods.
When incoming products are received, checked and then stored on free space in the warehouse, a logistics service provider typical charges your business for these warehousing services. The service level can range from sample inspection to complete counting and functionality tests. The logistics costs related to incoming goods depend on how extensive the required service level is.
Particularly when making use of premium services, such as 100% completeness checks and functionality tests, the logistics costs increase due to a longer time spent per product. Another logistics cost component during sample inspection are skills that require special training of employees. Here it is important to define the desired Service Level Agreements (SLAs) with the 3PL provider in advance.
Besides the service level, there are two additional logistics cost drivers for incoming goods: the number of Stock-Keeping-Units (SKUs) and the quantity of each type of product.
When using standard service levels for incoming goods, including checks with a visual inspection and exemplary counting, the costs range from 3.50-6.00 EUR per single SKU pallet and from 3.00-4.50 EUR per single SKU parcel. These logistics costs increase for mixed SKU pallets and parcels.
Logistics costs during warehousing
Warehousing costs: Storage
Average cost range: Single parcel – 0.80 – 3.50€ per month
Average cost range: Pallet (CCG1 EURO pallet) – 6.00 – 9.00€ per month
After having been checked upon arrival, products are being stored in a warehouse. When working with an external warehousing provider, it is important to negotiate billing for actual occupied pallet space and shelves within the warehouse, and not a general monthly space usage fee.
The warehousing costs involved with occupied space depend on a product's shape and size – e.g. due to their higher occupied storage space, larger goods incur higher warehousing costs than smaller ones. This occupied space is mostly invoiced on a weekly or monthly basis.
Storage costs can also vary depending on whether temperature control is needed (e.g. for fresh food or cosmetics products) or whether particular security measures need to be taken (e.g. for hazardous materials). Consequently, for example, with products requiring cooling, merchants can expect higher warehousing costs than for non-temperature controlled storage units. This is because logistics providers need to own or invest in specific cooling units to keep the temperature within a set range, which involves higher energy consumption and consequently higher warehousing costs.
The relevant Key Performance Indicator (KPI) in the determination of incurred costs during storage are pallet or shelf spaces. Shelf spaces are an important factor regarding the storage of smaller quantities. The way shelf and pallet space is used influences the picking efficiency.
Picking efficiency is determined by different factors, such as the type of shelving systems used for storage (e.g. high racking shelves) or by picking distances. Higher picking distances lead to lower picking efficiency and this in turn to higher fulfillment costs. The warehousing costs for shelf spaces of single parcels or shelves range from 0.80-3.50 EUR per month depending on the size of the respective products.
The warehousing costs for pallet spaces are more comparable than the costs for used shelf space, as pallet space is a standard measure. Nevertheless, there is a price differentiation between CCG1 and CCG2 pallets depending on their height and weight.
CCG1 pallets are pallets with a maximum loading height of 105cm (including 15cm pallet timber) and CCG2 pallets have a maximum loading height of 160-195cm (including 15cm pallet timber). For a standard CCG1 EURO pallet the price per month lies between 6.00-9.00 EUR.
Logistics costs for fulfillment services
Fulfillment costs: Pick & pack
Average cost range: Single parcel –
1st Pick – one SKU: 1.20 – 1.70€*
2nd Pick – same SKU: 0.10 – 0.50€*
Packaging material: 0.20 – 0.50€ per standard cardbox*
Average cost range: Pallet – 7.00 – 10.00€ (One Pallet, one SKU)
*for large merchants (w/ 10,000+ orders per month) lower costs can be negotiated
Picking & packing services is the most variable and most important part of the fulfillment invoice because it is directly linked to the number of orders. The typical fulfillment activity looks like this: The items of individual orders are picked from their storage location and then packed and prepared for shipping. Hence, these fulfillment costs directly depend on the merchant's number of Stock Keeping Units (SKUs), the size of the product, the number of units per order, and the level of customization of the packaging.
Pick & pack costs can also be influenced by the degree of automation of machinery used – a high level of automation helps achieve greater productivity and efficiency within the warehouse.
Getting a reliable benchmark for Picking & Packing is the most difficult but also most important. For standard eCommerce products, which typically weigh less than 1KG, the common range for pick & pack costs of an order with one SKU is 1.20-1.70 EUR.
Fulfillment costs associated with additional picks for an order with multiple items of the same SKU can range from 0.10-0.50 EUR per pick. These fulfillment costs can differ from these ranges, depending on whether the order includes multiple items of the same SKU or multiple SKUs of one item.
Regarding the packaging material, standard material can be supplied by the 3PL provider, which usually costs between 0.20 to 0.50 EUR per box. When working with a 3PL, however, the packing process is highly customizable. If you want to create a great customer experience that includes your branding materials, 3PLs can also use special packing materials such as specific wrapping paper or stickers, personalized marketing flyers and so on. Clearly, this would lead to higher fulfillment costs for packaging materials as the indicated prices from above.
In a B2B context, orders with higher volumes can be expected. Thus, large parcels and in most cases pallets need to be prepared. Fulfillment costs for Pick & Pack for pallets highly depend the amount of SKUs within the B2B order. In general, one needs to calculated with an average cost range between 7.00 and 10.00 EUR per fulfilled pallet consisting of one SKU.
Although customization of a product's packaging involves additional costs, merchants need to keep in mind that customers pay increasing attention to quality and sustainability of cardboard boxes, insulation material and personalized marketing flyers. So, it makes perfect sense to opt for a tradeoff between packaging costs and brand experience.
Logistics costs during shipping
Shipping costs: Delivery
Average cost range: Single parcel shipping – 3.00 – 3.30€ (<2kg); 3.50 – 4.00€ (<31.5kg)
Average cost range: Pallet shipping (CCG1 EURO pallet) – 45.00 – 70.00€ (Note: highly case dependent)
When 3PLs conclude the fulfillment process, the fulfilled packages are handed over to shipping providers. Merchants can either use CEP (courier, express and parcel) service providers, freight forwarding agencies or carriers. The most common shipping providers in Germany are: DHL, DPD, UPS, GLS and Hermes.
Essentially, the different shipping service providers offer similar service levels, but differ in prices, standard measures of parcels, pickup points and brand image. Particularly DHL offers a high number of premium services, such as high transportation insurances, 2-Man-Handling of orders and a high number of points of delivery, which are reflected in higher prices.
Hence, shipping costs highly depend on the effort involved for transportation and handling products. We've compared different standard measures and service levels of shipping service providers in our Guide on: How to handle Bulky Goods.
In addition, for business customers, shipping costs vary depending on the amount that is shipped per year, whether they are determined individually for each client or by means of fixed framework agreements. DHL, for example, uses shipping costs tailored to the respective merchant whereas Hermes, DPD, and UPS mainly set shipping costs via framework agreements.
Typical shipping costs for national German delivery of a parcel weighing less than 2KG are in a range between 3.00-3.30 EUR and larger parcels weighing up to 31.5KG range between 3.50-4.00 EUR. International rates can vary much more, depending on countries, weights and shipping provider.
Transport costs for pallet shipping cannot be calculated so easily and must be requested individually from the shipping service provider. Transit times, additional fees such as tolls and fuel surcharges, and above all the actual weight or the volumetric weight, influence the transport costs. The volume weight is calculated in most cases as follows: Length (M) x Width (m) x Height / Bulk agreement (cmb).
For example, shipping a pallet with 50kg (or 0.48cbm) from Cologne to Munich and a transit time of 24h-48h can vary between 45.00-70.00 EUR per shipment. In case of pallet shipping, you should ask a suitable 3PL directly for the price per shipment.
Alternatively, you can also check indicative prices for pallet shipping at online shipping platforms like Mein Cargoboard and Jumingo.
However, when talking to professional 3PLs or warehouse logisticians, you will quickly realize that 3PLs have a much more attractive price level. This is mainly due to the fact that professional 3PLs have special framework or client agreements with shipping service providers.
Logistics costs for returns
Returns: Shipping, general handling and additional costs
Shipping – Average cost range: Single parcel – 4.00€
General return handling – Average cost range: Single parcel – 2.00 – 4.00€
Additional costs during return handling – Case dependent, see comment below
In the case that customers receive their order and are not satisfied with it, they almost always have the option to return products for free. Therefore, costs are normally carried by the selling merchant. Depending on the business and industry, return rates can vary greatly and so does the relevance of their costs.
One needs to highlight that merchants should always try to reduce return rates of their sold products as much as possible to keep their environmental footprint low. A way to reduce the likelihood of potential returns is to use accurate product description and non-misleading product images when selling these products. Besides this, the possibility to return a purchased product is part of Consumer Protection laws in many European countries, so merchants need to be aware of the potential costs involved during return handling.
In this context, we're referring to the logistics costs involved when orders are sent back to a warehousing location. There are three main logistics costs incurred by returned products:
Shipping costs for returns
First of all, in most cases merchants need to cover the shipping costs for returns and parcel delivered back to the warehouse. Customers increasingly expect free shipping and return services. Within Germany these shipping costs amount to about 4.00 EUR per parcel.
General costs for return handling
Return handling fees normally consist of operational processing costs to restock the returned items. Besides the actual restocking process, there are often operational costs involved when goods need to be inspected for damage and completeness after being returned, especially for items that are made of many parts, such as lamps, closets and other types of furniture.
Return processing fees usually range from 2.00-4.00 EUR per returned order, depending on the products and additional services required.
Return handling – Additional costs
Additional costs during return handling and logistics operations may also arise when an item infers a loss of value. This is because returned products cannot be resold at the same price or need to be disposed of due to damage during transportation, when best before dates have expired or when cooling chains have been interrupted. Typically returns of non-fresh food and fresh food are affected by these costs.
What's more, in some cases the return handling costs would exceed the actual value of a product and would mean an overall loss for merchants. Executing return handling steps, such as quality checks, restocking, repicking and repacking, would be more costly than choosing an alternative way of handling the returned products.
This is particularly the case with clothing and Fashion items, which customers often order in different sizes, not knowing which one will fit them best.
In these cases, merchants can set up an alternative agreement with their logistics providers that returned goods are either disposed of, donated to charities or directly resold at a cheaper price to discounters, to avoid further logistics costs involved with handling returns.
Environment Friendly eCommerce Fulfillment Starts With Waredock
Select the best warehouse locations and distribute inventory efficiently.
What are the hidden costs in logistics?
When B2B, Retail and eCommerce companies work together with conventional logistics providers, it is often the case that hidden manual efforts occur during daily operations in the fulfillment processes for ordered products. Common examples are manual data transfer via email, lack of transparency about stock levels and investigating order status, manual tracking of service levels and remaining stock range in Excel lists.
What do we mean with data exchange? Think of it that way: when customers place an order on a merchant's online shop or ERP-system the information needs to be transferred to the logistics provider. Once having received the information from the merchant, the 3PL provider starts the fulfillment operations of an order. From this stage onwards the logistics provider can send data to the merchant about important fulfillment KPIs, such as the fulfillment status of the order and stock levels within the warehouse.
When merchants and 3PL providers operate this data exchange manually, it involves a higher effort, time and consequent costs. When working with a data-driven software or platform that automates all data exchange and enables direct logistics management controls, one can avoid these manual efforts.
Manual efforts for checking stock levels and the fulfillment status of orders can amount up to double the actual warehousing or fulfillment costs. So, when choosing a logistics provider, merchants need to make sure that data-driven systems are in place in order to avoid these hidden costs. What's more, working with seamless real-time data flows between merchants' shop systems (e.g. Shopify, Magento) and 3PL providers' WMS leads to full operational transparency and thereby helping merchants analyze business operations with more reliable data.
What is the difference between direct logistics costs vs. total logistics cost
Direct logistics costs are referred to as rates for freight, warehousing, fulfillment, and shipping. Essentially, the pricing and invoices received from 3PLs and carriers when outsourcing logistics or the comparable direct costs when managing in-house logistics.
Meanwhile, total logistics costs go beyond what we mentioned above. They also include manual work that requires managing day-to-day operations (e.g. operations and customer service team costs) and all indirect costs resulting from lack of service quality (e.g. higher return rates, lower repurchase rates, etc.)
The difference between total logistics costs and direct logistics costs is particularly important. That is, reducing direct costs does not necessarily lower the total logistics costs. Lowest-cost fulfillment service or carrier service providers often don't excel in service quality and precision, which derives additional internal manual work and also threatens the customer experience. Instead of blindly aiming for the lowest-cost procurement rates, CFOs and COOs could try to optimize total logistics costs.
What will happen to direct logistics costs in 2023?
Understanding current logistics prices
As we mentioned at the beginning of this article, logistics costs are expected to rise up to 25% of eCommerce sales very soon. There are two major factors that induce the rise. First, a constant increase in demands for eCommerce fulfillment, faster deliveries, and customization. Thus, escalating process complexity to a higher process. Secondly, the surge in supply chain costs for the same service, including warehousing, fulfillment, and shipping rates.
What's more, it's very likely that those logistics service costs will rise by a double-digit percentage rate on the market average. To better understand in absolute numbers what a typical logistics spend currently looks like – we're looking closer at an example cost calculation of a commerce business selling 15.000 orders per month.
How to compare logistics providers?
Merchants need to find logistics providers with a matching product focus to their operational needs, in order to avoid resorting to one-solution-fits-all offers composed of standard prices. If offers are in different forms and aren't comparable, it is crucial to calculate and compare typical "reference orders."
What is meant here with reference orders, is that merchants need to request prices for the fulfillment of the typical order volume of their products with each one of the logistics providers and then compare the fulfillment pricings. For example, a merchant that sells non-fresh food products should request a reference order from logistics providers on how much the fulfillment of a typical B2B order consisting of 100 protein bars (weight: 65g each) and 200 chocolate bars (weight: 100g each) per month would cost.
Asking exemplary reference orders from each logistics provider in review will help merchants understand and compare these prices.
Merchants should also pay attention to hidden manual effort and missing IT competencies on the side of the logistics provider, in order to avoid unexpected additional costs for daily manual work. In this context, it is important to note that even though logistics providers might claim to be IT-integrated, they most likely have their core competencies on logistics operations and not on IT topics.
And frankly, how can merchants verify during their selection process that logistics providers have proper IT systems in place that are tried and tested and seamlessly work with their respective shop and ERP systems? Surely, there can be product demos, but this will not tell how well the so claimed IT-integrated solution will work with a merchant's specific operating shop system environment.
So, what does this imply for merchants?
We recommend choosing a 3PL provider who's focused on operational logistics excellence and has a pre-integrated set up with an independent tech provider who's focussing on his/her part of the deal: solving IT complexities and connecting systems. Our independent 3PL providers from our logistics network are already connected to our platform, enabling automatic transfer of data from their WMS to any merchant systems in real-time.
While many 3PLs utilize a complex pricing model that makes forecasting expenses nearly impossible, Waredock has a clear pricing model so you know exactly what you're going to be billed. We can help you get started with finding the right 3PLs, simply contact our team.