Introduction
If you are looking to get first introduction to contract logistics (3rd party logistics) or, equally, if you are looking to strengthen your knowledge and offer customers better experience in your business, the following is for you.
What is Contract Logistics?
Before we break it down to details, let us firstly look at an example of a global end-to-end supply chain. It is the supply chain of a large pharmaceutical company. Its prime activities include design, research, development, manufacturing and marketing of pharmaceutical and consumer health-related products. It has more than 30,000 SKUs (Stock Keeping Units) across 50 manufacturing plants worldwide.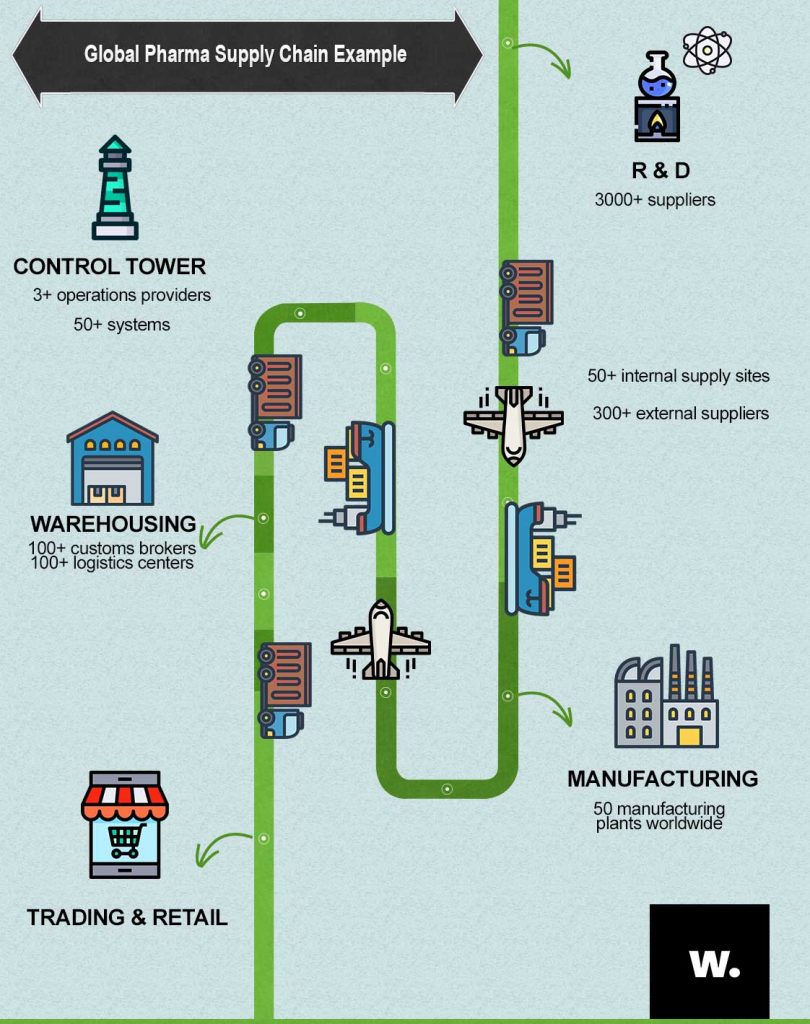 Observing the simplified supply chain map above, we can see that this pharmaceutical company outsources its logistics in different phases. From Research and Development, to manufacturing, from warehousing to distribution to trading partners, it uses external suppliers in seafreight, airfreight, overland transportation, control towers, and logistics centers.
What is the definition of 3PL?
Wikipedia: 3PL
Wikipedia says it is the services that are all provided by 3rd party logistics (3PL) service providers.
3PL is defined as "a firm that provides multiple logistics services for use by customers. Preferably, these services are integrated, or bundled together, by the provider. Among the services 3PLs provide are transportation, warehousing, cross-docking, inventory management, packaging, and freight forwarding."

Wikipedia
What is the definition of contract logistics?
Investopedia: Contract Logistics
"Contract logistics is the outsourcing of resource management tasks to a third-party company. Contract logistics companies handle activities such as designing and planning supply chains, designing facilities, warehousing, transporting and distributing goods, processing orders and collecting payments, managing inventory and even providing certain aspects of customer service."

Investopedia
Thus contract logistics covers a much broader scope than warehousing and distribution. Contract logistics is the outsourcing of resource management tasks to a third-party company. Contract logistics companies handle activities such as designing and planning supply chains, designing facilities, warehousing, transporting and distributing goods, processing orders and collecting payments, managing inventory and even providing certain aspects of customer service.
What is the difference between contract logistics and 3PL?
While contracting a 3PL company may result in having contract logistics as part of the agreement these terms are not exactly the same. The word "contract" refers to an ongoing, contractual relationship between customer and the service provider (3PL).
Contract logistic companies specialize in several logistics operations that offer network analysis, mode network optimization, warehousing, management of vendor compliance, and other logistics operations. Contract logistics, therefore, helps reduce weak points that outcomes in loss of revenue or profits and further help to assure maximal profitability.
Why use contract logistics?
Flexibility
Perhaps surprisingly, the primary motivation is not always cost. It is flexibility. This is true especially for FMCG companies or retailers that need preparation of less-than-full-case orders – 3PLs are more price-competitive in simpler full-case or full-pallet orders.
A contract logistics partner will have more ability to absorb volume increases and fluctuations than an in-house operation. The ability to share facilities and labour allows contract logistics company to move resources around and respond in ways the manufacturer cannot. This has strong appeal to FMCG companies that have intense launch and promotional cycles that can create distortions in regular flows. Also ecommerce companies looking to penetrate more deeply into a market may find that working with contract logistics partner offers an agile way to establish a presence.
Improvement of business practices
When distribution is in-house, much commercial inefficiency that negatively impact logistics costs falls – fairly or not – on the shoulders of the supply chain managers, who are strongly encouraged to lower their per order and share of revenue costs. Yet often the drivers of the costs are behaviours that are outside the scope of a logistics manager. The nature of the order profile can strongly influence logistics cost. Order frequency, order minimums, preparations specifications and paperwork requirements are examples of how commercial teams can negotiate terms with a customer and have outsized impacts on fulfillment costs.
The transition to a 3PL exposes the different practices around order management, laying bare the real drivers of logistics inefficiencies. If this sounds familiar, it may be because this is the foundation of cost-to-serve, the method of looking at order treatment costs at the customer level, from order reception through fulfillment to returns and cash collection. The transparency of working with a 3PL is a vector for giving cost-to-serve a big boost.
Better efficiency
Building an in-house facility can take 15 months (read our article "How much time Is needed to build a warehouse"), but starting up with a 3PL can be done in weeks. Take for example a producer of large home appliances who is entering a new market in Europe. Such products lend themselves poorly to the efficiencies of automation, and the volume is relatively low. In this case working with a 3PL makes a lot of sense.
Costs
Salary costs can be lower than running your own logistics operations. Also, significantly lower regulatory costs drive down the outsourcing price tag. Furthermore, by handling business in another country, businesses are able to take advantage of lower tax rates.
Types of 3PL Companies
Four key capabilities of 3PLs are:
– Warehousing
– Transportation
– Distribution
– Shipping and receiving
While smaller 3PLs may offer better response times, greater flexibility or expertise in specific domain or geography, larger providers tend to have more complete full-service capability and global reach. Waredock has partnered with both large 3PL providers as well as small specialized boutiques. We help solve distribution challenges of our customers in a wide range of industries. Our core solution is a cross border distribution infrastructure that provides our customers a single point of contact while having access to a growing network of over 50 warehouses and distribution centers in Europe and Northern America.
Biggest Global 3PL Companies
On both the domestic and global level, a consolidation trend in the 3PL industry is gathering storm as more 3PLs aim to keep pace with the continued "Amazonization" of the global market.
There's also geographic 3PL expansion designed to speed up delivery times.
As of 2019 October the biggest global 3PL providers are:
Contract Logistics Market Size
The contract logistics market has been growing for many years but the market for 3PLs providers exploded following the birth and exponential growth of ecommerce. The biggest growth in Europe is expected in countries like Romania, Slovakia and Poland, according to Transport Intelligence market report:
| | | | | | |
| --- | --- | --- | --- | --- | --- |
| Country | 2014 | 2015 | 2016 | Forecast 2020 | Forecast Total % Growth 2016-2020 |
| Austria | 1061 | 1069 | 1084 | 1141 | 5,30% |
| Belgium | 3367 | 3417 | 3443 | 3661 | 6,30% |
| Bulgaria | 109 | 112 | 116 | 134,53 | 15,70% |
| Croatia | 117 | 119 | 121 | 136,81 | 13,20% |
| Czech Republic | 658 | 699 | 726 | 828 | 14,00% |
| Denmark | 334 | 341 | 347 | 375,09 | 8,20% |
| Estonia | 50 | 52 | 54 | 62,71 | 17,00% |
| Finland | 265 | 266 | 269 | 286,17 | 6,40% |
| France | 8989 | 9104 | 9263 | 9935 | 7,20% |
| Germany | 17247 | 17534 | 17815 | 18893 | 6,00% |
| Hungary | 282 | 293 | 301 | 340,89 | 13,30% |
| Ireland | 854 | 912 | 958 | 1109 | 15,80% |
| Israel | 398 | 413 | 428 | 508,48 | 18,90% |
| Italy | 5032 | 5073 | 5124 | 5327 | 4,00% |
| Latvia | 64 | 65 | 67 | 85,51 | 27,10% |
| Lithuania | 95 | 97 | 100 | 123,13 | 22,70% |
| Netherlands | 5240 | 5344 | 5430 | 5856 | 7,80% |
| Norway | 469 | 473 | 467 | 511 | 9,30% |
| Norway | 469 | 473 | 467 | 510,76 | 9,30% |
| Poland | 1023 | 1080 | 1137 | 1378 | 21,30% |
| Romania | 367 | 386 | 422 | 520 | 23,20% |
| Serbia | 88 | 89 | 91 | 112,87 | 23,70% |
| Slovakia | 390 | 409 | 426 | 535 | 25,40% |
| Slovenia | 99 | 103 | 107 | 116,29 | 8,50% |
| Spain | 2937 | 3054 | 3166 | 3452 | 9,00% |
| Sweden | 928 | 961 | 999 | 1122 | 12,30% |
| Sweden | 928 | 961 | 999 | 999 | 0,00% |
| Switzerland | 708 | 715 | 716 | 766 | 7,00% |
| UK | 16770 | 17276 | 17659 | 18937 | 7,20% |
Some common industry verticals served by contract logistics companies include:
– Aerospace
– Automotive
– Consumer
– High-Tech
– Pharma Healthcare
Contract Logistics Services
So what are typical contract logistics services? The most common ones are spare part logistics, production logistics, e-commerce, pharma and healthcare, consumer and high tech logistics.
Spare part logistics
"Inoperable parts" (INOPs) represent a major problem for airlines. Expensive replacement parts are required, or the aircraft risks being grounded indefinitely. There are number of services for the critical issue of spare parts availability offered my major companies like Kuehne Nagel. The services include Order Tracking & Tracing, spare parts storage management, advanced stock organisation and repair logistics management.
Production
logistics
Production logistics is an essential enabler for example within the supply chain of an airframe supplier. Contract logistics companies offer services like production logistics, engineering, ordering and replenishment services, re-usable packaging solutions, tailor made kitting, just-in-time and pull delivery concepts and pre-production services. Key benefits of production logistics include optimisation of part flows from point of delivery to production, JIT deliveries that reduce inventory at line level and lower costs, use of lean management concepts and minimisation of handover points and interfaces.
eCommerce Logistics
Contract logistics companies provide servics to online businesses and help enter new markets by making good use of the global networks. They also help move closer to customers by offering a choice of delivery options, taking care of customs and value-added tax (VAT) services and more.
High-Tech Logistics
Contract logisics companies offer specialized services for the businesses that manufacture consumer electronics, telecommunications devices, computer equipment or other high-tech products. They help these businesses with reducing inventory, lowering distribution costs and launching new products. Contract logisics companies with strong high-tech logistics capabilities include CEVA, Flextronics, DSV, DB Schenker, Menlo Worldwide, Fedex, Geodis, Panalpina, UPS.
Pharma Logistics
Damaged products and medicines that have not been maintained within required temperature ranges can quickly cause life-threatening situations. Reliability is therefore crucial in transporting healthcare product. Pharma logistics market heavyweights include DB Schenker, DHL, FedEx, Hellmann Logistics, Kintetsu, Movianto, NYK Logistics, Panalpina, UPS.
Key Market Trends
The global contract logistics market is developing and has a bright future based on analysis from Transport Intelligence. It is estimated that more than 80% of all Fortune 500 companies and 96 of the Fortune 100 use some form of 3PL services.
Contract Logistics in Europe
Owing to the rise in demand for more integrated services, data management and the preference for flexible solutions, the contract logistics market is expected to witness high growth. And, as the demand for specific processes along the value chain and comprehensive services is growing, contract logistics is becoming the ideal solution for the companies.
The Western Europe region dominates the market, by taking more than three-fourths of the market, with Germany accounting for the major share. However, countries in the Central and Eastern Europe region are expected to achieve high growth in the future.
The retail sector is a key end-user sector of the contract logistics market, in general. With Europe being a global hub for the automotive industry, it accounts for a significant share of the European contract logistics market.
Contract Logistics in U.S
The Unites States has seen a sharp rise in recent years in warehouse leasing from logistics players across the region. The increasing service levels, such as e-commerce and same-day delivery, are influencing retailers to further outsource their services.
The fastest growing e-commerce market in the region is Canada while the US market is the largest market and it is growing steadily. The e-commerce user penetration is relatively low in Mexico and the Mexican e-commerce market is expected to witness healthy growth rate in the next 5 years.
The majority of e-commerce companies award contracts to logistics service providers to provide warehousing and distribution service. The high velocity e-commerce business models necessitates the companies to have technological solutions that increase the speed of the fulfillment processes.
The major contract logistics players in the North American market are DHL, XPO Logistics, UPS, FedEx, DB Schenker, Ryder System. However, the contract logistics market in North America is fragmented with large number of players operating in the market and providing services at various levels. The companies are following the trends of consolidation and expansion to gain foothold in the market. For instance, In 2018, DB Schenker opened three new contract logistics facilities in US to accommodate both existing and new customers and moved one existing location to a much larger facility. The company expects to open another six or seven contract logistics facilities by 2020.
Logistics companies play a predominant role in managing the North American automotive supply chain. Most of the vehicle production in Mexico depends on several key components such as engine, gearbox, etc, which are sourced from the United States.
How to Choose A Contract Logistics Partner?
The right partner can make or break your logistics, customer service, and ability to adapt to change. Trusting someone with sales, inventory, and other sensitive information is a significant risk.
Recent survey data points to gaps between the customer expectation in digitalization and the ability of traditional 3PLs to respond: only 35% of 3PL customers feel that their 3PL can support their Big Data initiatives, for example, and only 65% of 3PLs customers are satisfied with their 3PLs IT capabilities.
With the emergence of e-commerce, start-ups related to on-demand and cloud based warehousing are gaining popularity. Companies like Waredock, Flowspace and Flexe offer flexibility to the companies in terms of using the warehousing space according to the seasonal demand instead of long-term contracts for a fixed space. Few examples of such companies include Stord, Flexe, Flowspace. This presents tough competition to the existing traditional contract logistics service providers.
We at Waredock have created a checklist below to help you evaluate 3PL partners conveniently. But before you do that we want to let you know that Waredock is offering a cross-border warehouse and fulfillment network and you can be part of it. Learn more about fulfillment or warehouse storage and sign up here!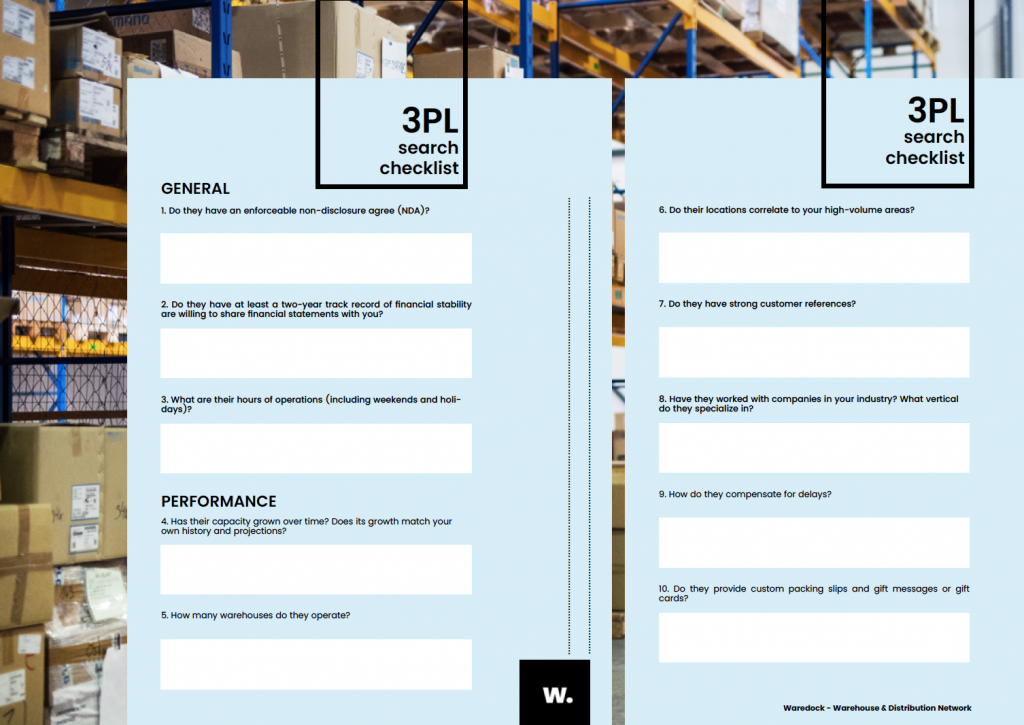 What is a 3PL Network?
3PL network is one-stop shop for 3PL and other logistics providers services. Having access to a 3PL distribution network like Waredock means you have one single point of contact for your 3PL services while taking advantage of the geographically dispersed fulfillment and warehouse infrastructure. Waredock helps get greater coverage in more markets. Our network includes every warehouse type, with the certifications and designations to store any specialized product. Read more about us here or get started today!