Table of Contents
Introduction
If you are looking to get first introduction to contract logistics (3rd party logistics) or, equally, if you are looking to strengthen your knowledge and offer customers better experience in your business, the following is for you.
What is Contract Logistics?
Before we break it down to details, let us firstly look at an example of a global end-to-end supply chain. It is the supply chain of a large pharmaceutical company. Its prime activities include design, research, development, manufacturing and marketing of pharmaceutical and consumer health-related products. It has more than 30,000 SKUs (Stock Keeping Units) across 50 manufacturing plants worldwide.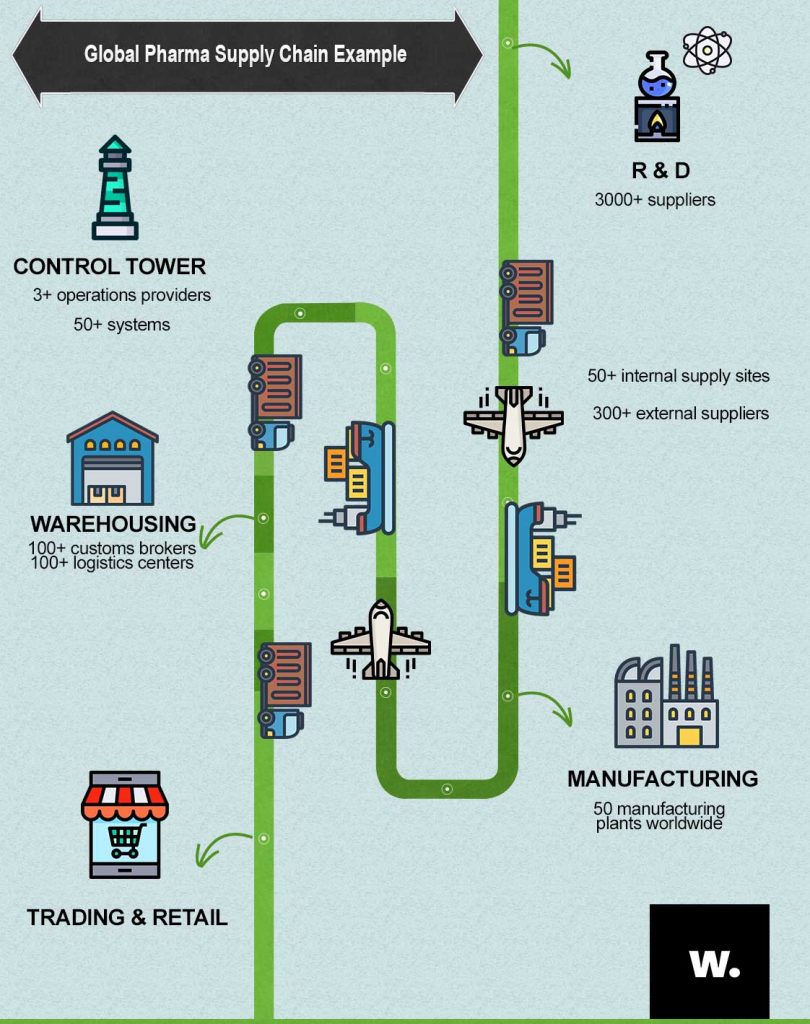 Observing the simplified supply chain map above, we can see that this pharmaceutical company outsources its logistics in different phases. From Research and Development, to manufacturing, from warehousing to distribution to trading partners, it uses external suppliers in seafreight, airfreight, overland transportation, control towers, and logistics centers.
By Wikipedia definition, these services are all provided by 3rd party logistics (3PL) service providers. Logistics management is an important component of many companies' profitability and overall success. While some companies manage their own logistics, others find it more efficient to hire specialized contract logistics companies to manage their logistics for them.
3PL is defined as "a firm that provides multiple logistics services for use by customers. Preferably, these services are integrated, or bundled together, by the provider. Among the services 3PLs provide are transportation, warehousing, cross-docking, inventory management, packaging, and freight forwarding."

Wikipedia
Thus contract logistics covers a much broader scope than warehousing and distribution. Contract logistics is the outsourcing of resource management tasks to a third-party company. Contract logistics companies handle activities such as designing and planning supply chains, designing facilities, warehousing, transporting and distributing goods, processing orders and collecting payments, managing inventory and even providing certain aspects of customer service.
Contract Logistics Companies
Types of 3PL Companies
Four key capabilities of 3PLs are:
– Warehousing
– Transportation
– Distribution
– Shipping and receiving
While smaller 3PLs may offer better response times, greater flexibility or expertise in specific domain or geography, larger providers tend to have more complete full-service capability and global reach. Waredock has partnered with both large 3PL providers as well as small specialized boutiques. We help solve distribution challenges of our customers in a wide range of industries. Our core solution is a cross border distribution infrastructure that provides our customers a single point of contact while having access to a growing network of over 50 warehouses and distribution centers in Europe and Northern America.
Biggest Global 3PL Companies
On both the domestic and global level, a consolidation trend in the 3PL industry is gathering storm as more 3PLs aim to keep pace with the continued "Amazonization" of the global market.
There's also geographic 3PL expansion designed to speed up delivery times.
As of 2019 October the biggest global 3PL providers are:
Why Companies Outsource Logistics?
Top 8 reasons for outsourcing are:
Convert fixed costs into variable costs.
Free up time to focus on core business processes. Without having to run an accounting department or an IT operation, companies are able to direct their scope to work on what really matters inside their business
Salary costs be lower than running own logistics operations own. Also, significantly lower regulatory costs also drive down the outsourcing price tag
Taxes. By handling business overseas, businesses are able to take advantage of lower corporate tax rates.
Improvement of service levels. Why waste time and valuable resources training an in-house customer service team when there are professionals to be hired that can usually do the same task with a higher quality, less costs and better productivity improvement processes?
Risk management is another reason why companies choose to outsource. If a business is launching a new product or offering something new, having employees in developed nations offers little in terms of risk management should the product not do well on the open market.
Better efficiency: companies can spend weeks, sometimes months, just finding people for a particular in-house department. From there, you're forced to train people and really adjust on the fly. At the end of the day, businesses can be left with a hefty bill with little to show for their money. By outsourcing specific business services, companies are able to jump right to the finish line when building a department
Flexibility: With uncertainty surrounding today's global economy, companies need the ability to expand or downsize quickly. Unfortunately, that's not always possible with today's labor laws, as employee lawsuits are at an all-time high. By outsourcing, companies reduce that risk, allowing businesses to adapt more quickly to rising or slowing demand.
Contract Logistics Market
The global contract logistics market has been growing for many years but the market for 3PLs providers exploded following the birth and exponential growth of ecommerce. Most Fortune 500 (86%) companies and 96% of the Fortune 100 use services like these.
Contract Logistics Jobs
With the emergence and high growth of ecommerce fulfillment the job outlook for talented employees looks promising in the years ahead. At the same time we see automation and digitalization taking over tasks in Amazon warehouses as well as in cars (see Volvo autonomous truck). This calls for new training programs in 3PL companies to address future business challenges and help employees learn new skills such as big data analytics, test automation, Internet of Things.
Activities in a 3PL Warehouse
Warehouse operations consist of receiving goods, storage, order picking and shipping. Receiving concerns manging incoming shipments meaning unloading and then moved to storage and shipping involves loading outgoing material on trucks.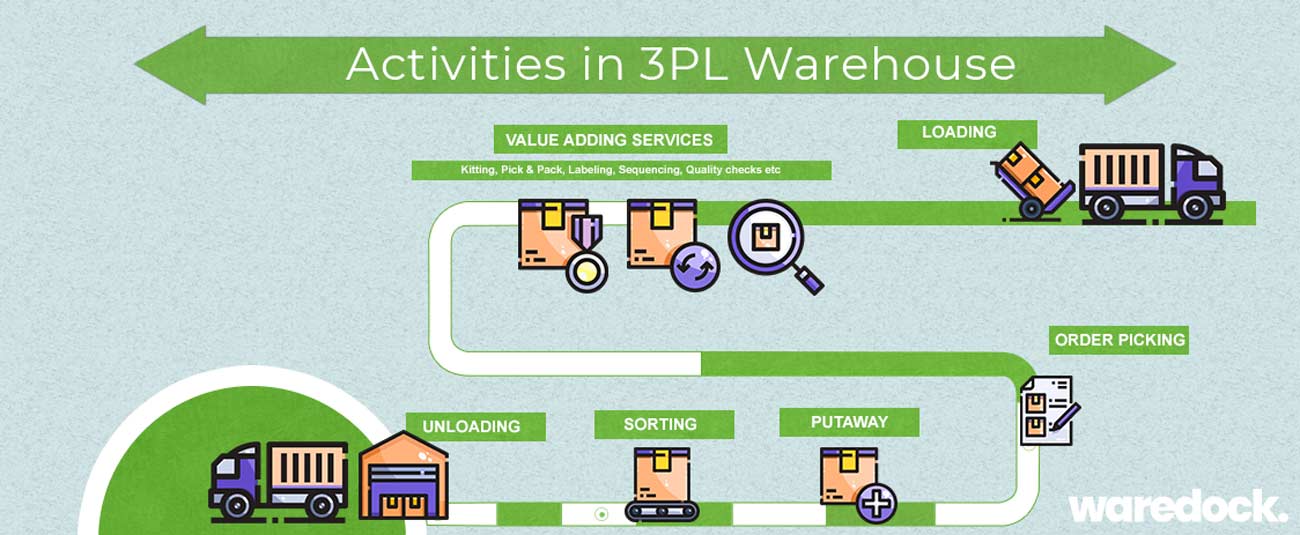 How to Choose A 3PL Partner?
The right 3PL partner can make or break your logistics, customer service, and ability to adapt to change. Trusting someone with sales, inventory, and other sensitive information is a significant risk. We have created a checklist to help you evaluate 3PL partners conveniently: