Micro-fulfilment is shaking up warehouse logistics and causing industry players to rethink. Small warehouses close to the city have become a popular alternative, especially in e-commerce, in order to meet the changing requirements of logistics. According to the market research studies the micro-fulfilment market will have a cumulative opportunity value of around 10 billion US dollars by 2026. 
What is a micro fulfilment center?
A micro fulfiment center (or MFC) is a small-scale storage facility that is used by ecommerce businesses to store their inventory closer to the end consumer so they can reduce cost and transit times. These fulfilment centers are often highly automated, helping to improve operational efficiency.
Micro fulfilment center Versus traditional warehousing
Other than their purpose, micro fulfillment centers and traditional, large-scale warehouses are starkly different in terms of size. As a result, they each have their unique set of benefits for businesses.
Micro fulfilment centers
No larger than 1000 sqm (10 000 sqft), micro fulfilment centers operate on a smaller scale. They're normally located in an existing store or warehouse so as not to disrupt normal operations. Due to their smaller capacity, they can only carry about 24-48 hours' worth of inventory and require regular restocking. These fulfilment centers are not intended for long-term storage but are meant for having products ready to pick, pack, and ship as soon as orders come in
Larger fulfillment centers
Larger fulfillment centers typically fall in the 30 000 sqm (ca 300 000 sqft) range but can be much larger depending on the size of operations. For example, Nike's distribution centers in the US and Amazon's fulfilment centers can be 300 000 sqm.
Larger fulfillment centers have enough space to store massive amounts of inventory, which may last for several months of operations and may not need to be replenished as often.
What is the downside of a micro fulfillment center or micro warehousing?
Lers consider some of the challenges you'll have to face when utilizing micro fulfilment centers.
Depends on customer locations
One of the biggest benefits of micro warehousing is storing inventory closer to where your main markets are.
But since this system is highly dependent on customer locations, it also means that changes in the market and existing customer profiles can have a negative impact on your operations and may require constant reassessment.
Requires constant inventory replenishment
With micro fulfilment centers being unable to store large amounts of inventory at a time, replenishment can be a challenge. They can only hold inventory for about 24-48 hours' worth of operations, which means you need to be proactive with your inventory reorders. Having an automated system in place to handle your inventory reorders is essential when using a micro fulfilment center.
That being said, you'll still need to consider the high cost of regularly transporting goods from one place to another.
Relies on unpredictable consumer demands
Consumer demand is constantly changing, with unprecedented situations often influencing it. The market changes resulting from COVID-19 are proof enough that businesses can't always predict how consumer demands will shift. So with micro warehousing, the limited storage capacity can make it challenging to quickly adapt to these unpredictable changes in demand.
For example, you may see a surge in demand overnight because an influencer posted about your organic soaps. The limited inventory in a micro fulfilment center may not be enough to fulfill all the orders that are coming in from different parts of the country.
Increased risk of stockouts
As a result of the limited capacity, micro fulfillment centers may not always be able to keep optimal levels of inventory at all times. And unpredictable changes in consumer demand can often lead to stockouts, which will throw your whole supply chain for a loop while leaving you with many disappointed customers.
Not viable for all SKU types
Many micro fulfilment centers are highly automated to improve operational efficiency. While this is undoubtedly a good thing, it also means that micro warehousing isn't always suitable for all types of products such as larger items.
You may end up seeing significant wear on your machines as a result of fulfilling heavy items like furniture and large household appliances. Not to mention large SKUs take up space, so you'll have to resort to storing fewer items to align with the storage capacity of micro fulfilment centers.
Main Benefits of Micro-fulfilment
Greener Logistics
Local fulfilment centers have the potential to significantly reduce the ecological footprint of e-commerce logistics – especially in combination with environmentally friendly delivery vehicles. According to Accenture, last-mile emissions can be reduced by 17 to 26 percent by 2025. This requires strategic investments in innovative solutions that break up traditional processes and focus on greener fulfilment. Alternative means of transport not only reduce emissions of greenhouse gases. The use of bicycle messengers also relieves traffic in congested inner cities considerably.
The profitability of classic picking by hand decreases the more orders are placed online. The right software increases the efficiency of the processes and automation by robots accelerates processing. In combination with the physical proximity to the customer, MFCs enable extremely short delivery times. At the same time, retailers can tap into an environmentally conscious market with sustainable delivery solutions. This creates ecological and social advantages, which can also lead to an improvement in market reputation.
Accelerated order fulfillment
As mentioned earlier, most micro fulfillment centers are highly automated. For instance, picking lists are automatically generated to optimize the process and the process itself is often carried out by machines, where applicable. This significantly speeds up order fulfillment, ensuring that orders are sent out the door shortly after they are received.
Faster delivery times
With micro-fulfilment, companies no longer just rely on a few central distribution centers for delivery. With smaller, decentralized warehouses in densely populated urban areas, logistics is moving closer to the end consumer and thus making delivery times faster.
Enhanced customer service
By utilizing micro fulfillment centers, businesses are able to enhance the customer experience thanks to faster deliveries. Additionally, having fulfillment locations closer to customers enables returns, refunds, and exchanges to be completed more quickly, which increases customer satisfaction.
Many micro fulfillment centers function as dark stores, where customers can pick up their orders locally without having to wait for shipping. As a result, businesses can further improve the customer experience by offering multiple delivery and pickup options.
Cost-effective expansion
Giant fulfillment centers has are expensive to set up and operate (think back to Amazon and Nike's huge distribution centers). Smaller businesses don't have the budget or resources to have a storage facility of such scales. With micro warehousing, businesses can offer faster fulfillment experiences without having to invest as much. While there might be some capacity restrictions, using micro fulfillment centers makes it easier for brands to scale their operations.
Increased sales
By offering fast and affordable shipping via micro fulfillment center, you're removing two of the most common barriers when it comes to consumers buying products: slow shipping speeds and expensive shipping costs.
As more people end up converting, you drive more sales. Increased sales means increased revenue, which can then help you to scale your business.
Which industries benefit from micro-fulfilment?
Providers of fast-moving consumer goods (FMCG) can particularly benefit from micro-fulfilment, as these are high-volume, perishable products that are associated with high volatility and fluctuations in demand. But e-commerce niches are also predestined for micro-fulfilment – e.g. products with seasonal sales peaks.
When it comes to competing for market share in retail, offering best-in-class last-mile delivery services is a critical success factor. At least since the introduction of next-day or even same-day delivery, providers are increasingly confronted with the fact that customers expect fast and sustainable solutions when it comes to delivery.
46 percent of consumers stated that they had recently canceled their purchase due to long delivery times. KPMG came to this conclusion in a study on the purchasing behavior of consumers. DPD underscores the importance of fast deliveries: 79 percent of respondents are more likely to make a purchase decision when buying online if the shop offers next-day delivery. With the short delivery times that MFCs enable, they can help increase conversion rates for merchants.
However, micro-fulfilment is not suitable for every industry. Goods such as luxury goods or furniture have lower trading volumes than food and therefore require long-term storage of the goods.
Which locations suit well for micro-fulfilment?
The small size of Micro-Fulfilment Centers (MFC) makes them ideal for deployment in hubs such as metropolitan areas, cities and suburban areas. MFCs can be set up either at the rear of existing stores or in unused spaces as a stand-alone solution
How long does it take to convert a brick-and-mortar store to micro-fulfilment?
In-store fulfilment can be set up and installed in just a few weeks. Thanks to the connection to the stationary shop, goods can be flexibly delivered or picked up. The choice between different delivery options increases the bond between retailer and customer. Waredock already provides an overview of how the business models of omnichannel retailers and pure eCom players differ and what advantages and disadvantages they entail.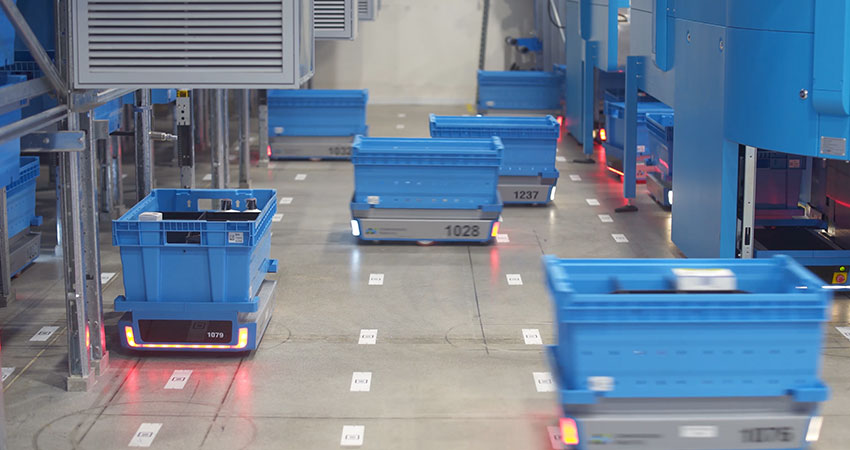 How does the picking process work in a micro-fulfilment center?
Micro-fulfilment centers are often characterized by a high degree of automation. The order picker receives support in the work process from robots, such as the ones from Fabric. As a result, retailers create same-day processing and delivery, which increases end-user conversions. This not only successfully handles increasing volumes, but also serves the growing demand for same-day delivery.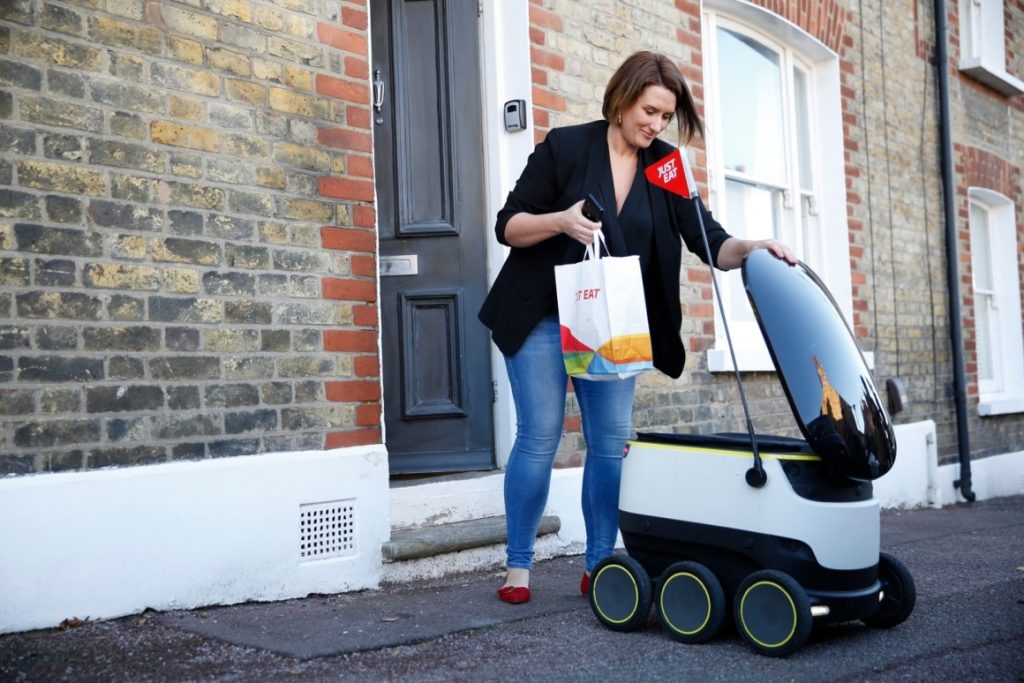 Micro Fulfilment center FAQs
Here are answers to the top questions about micro fulfilment centers.
How much does a micro fulfilment center cost?
It typically costs around 4-7 EUR per order to fulfill orders through a micro fulfilment center.
Does micro warehousing increase supply chain efficiency?
Micro warehousing improves supply chain efficiency to some extent, since it enables faster shipping and accelerated fulfilment. However, the addition of nodes may increase the complexity of your supply chain.
What is the purpose of a micro fulfilment center?
The purpose of a micro fulfilment center is to store inventory closer to the end consumers so that goods don't have to travel too far to be delivered, which can reduce shipping cost and transit times.
Are micro fulfilment warehouses part of last-mile delivery?
Micro fulfilment warehouses are typically the last node before orders are delivered, making them a vital part of last-mile delivery.
Is micro warehousing popular for ecommerce businesses?
With the need to provide faster deliveries and lower cost, micro warehousing has become very popular among ecommerce businesses.
Alternative to micro-fulfilment with Waredock
But what if a micro-fulfilment strategy is currently not feasible or desired for a company, but the end customer should still be offered competitive delivery times, quality and personalized fulfilment? Our premium solution enables orders to be delivered within one to two working days. Thanks to later cut-off times and collections from our partners several times a day, customers can usually receive the goods within 24 hours. As a Waredock customer, you bear no risk: without contract terms, setup fees or ongoing fixed costs and with flexible termination, you can easily scale your growth with us.
If you want to find out how you can digitally manage your fulfilment and warehouse logistics via a central platform, simply expand it flexibly and optimize it efficiently, contact us!