What do e-commerce customers expect from an online store in Germany?
Transparency and trust are key for Germans, but convenience and price are the factors that drive online shopping. 
German consumers are the conscious consumers of Western Europe. They want to know and understand all of the details of their shopping transaction before buying online. This extends from understanding delivery options even before they add an item to their basket, to how any information they provide about themselves is going to be held or used by a retailer. The terms and conditions are important to German consumers.
Germans want a sense of security when shopping online – they value information about products and transparency. The safe payment method of open invoices has become popular in Germany since such invoices allow shoppers to order online, have the items delivered and then inspect them before deciding whether to keep and pay for them, or return all or part of their order. Easy returns, therefore, are important. While behaviours are now starting to change in both the types of payment offered by retailers and the ones preferred by consumers, 'try before you buy' type behaviour remains.
Should I include product reviews for my online shop in Germany?
Yes! Product reviews are popular in Germany, with shoppers trusting the opinions of other customers. Half of online shoppers say that they look at product reviews from other customers on the internet and find them very helpful. A large majority of shoppers (65%) always conduct some sort of research online when planning a major purchase. When it comes to reasons for shopping online rather than visiting a brick and mortar store, consumer attitudes lean towards the convenience aspects of digital channels. Having an order delivered directly to their home is the main reason given for shopping online by 66% of consumers polled.
What categories I should focus on with my online shop in Germany?
What consumers are buying online differs by age group. This needs to be taken into account when taking a longterm view of the German market rather than seeing it as a quick win. Falling fertility rates, along with increasing life expectancy, are causing an ageing population, which will result in different behaviour and spending patterns.
While younger consumers are buying from fashion categories, purchasing among older age groups shifts towards more hobby pursuits, categories such as DIY, garden and pets.
Another demographic opportunity for retailers is capturing market share in those states with a high percentage of online shoppers. More than half of Germany's online shoppers live in the three most populous states of North Rhine-Westphalia, Bavaria and Baden-Württemberg. Bavaria has a larger percentage of online shoppers than its population suggests, is home to automotive companies and ICT giants and has a per capita economic output far above the European average. Berlin is another state in which a large percentage of the population shops online. This could be because the city is a hotspot for technology startups and ecommerce companies.
Mobile eCommerce or Desktop?
When German consumers shop online, they are more likely to reach for their smartphone than turn to a laptop or desktop computer. This rise in mobile commerce is affecting the use of mobile apps and social media, which are now ubiquitous throughout retail.
Vintage and second-hand fashion marketplace app Vinted (known as Kleiderkreisel in Germany) is leading the iPhone shopping app download charts in Germany with 400 000 downloads in 2021. The app is followed by Amazon with 180 000 downloads on iPhone.
Main eCommerce Payment Methods in Germany
In Germany, PayPal was the most preferred and used payment method for B2C E-Commerce purchases. Furthermore, among the top payment methods offered by online stores in Germany, most online retailers were seen providing PayPal in 2021, followed by Invoice and credit cards. 
In contrast to this, Apple Pay and Google Pay were offered by a negligible percentage of online retailers in Germany. Digital wallets such as PayPal were a regularly used online payment method by nearly two-thirds of German consumers in 2021, with Google and Apple pay being the least used forms of a digital wallet.
What are the competitive advantages of online marketplaces in Germany?
Amazon
Like in most Western countries, Amazon is the absolute top dog in e-commerce in Germany. To be clear; 488 million visits refer only to Amazon.de. Visits to Amazon.com are therefore not included here.
Chief advantage of Amazon: Amazon is by far the most well-known marketplace in Europe. Selling through this online marketplace guarantees an attractive number of visitors as well as their trust.
eBay & eBay Kleinanzeigen
In addition to the 193 million visits per month on ebay.de, there are another 160 million visits for ebay-kleinanzeigen.de in Germany. However, the latter is mainly used by private sellers.
Chief advantage of eBay: As is the case with Amazon, German consumers place a lot of trust in eBay. The online marketplace is one of the pioneers in this field and is known to almost every online shopper. In addition, eBay also has a high monthly number of visitors.
Otto Market
Otto is a force to be reckoned with in German online retailing and Europe. The Hamburg-based e-commerce company is the largest B2C online retailer for fashion and lifestyle in Europe and is aso among the global leaders in other areas of online shopping.
The marketplace Otto market, however, has some relatively strict criteria to be approved as a seller, which makes it hard for many non-German sellers to be accepted. These include:
You need the German legal form of a company and a German VAT ID (excluded small entrepreneurs according to § 19 UStG)
You act as a seller to end customers
You offer a German-speaking customer service
You ship from a German warehouse
You sell products with a standard VAT rate of 19%.
Chief advantage of Otto Market: Otto is a well-known business name in Germany and is considered the largest domestic alternative to Amazon and eBay. As a result, older German online shoppers, in particular, place their trust in the Otto Group. In addition, it is possible for sellers on the Otto marketplace to sell under their own brand name. Moreover, the clear focus on the German-speaking market can be seen as an advantage if this corresponds to your target market.
Zalando
Zalando is another German online marketplace that has managed to join the international e-commerce elite. Zalando has become the leading online fashion company in Europe. In fact, the turnover of the Berlin-based company has grown by at least 20% annually over the past 10 years. This trend doesn't seem to stop in the near future.
As a Zalando seller, you must have your own website and offer free shipping and returns.
Chief advantage of Zalando: In contrast to Otto, shoppers on Zalando tend to be younger, but also more willing to buy. In addition, Zalando serves the fashion niche better than any other European competitor at the moment.
Etsy
Etsy is the rising star when it comes to self-made products. Especially in the English-speaking world, this niche marketplace is increasingly making a name for itself and leads the field of top online marketplaces in the UK behind Amazon and eBay. Comparably, Etsy is also gaining popularity among German shoppers.
Chief advantage of Etsy: One of the biggest advantages of Etsy is its collaborative community. In addition, this all-American online marketplace has a comparatively transparent price structure.
About You
About You was founded in 2014 as a subsidiary of the Otto Group and has since been on a successful path in e-commerce. With its focus on fashion and its youthful, "cool" appearance, About You is in direct competition with Zalando. About You focuses even more strongly on young target groups. In general, the presentation on About You is more emotional than on other online marketplaces.
Chief advantage of About You: About You is considered a young, trendy online platform and has a sophisticated logistics concept. The German company is likely to be an attractive alternative, especially for online retailers with a target group below 30 years of age.
Shopapotheke.com
Shopapotheke Europe started in 2001 as the online store of a stationary pharmacy in Cologne. Since 2004, non-prescription drugs can be sold online. In the meantime, the online store has its headquarters in Venlo, in the Netherlands. In addition to medications, the product range also includes beauty products and dietary supplements.
Chief advantage of Shopapotheke: The most obvious advantage of this marketplace is the focus and trust of customers in the pharmaceutical industry. Especially in this sector, online shoppers do not take any risks when buying medicines and other non-prescription health-related remedies.
Alternate.de
Similar to the previously mentioned online marketplace, Alternate.de specializes in a comparatively narrow niche. The online marketplace is well-known in this community, not least due to its sponsorship of e-gaming. In addition, electrical appliances are also offered.
Chief advantage of Alternate.de:
Here, too, one can clearly speak of advantages coming from the active community. This makes Alternate.de an interesting option for all online retailers in this niche. After all, the average person who visits this marketplace usually has a clear interest in buying.
Hood.de
Behind Austria and Germany, most visitors come from China (even ahead of Switzerland). Additionally, the website traffic of this marketplace has increased rapidly in recent months and shows no signs of stopping.
Chief advantage of Hood.de:
The main advantage of Hood.de is its comparatively low cost and fee structure. It is also known as a transparent marketplace sales portal.
Avocadostore.de
Avocadoshop.de is the green answer to Amazon, eBay, and Co. They sell sustainable and preferably environmentally friendly products for men, women, and children. The clear focus is on clothing, accessories, and personal care, as well as home and living products.
Chief advantage of Avocadoshop.de: The main advantage of Avocadoshop is clearly its sustainable orientation. This attracts environmentally conscious customers, most of whom are not as price-sensitive as shoppers on Amazon, for example.
What are the best fulfilment companies in Germany?
Typically a growing e-commerce company comes to point where they start to look for recommendations for a good fulfilment center in Germany.
Fulfilment Services by Large 3PL Companies in Germany
Waredock has experience with working with both leading 3PL companies as well as emerging startups with deep technology expertise. Below we have summarized the best fulfilment providers.
DB Schenker offers complete logistics services. It includes the delivery of products to warehouses, their storage, PO / SO management and delivery to final customers, regardless of whether it is a B2B or B2C market.  DB Schenker fulfilment services can help if you need to handle international shipping.
DHL is a division of Deutsche Post DHL, which operates on the international market. There is DHL Global Forwarding and DHL Supply Chain which cover different aspects of logistics. It is a preferred shipping company in US as 79 of the German top 100 online shops use DHL to deliver their goods. DHL is also a good fit for international shipping
Portica is a leading fulfilment provider on the German market, providing logistics, IT, financial management, and customer service. Services for ecommerce companies include fulfilment including returns management, customer service.
Havi is a 3PL company that operates globally. Its warehouses are located in Western  Germany. Havi mainly deals with Food and Beverage products. It offers various value added services such as procurement, warehousing, distribution, freight management, picking and packing, labeling and packaging, bulk shipping, and technology services.
Lufapak provides tailor-made solutions for efficient warehousing and reliable order fulfilment with worldwide shipping. Their services consist of warehousing, e-commerce fulfilment, distribution, and special service. Their large warehouse is located at Neuwied near Frankfurt am Main but Lufpak expands its supply chain in Germany and Great Britain.
Amazon has a dense fulfilment network in Germany and this puts the industry leader's same-day offering far ahead of those from almost all other major Western retailers. For them to catch up, the obvious option would be to invest hundreds of millions of euros or dollars to match Amazon's footprint one to one. Together with German-founded Otto they own almost half of the German online market.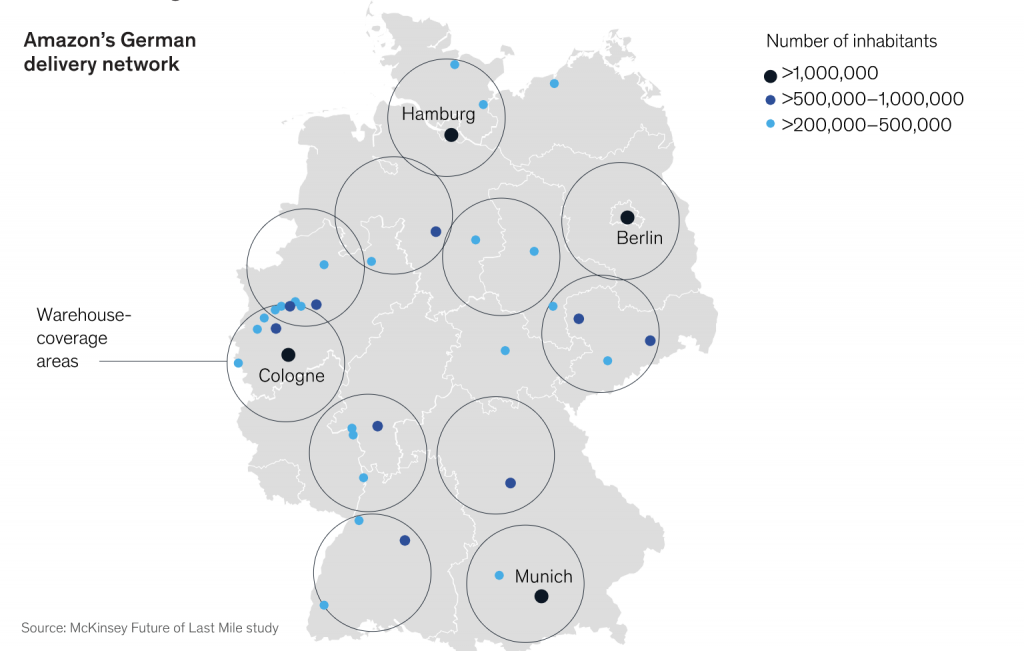 Emerging Fulfilment Companies
Zenfulfillment offers order fulfilment service in Germany for various platforms such as eBay, Woocommerce, Shopify.
Waredock Fulfilment services offer cross-border shipping with fulfilment multiple warehouses in Central and Northern Europe, also USA.
Shopify Fulfilment in Germany
If you are looking to integrate with a German fulfilment provider who has not set up Shopify integration yet, there is an easy way to set up custom fulfilment service with Shopify. More about it here.
How Quickly Are Goods Delivered?
The biggest shipping provider in Germany DHL offers 1-2 day delivery as standard. Liefery in Germany offers state-of-the-art last mile delivery solutions, including same-day and next-day delivery.
Start or Scale Your eCommerce Business in Germany with Waredock!
Why Outsource Fulfilment in Germany?
Deciding to outsource order fulfilment to 3PL in Germany can be a challenge. There are hundreds of factors and data points to consider when choosing the right 3PL warehouse. Outsourcing your eCommerce fulfilment in Germany may be right for your business if:
You are an e-retailer that ships more than 75 orders per month.
Your eCommerce business is seasonal.
You don't have the resources to pack boxes and ship orders.
You don't have the space to store your inventory.
You don't have the resources to invest in the warehousing, labor, distribution and supply chain infrastructure.
If any of the above apply to your eCommerce business then it's time to outsource your order eCommerce fulfilment with the help of Waredock in Germany! With over 10 million square meters of warehouse space, our strategically located fulfilment centers in Germany enable our clients with on-demand eCommerce warehousing and fulfilment service helping them save time and money.
Waredock helps you get quick quotes for the best warehouses and fulfilment companies in Germany. Get started here. If you are not ready, why don't you get acquainted with fulfilment prices in Germany, for example in Hamburg, Berlin or Munich.
2023 eCommerce Outlook in Germany
2023 will be looked back on as the year that ecommerce in Germany accelerated. The country may be the largest economy in Europe but in terms of ecommerce, it still falls behind the UK and France.
Consumers changed their shopping behaviour during the pandemic. While this was dictated partly by the temporary closure of brick and mortar stores, many of the new customers attracted to buying online have continued to do so. For those who were already shopping online before the pandemic, the frequency of shopping has increased. Indeed, when surveyed at the end of May 2020, the majority of consumers said that they had made a conscious effort to buy something online rather than visiting a physical store.
Many small retailers launched online for the first time in response to footfall to their brick and mortar stores reducing, or stores having to close temporarily. The switch to online then enabled them to keep on serving loyal, local shoppers as well as extending their reach to new, more distant consumers
Alternative or complement to online marketplaces in Germany
Online marketplaces are an excellent option to increase e-commerce sales, take the first steps in online commerce or expand into new markets. Nevertheless, running a standalone online store has some advantages overselling on Amazon and the like. These benefits include:
Greater control over all processes
Possibility of branding
Differentiation from the competition (so, price is no longer the only selling factor)
Direct contact with customers
Building relationships with customers (returning & loyal customers)
Possibility to build customer lists
Possibility of cross-selling and up-selling
More customer data insights
Flexible cost structure
Customizable packaging
Focus and emphasis on sustainable processes
Fulfillment Prices in Germany in 2023
| | | |
| --- | --- | --- |
| | | |
| Put goods in storage (per item) | Receiving, allocation in warehouse | |
| Put goods in storage (per box) | Receiving, allocation in warehouse | |
| | Storage of goods in a warehouse m³ per month | |
| FBM shipping (Order processing) | Picking from warehouse, packing, sending | 1,00-2,00 € + 0,3-0,7 € per item |
| | Processing and shipping orders through the Amazon Prime program | |
| FBA Removal processing and storage | Returns processing. If the product is new, then we put it in the warehouse. | |
| FBA Removal – product disposal | Receiving, inspection, disposal | |
| Returns – processing and storage | Processing of customer returns (the products have already been with the customer and require additional control) | |
| | | |
| Pallet transit (no storage) | Transit of one pallet (no storage) | |
| | | |
| | Packing goods on a pallet, wrapping with film, loading | |
| | Unloading goods on pallets from a LC container and placing them in a warehouse | |
| | | |
| | | |
| Shipping of the order on the day it was created (Ship date 1 day) | Shipping of the order on the day of its creation | |
| | Forwarding parcels without opening, processing and additional packaging. | |
| Picking of goods/Pick up (per unit/per box) | Picking of goods in the warehouse/preparing goods for Pick up | |
| Pick up goods for disposal (per unit) | Picking of goods in the warehouse/preparing goods for disposal (the price of this service depends on the product contents and is subject to change) | |
| Force print polling (for 1 shipment) | A forced printing of labels in case of a correctly specified address, which was not accepted by the carrier | |
| Additional parcel insurance (manual generation) | Taking out additional parcel insurance (manual generation). The costs of the additional insurance depend on the carrier tariff | |
| | Formation of a set – price for each product in the set | |
| Shipment FBA FNSKU (Bundle) | Formation of a bundle – price for each product in the bundle | |
| Send to FBA from Prep (Masterbox) | Shipping to FBA without FNSKU labeling, with customer's cartons | |
| | Adding a paper flyer to the order, price for inserting one flyer | |
| Transit to FBA from Prep (Masterbox) | Transit to FBA without FNSKU labeling, with customer's cartons | |
| Registration and linking of LUCID/EPR for Germany | | |
| Registration and linking of CITEO for France | | 40-60 € |
| | | |
How 3PLs like Waredock can help?
One of the greatest strengths of many marketplaces is having optimized logistics. Amazon in particular has set new standards, from which end customers benefit. At the same time, expectations of fast and cheap or free shipping are rising as a result. This applies to online marketplaces in Germany as well as to online companies and online stores of all sizes.
For most of these companies, it is not feasible to offer a comparable level of e-commerce fulfilment independently and at a cost-covering level.
This is where so-called 3PLs (third-party logistics providers) or simply fulfilment companies come into play. They offer online retailers the opportunity to outsource logistics in order to compete with the "big players" on an equal footing.
Through automated fulfilment processes, from storage, picking, and packing to shipping, everything is done for you. Efficient returns logistics are also taken care of.
In addition, optimized processes ensure that orders are processed immediately and that no time is lost. Shipping millions of parcels give fulfilment companies a relatively large bargaining power over the most popular parcel delivery companies in Germany. Better prices can then be passed on to e-commerce companies.
In addition, 3PL companies like Waredock have many different warehouses where you can divide your goods among them. This reduces the shipping distance to your customers, which reduces both shipping time and the impact on the environment. Waredock fulfilment network is especially relevant for cross-border logistics to minimize proximity to the end customer. Additionally, during seasonal peaks or other bottlenecks (such as during the covid-19 pandemic), you benefit from a resilient supply chain because there is no total shutdown of shipments when one warehouse has to be closed.
Last but not least, with most 3PLs it is also possible to offer individualized packaging and thus stand out from the competition. With customizable packaging, D2C brands can thus leverage one more efficient marketing channel and continue to work on brand building.
Waredock makes all of this possible and has a close-knit, high-performance fulfilment network in Germany. In addition, through fulfilment locations in the leading European e-commerce markets, we offer the ability to quickly and easily enter other European countries and fulfil online orders efficiently and easily. Learn more about our other locations or sign up today.