Top Online Stores
The biggest online store in Germany is still Amazon which in 2019 generated 10,490 million Euros in revenue. It is followed by Otto and Zalando.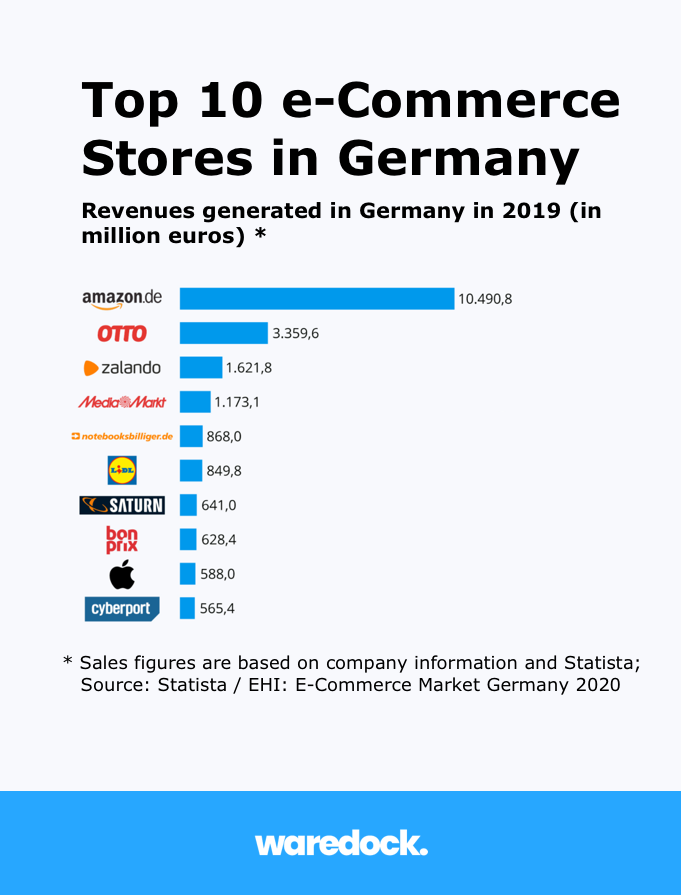 Fulfillment Companies in Germany
Ecommerce in Germany was expected to reach 103.4 billion euros in 2020. Typically a growing e-commerce company comes to point where they start to look for recommendations for a good fulfillment center in Germany.
Leading 3PL companies
Waredock has experience with working with both leading 3PL companies as well as emerging startups with deep technology expertise. Below we have summarized the best fulfillment providers.
DB Schenker offers complete logistics services. It includes the delivery of products to warehouses, their storage, PO / SO management and delivery to final customers, regardless of whether it is a B2B or B2C market. DB Schenker fulfillment services can help if you need to handle international shipping.
DHL is a division of Deutsche Post DHL, which operates on the international market. There is DHL Global Forwarding and DHL Supply Chain which cover different aspects of logistics. It is a preferred shipping company in US as 79 of the German top 100 online shops use DHL to deliver their goods. DHL is also a good fit for international shipping
Portica is a leading fulfillment provider on the German market, providing logistics, IT, financial management, and customer service. Services for ecommerce companies include fulfillment including returns management, customer service.
Havi is a 3PL company that operates globally. Its warehouses are located in Western Germany. Havi mainly deals with Food and Beverage products. It offers various value added services such as procurement, warehousing, distribution, freight management, picking and packing, labeling and packaging, bulk shipping, and technology services.
Lufapak provides tailor-made solutions for efficient warehousing and reliable order fulfillment with worldwide shipping. Their services consist of warehousing, e-commerce fulfillment, distribution, and special service. Their large warehouse is located at Neuwied near Frankfurt am Main but Lufpak expands its supply chain in Germany and Great Britain.
Amazon has a dense fulfillment network in Germany and this puts the industry leader's same-day offering far ahead of those from almost all other major Western retailers. For them to catch up, the obvious option would be to invest hundreds of millions of euros or dollars to match Amazon's footprint one to one. Together with German-founded Otto they own almost half of the German online market.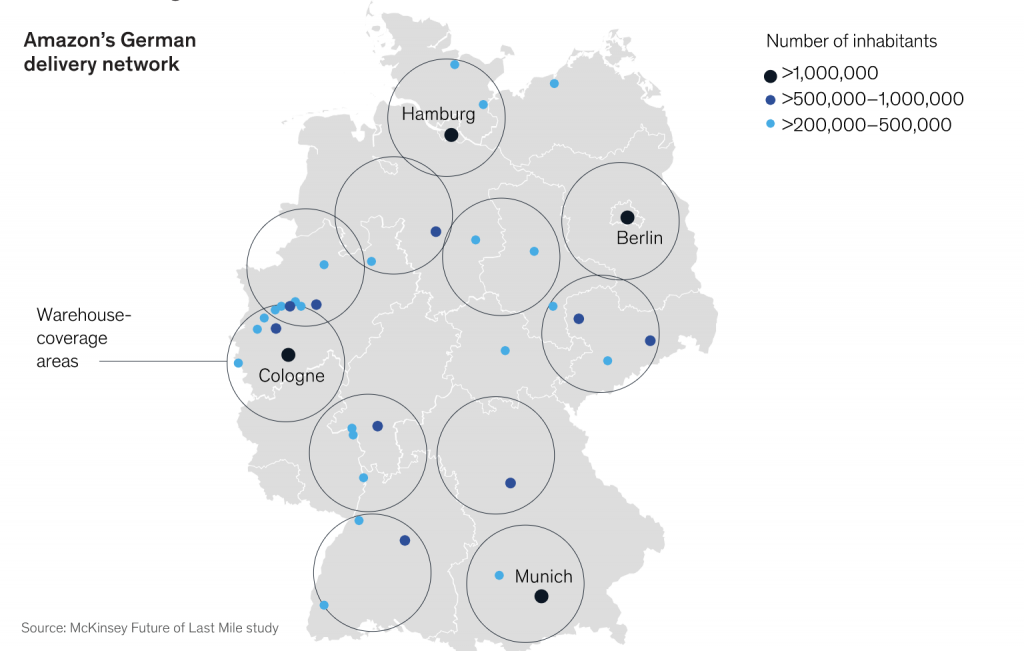 Emerging Fulfillment Companies
Zenfulfillment offers order fulfillment service in Germany for various platforms such as eBay, Woocommerce, Shopify.
Waredock Fulfillment services offer cross-border shipping with fulfillment multiple warehouses in Central and Northern Europe, also USA.
Shopify Fulfillment in Germany
If you are looking to integrate with a German fulfillment provider who has not set up Shopify integration yet, there is an easy way to set up custom fulfillment service with Shoppify. More about it here.
Cost of Fulfillment in Germany
Fulfillment prices vary depending on the pricing structure of a service provider and the speed of delivery. According to McKinsey Future of Last Mile study 34% of German shoppers are willing to pay extra for same-day delivery.
Receiving of goods is oftentimes charged per hour by fulfillment companies. Expect to pay between 20-30 EUR per hour for unloading a a truck or a container and doing quality checks.
Picking and packing costs vary too. For included packaging material, shipping labels adding you can expect to pay 1,50 EUR – 2,00 EUR per shipment (+ for additional items 0,2 EUR- 0,5 EUR).
Shipping costs depend on urgency and size. Next day shipping cost for small, up tp 2kg (4.4 lbs) package is around 3,80 EUR with DHL. Expect 5kg (11lbs) or bigger, 30+ kg (69.4lbs) packages to be shipped for 4,25 EUR and 5,65 EUR, respectively. DHL return fee (if undeliverable) is typically around 4,00 EUR. Same day shipping usually comes with a premium – for example last-mile provider Liefery prices start from 8 EUR. Liefery probably also provides fastest overnight delivery in Germany. Cost of shipping for other european countries depend on the region and the item being shipped. You can request a quote here.
Storage costs regionally are covered in more detail in our warehouse market overview in Germany Expect to pay the highest prime rents in Berlin where m2 space goes for 7.2 EUR. Lower storage prices can be found for example in Lepzig and Düsseldorf where m2 space is between 4.5 to 6 euros.
How Quickly Are Goods Delivered?

The biggest shipping provider in Germany DHL offers 1-2 day delivery as standard. Liefery in Germany offers state-of-the-art last mile delivery solutions, including same-day and next-day delivery.
How to Address VAT for B2C Customers – a Practical Guide
So how should a foreign supplier with an online B2C store handle VAT ? Lets look at a small example below:
A Polish merchant sells wooden furniture to Germany. In the beginning the value of the goods the seller sells is below a threshold (€100,000). As a result, the Polish VAT rate is applied (23%), for example €100 net product price + 23% VAT paid in Poland = €123 in total.
At some point in the same fiscal year, the same Polish seller may sell so many products in Germany that the threshold (€100,000) is exceeded. Then the seller has to register for a VAT number in Germany and will now apply the German 19% VAT rate. As a result, the total product price will be €119 = €100 net product price + 19% VAT paid in Germany.
About Waredock
Waredock is a offering end-to-end logistics services and software. Our fulfillment network in Europe (incl Germany) allows you to ship faster and cheaper. Learn more about our locations or sign up today.